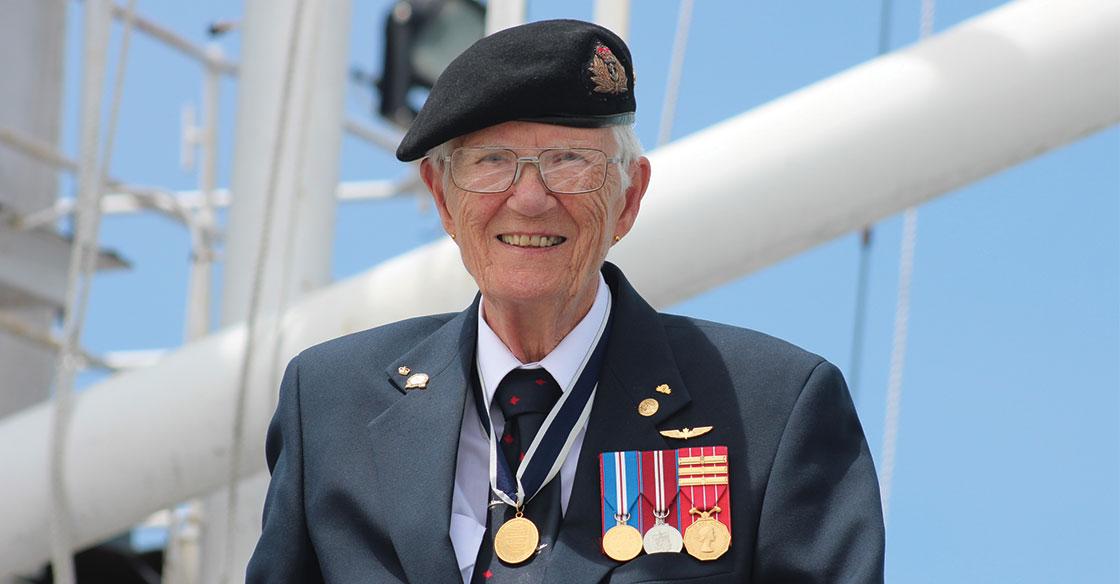 For those who know Lieutenant-Commander Sherry Richardson, the term 'legend' is no exaggeration.

She obtained her recreational pilot's license at the age of 74 and Private Pilot License (PPL) at age 78, shortly after retiring from her 45-year military career which spanned the Navy, Army and Intelligence.

Her years of service are a point of pride, marked by an eventful tenure that included working on naval aircraft as an air electronics technician, serving on a research vessel that sailed through the Arctic, completing a three-year Russian course during her time with military intelligence, and even meeting Queen Elizabeth II and Prince Phillip, Duke of Edinburgh.

"When I first joined the Women's Royal Canadian Naval Service in 1954, there were limited opportunities for women," says Sherry. "I really hated being told I couldn't do something because I was a girl or it wasn't ladylike, so I didn't let it stop me."

Sherry's applied that same unapologetic approach to every aspect of her life – doing what she loves on her own terms.

At 86-years-young, on clear days, you'll find Sherry cruising with the top down in her red Mazda Miata convertible or 2,000 ft in the air piloting a solo flight to the Cape Breton Highlands or Summerside, PEI.

"Nothing beats flying, I can't get enough," says Sherry. "I got that pilot's license and I never looked back."

She also doesn't slow down. When the warm weather hits, Sherry kicks off her season working as a forest fire spotter for the province.

While she's not in the pilot's seat for these flights, she jokes that she's "still in the air" and that's all that matters.

"It's definitely rewarding," says Sherry. "You feel like you can make a difference."

She's no stranger to that notion. In addition to her vast volunteer experience and work with countless veterans' organizations, Sherry has been a QEII Foundation donor for more than 23 years.
A lung cancer survivor, Sherry was inspired by her QEII thoracic surgeon, Dr. Harry Henteleff, who performed her life-changing surgery in 1999. She's been cancer-free and a QEII Foundation donor ever since, supporting many care areas across the QEII Health Sciences Centre.

Over the years, Sherry has helped fund everything from best-in-class technology to better detect and diagnose cancer through to medical equipment that helps teams care for residents at the QEII's Camp Hill Veterans' Memorial Building.

"My late husband was in Camp Hill for three-and-a-half years before he died," says Sherry. "They do great work, so I was happy to support them."

Sherry's longtime commitment to health care doesn't stop there.

She recently joined a special group of donors, QEII Legends, who've arranged a charitable gift in their will to the QEII Foundation. A gift in your will – even as little as one per cent – helps to ensure the best, most innovative care is available for future generations.

For Geoff Graham, a charitable giving advisor with the QEII Foundation, it's an incredible privilege to work with inspiring individuals – like Sherry – on how their future commitment will advance care.

"A gift in your will cements your mark in the future and impacts a cause that is deeply meaningful to you," says Geoff. "That's a responsibility we don't take lightly."

He adds that as the QEII Foundation embarks on their $100-million We Are campaign to transform health care in our region, QEII Legends will play an integral role in reimagining care for decades to come.

Geoff says that whether you or a loved one have been touched by the QEII directly or you simply wish to impact health care for those that follow, every gift in a will makes a difference.

"Anyone can become a QEII Legend," says Geoff.

According to Sherry, the decision to leave the QEII Foundation in her will was a simple but important one.
"We all need health care and it's critical to give back," she says. "A gift in my will just made sense."
The St. Margaret's Bay resident laughs and quickly adds, "but it's a gift you won't be receiving any time soon."
At 86, she's as active as ever – spending her days in the pilot's seat, spotting fires, giving back, and socializing any chance she gets. She also isn't shy to admit that if it's a sunny day, you won't catch her at home or making plans with anyone on the ground.

"If it's a good day for flying, that's where you'll find me," says Sherry.
A legend indeed.