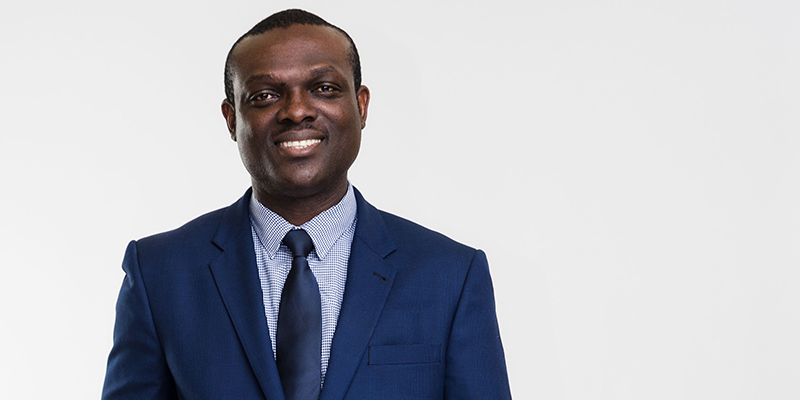 Mental health and wellness support is just a text message away for those affected by the devastating wildfires that ravaged parts of the province this spring.
Nova Scotia Health's Mental Health and Addictions program, in collaboration with the QEII Foundation and the Global Psychological eHealth Foundation, launched Text4HopeNS at the end of May. The free tool provides daily mental health and wellness support messages to those who may be struggling.
The service was spearheaded by Dr. Vincent Agyapong, Central Zone chief of psychiatry at Nova Scotia Health and head of psychiatry at Dalhousie University, who experienced first-hand the devastating effects of wildfires while living and working in Alberta in 2016.
A similar Text4Hope service was launched at that time to help manage people's mental health, and Dr. Agyapong felt the same could be done in Nova Scotia.
"I approached the QEII Foundation and the zone medical director and explained that it had already been deployed in Alberta to support people going through the wildfires," he says. "I suggested they do the same for Nova Scotia."
Within a mere 12 hours of Dr. Agyapong's suggestion, the service was launched. The Global Psychological eHealth Foundation, with which Dr. Agyapong is involved, also provided funding to support an additional 1,000 community members. To participate in the program, interested persons simply need to text HopeNS to 393939.
"After texting the number, people will get a confirmation explaining they will receive messages to help them deal with stress and anxiety as a result of the wildfires," he says. "Then they will receive a daily message, some of which will have a link embedded directing them to other resources."
Data is being collected to gauge the degree of stress and depression being experienced by those using the application through surveys completed at six weeks, three months and again at six months. This will help determine if there have been any changes and track the user benefits of the service.
According to early data obtained in the six-week survey, Dr. Agyapong says a whopping 91.5 per cent of those who signed up for the program perceived they experienced an improvement in their overall mental well-being and feeling connected to a support system during that short period.
"It's an evidence-based intervention that is making an impact on those who have signed up. If you're struggling for any reason at all, this is an opportunity to get some relief at no cost," he says.
He adds that 83 per cent of those surveyed agree the program has helped them to cope with stress, while 74 per cent indicated it has helped them deal with anxiety. Meanwhile, 91.5 per cent feel hopeful they can manage issues related to mental health because of receiving these messages.
As of late July, 327 people signed up for the service, which relies on self-subscription. However, Dr. Agyapong believes this number could be higher if more people were aware of it.
"Even though it is helping a lot of people who have subscribed, as the data shows, I don't think people know about it," he says. "We still have capacity to send it to 1,700 more people."
The overarching Text4Support program's expansion is reaching a global scale, with launches in several countries including Zambia. Dr. Agyapong's recent visit to promote the texting tool proves its adaptability.
He describes it as a very global program with global reach. However, funding like the $15,000 provided by the QEII Foundation is crucial. "When our communities are in crisis, QEII Foundation donors often step forward and want to help,'' says Susan Mullin, president and CEO of the QEII Foundation.
"By providing $15,000 to help rapidly launch Text4HopeNS, donors supported mental health care for those in need."
---
If you are a person struggling with mental health, text HopeNS to 393939.