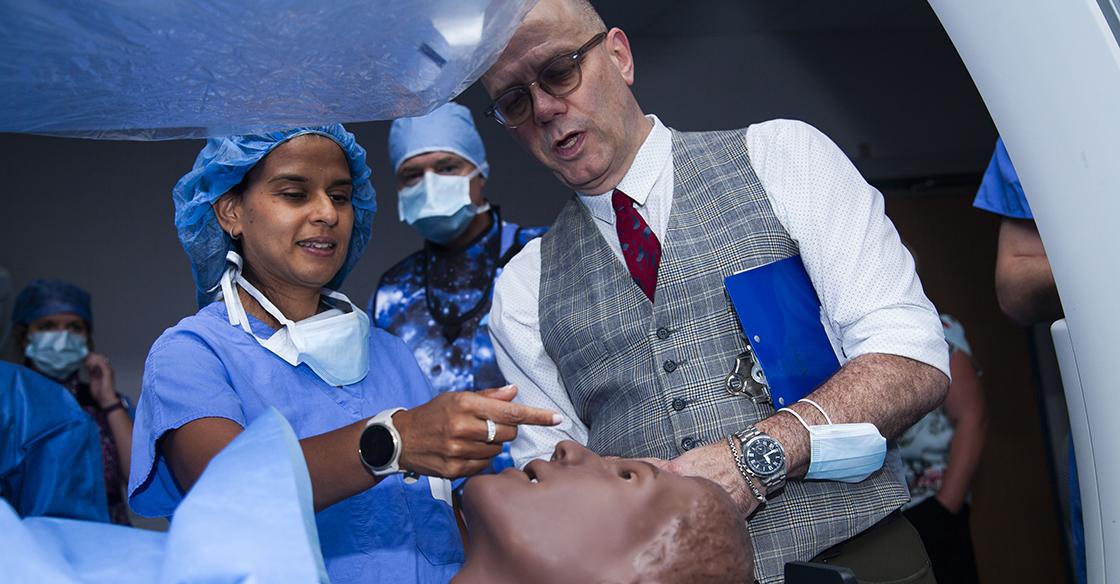 This year, for the first time since the COVID-19 pandemic arrived in Nova Scotia, QEII healthcare staff from the Halifax Infirmary geared up for a unique event – the opportunity to invite community members into the hospital for a chance to experience a day in the life working alongside medical professionals.
On September 7, 10 community members, comprised of QEII Foundation donors, volunteers, and board members who care deeply about advancing health care at the QEII, joined QEII healthcare staff for the QEII Foundation's Operation QEII event.
To kick off this year's Operation QEII, attendees scrubbed up to tackle a simulated patient emergency in the QEII's Sim Bay – a 100 per cent donor-funded training hub for healthcare professionals.
Dr. Tania Sullivan, medical director for the QEII's simulation program and physician lead for this year's Operation QEII, also works directly with real patients in several of Nova Scotia's emergency departments. She recognizes firsthand the value of simulation programming to prepare care teams for real, high-stakes emergencies.
"A golden opportunity of simulation-based education is highlighting our ability to hone our skills in an environment that is safe to learn, which means it's also safe to fail and adjust, in preparation for the real-world environment where we want to be able to bring our best, most prepared self," says Dr. Sullivan of simulation learning.
During Operation QEII, attendees had the chance to experience this highly beneficial training process, jumping into urgent action to provide emergency care for a simulated patient manikin named Mr. Desmond.
"The QEII's Sim Bay is designed to replicate a care space – so we were able to simulate an emergency department clinical care space, from stretchers to many more pieces of equipment," Dr. Sullivan explains.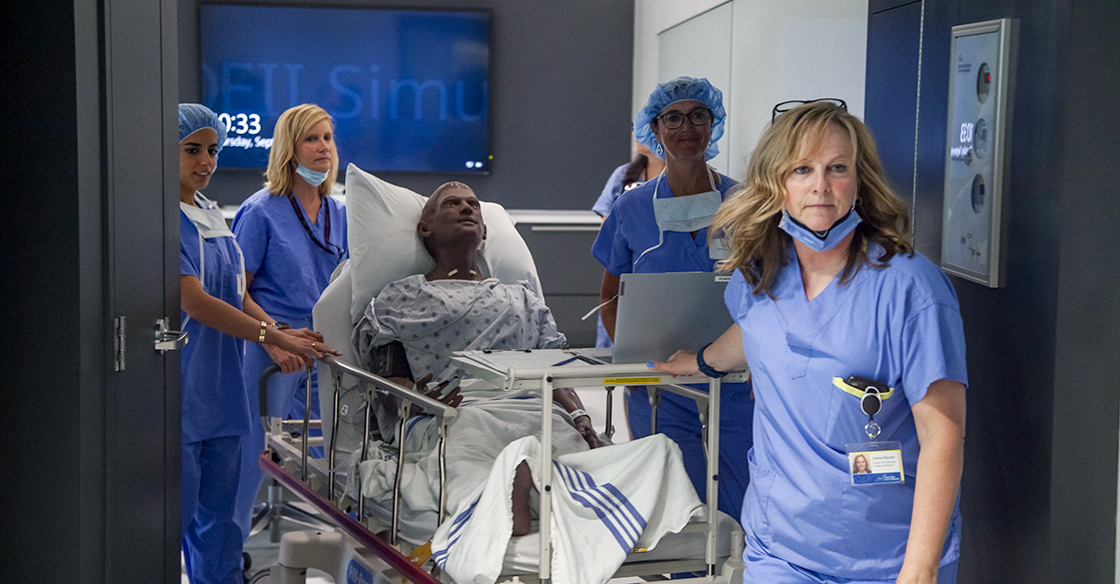 "And even more impactful, was our ability to bring our interprofessional team together in that space to care for our simulated patient" she adds, noting the value of bringing physicians, nurses and other healthcare professionals together to learn about, from, and with each other in simulation.
"It helped it feel like a real-life situation."
While Operation QEII has been held several times prior to COVID-19, this year's event design was unique as it allowed participants to follow a simulated patient throughout their entire care journey; through both simulated and real hospital spaces.
Mr. Desmond presented to the simulated emergency department with stroke-like symptoms, was assessed and urgently transported to the actual CT scanner where his stroke was diagnosed, and from there he immediately moved to the QEII's Interventional Radiology Suites for his advanced stroke treatment.  
Operation QEII participants worked closely with the QEII's Interventional Radiology and Neurology care teams to provide immediate stroke therapy for the simulated patient. Working together, the group successfully rescued Mr. Desmond – demonstrating incredible collaboration under pressure.
Mr. Desmond is a new arrival to the QEII, and among a small number of QEII patient simulators to display an African skin tone. His features are also more reflective of Mr. Desmond's race than they have been in past model attempts toward a more diverse patient representation.
This step forward in equity, diversity and inclusion in the simulated learning space helps offer better representation of care teams and patients in our community.
"Early simulation technology and patient simulators typically reflected white skin tone and male features. We've only recently found simulation technology that has more diverse patient representation," explains Dr. Sullivan.
"I feel it is incredibly important for our staff, our learners, and our patients, to have their identities reflected in the simulation technology that we use."
After the simulation experience, participants were guided through a closer tour of the QEII's Interventional Radiology Suites, which provides minimally-invasive, life-saving care to QEII patients suffering from a range of emergencies – from blood clots, to tumours, and more.
Since both the QEII's Sim Bay and IR Suites have received generous funding from QEII Foundation donors, it was a full-circle moment for Operation QEII attendees to get the opportunity to see these areas up close and personal.   
Dr. Sullivan extends her thanks to QEII Foundation participants, the QEII Sim team and the QEII care teams from the Departments of Neurology, Diagnostic Imaging, and Interventional Radiology who made Operation QEII a resounding success.
"Operation QEII was an incredibly collaborative effort and would not have been possible without the tremendous efforts and collective leadership of Donna Warren (QEII Simulation), Vicki Sorhaindo, (Diagnostic Imaging) and Nancy Farmer (QEII Foundation)," says Dr. Sullivan.
"I could not have been prouder to see how the QEII Foundation participants immersed themselves in the experience and to highlight that these learning and care spaces are a direct result of the investments and generous donations of our communities."
She also feels the experience was an encouragement to QEII care teams, who truly enjoyed showcasing and sharing their skills with Operation QEII participants.
 "It is not a small feat to bring teams from three healthcare departments together in one place. This accomplishment alone highlights the value of the work being done and the gratitude our teams feel for the support of the QEII Foundation," she explains.
"The event was an absolute high. In our current healthcare environment and throughout the pandemic, there have been many days threatened with doubt, negativity, and fatigue," she says.
My experience with Operation QEII reminded me that so much is possible when we come together– there are so many people still invested in making health care better," she shares.
As for the future of simulation, Dr. Sullivan says that with donor support, many new possibilities are on the horizon – such as the further implementation of virtual reality in simulation learning at the QEII, and the establishment of a province-wide simulation strategy to extend learning opportunities across Nova Scotia.
These additions and improvements for simulation learning in our province will support the lifelong growth and development of our healthcare providers and foster a culture of collaboration and practice amongst healthcare teams – ultimately improving patient care and teamwork during real-life scenarios.
"Simulation allows practice and practice makes better," says Dr. Sullivan.
"Expanding our access to simulation-based education and learning principles will support our health professionals and interprofessional care teams to excel in an evolving health care environment."