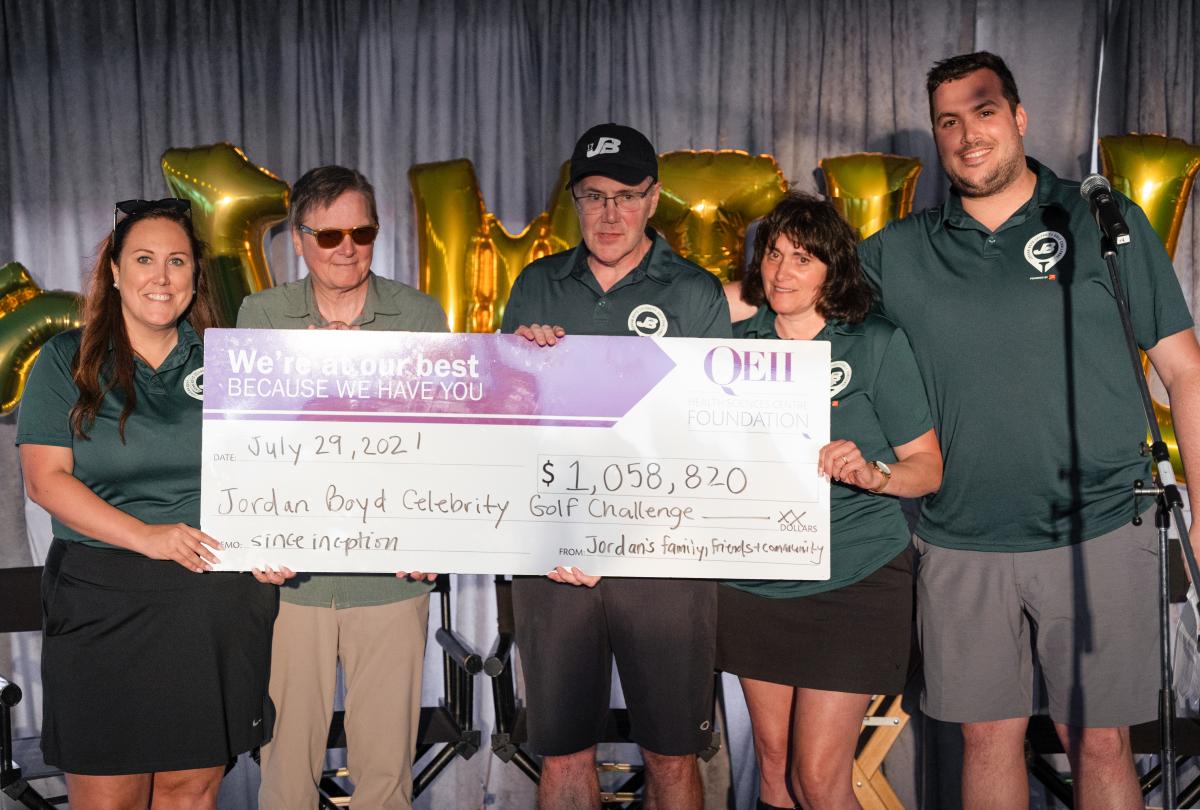 On July 28, a community will come together at the Chester Golf Course for the Jordan Boyd Celebrity Golf Challenge — The Final Round powered by CIBC. The invitation-only fundraising event is so much more than a day on the green. For the Boyd family and countless others, it's become a summer staple to both remember and honour the life of the late Jordan Boyd — a son, brother and remarkable young man.
In 2013, while attending the hockey training camp of the Acadie-Bathurst Titan, Jordan's life came to an unexpected end after he collapsed on the ice. It was later determined that Jordan had an undiagnosed, inherited heart condition called Arrhythmogenic Right Ventricular Cardiomyopathy (ARVC). He was 16 years old.
Ever since, Jordan's family has made it their personal mission to help prevent sudden death from cardiac arrest — whether by raising awareness of genetic heart conditions, funding AED access, or fueling vital heart health research at the QEII's Inherited Heart Disease Clinic.
Their inspiring efforts have included the annual Jordan Boyd Celebrity Hockey Challenge (JBCHC) — a one-day hockey tournament where participants play alongside NHL pros like Brad Marchand and Nathan MacKinnon — and the Jordan Boyd Celebrity Golf Challenge (JBCGC), an outdoor golfing event that was established during the pandemic.
The events, co-hosted by the QEII Foundation, have become a yearly tradition for the Boyd family to commemorate their son and brother and ignite change for future families.
"Our first JBCHC took place in August 2014, just shy of the one-year anniversary of Jordan's passing," says Greg Dobson, Jordan's older brother. "There had been so much sadness in the previous year that, as a family, we decided we needed to do something to celebrate Jordan."
According to Greg, the event and chance to give back quickly became an "annual rite of passage" for the family — providing a platform to make a significant difference in Jordan's memory.
As a result, Jordan's name has now become synonymous with impact — not just within the tight-knit Bedford community where he was raised or among the many friends, families and fellow hockey players he met playing the game he loved.
Jordan's story and the national movement established in his memory have helped keep the hockey player's legacy alive, all while improving the lives of those facing inherited heart disease in our region. To date, the Boyd family and the QEII Foundation have raised $1,058,080 (net), supporting critical research at the QEII's Inherited Heart Disease Clinic.
The clinic's founder and director, Dr. Martin Gardner, has seen the impact firsthand. The QEII clinic — which was the first of its kind in Canada —leads the country in the diagnosis, treatment and research of those living with known, or suspected, genetic cardiac conditions.
The funds raised by the Boyds and the community that stands behind them are having a direct and immediate impact on inherited heart disease research and care," says Dr. Gardner. "Jordan's legacy is truly moving the needle forward in this area."
For Dr. Gardner, it's a research need that cannot be understated: Nova Scotia currently has the second-highest incidence of ARVC — the condition Jordan was living with — in Canada. It's why one impact highlight for the QEII cardiologist has been the QEII's lead role in establishing a national registry for ARVC research in Canada, the largest such registry in the world.
Patient registries are incredibly powerful tools, particularly for diseases like ARVC that physicians don't often encounter. This national ARVC registry — which tracks patient and family data from inherited heart disease clinics across the country — helps ensure QEII clinicians and researchers have real-world, evidence-based outcomes and information at their fingertips.
"By connecting this data from coast-to-coast for the first time, we're able to analyze and compare the effectiveness of different treatment options, better understand the incidence of ARVC and sudden cardiac arrest, and, in some cases, which patient populations may benefit most from a clinical trial," says Dr. Gardner. "The Boyd family's support has played an integral role in all of this and is just one example of the tangible impact they're making possible."
For Greg, it's a feeling that's hard to describe: "It's amazing to see how the community has come together to support us in this journey and to see how Jordan's story has been able to raise awareness and funds for life-saving inherited heart disease research.
"We are so in awe of the support we continue to receive year after year and are so grateful to be able to keep Jordan's legacy alive through these initiatives," says Greg.
As the event name suggests, this year's Jordan Boyd Celebrity Golf Challenge – The Final Round is its last. While the family plans to officially retire the JBCGC and JBCHC community events this summer, they're quick to point out that they're not going anywhere.
"I am beyond proud that what we have accomplished to date has established a legacy for my brother and fulfilled a promise that he would not be forgotten, all while doing good for others impacted by heart disease," says Greg. "While it is bittersweet to see this chapter close, there is contagious energy and excitement at the chapter ahead with the amazing QEII Foundation team because, in my mind, we are just getting started."
To make a donation to the Jordan Boyd Celebrity Golf Challenge – The Final Round powered by CIBC, visit JBCHC.ca.