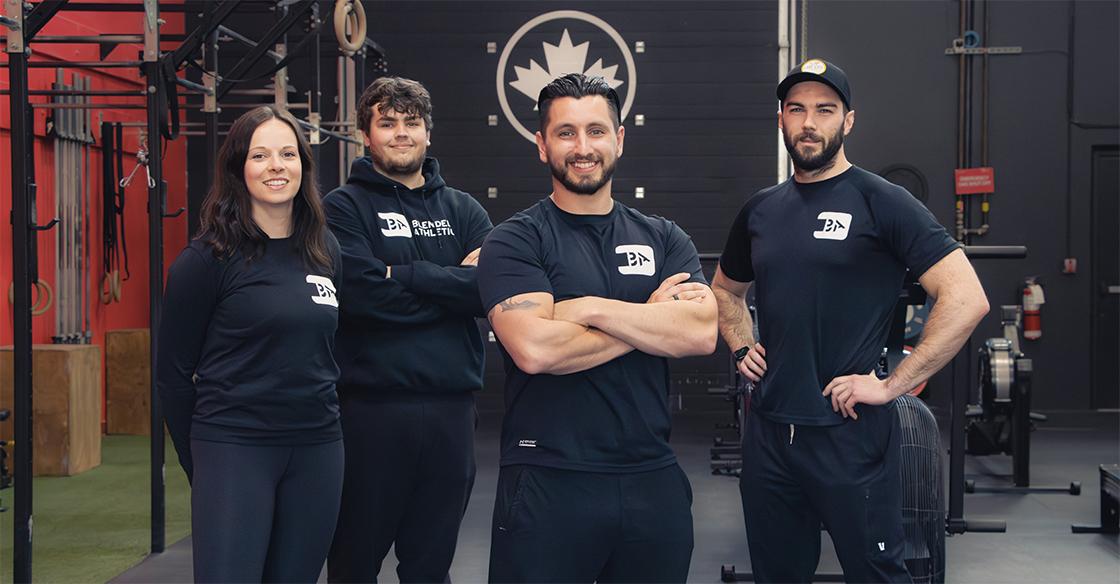 Jordan Forbes and his team at Blended Athletics have shown how just one spark can ignite a community movement that makes a difference.
When three people in Jordan's life were diagnosed with brain cancer, he wanted to rally support. That's why he and his team organized the Summer Bash Against Brain Cancer, raising funds and awareness for QEII brain cancer treatment and research.
The journey began in September 2020 when Jordan received a heart-wrenching phone call from one of his closest friends.
"My friend told me that his dad was diagnosed with brain cancer. There's no blood relation between us, but we are close — he's who I call my Uncle Rob," explains Jordan.
That night, moved by the dire situation, Jordan thought of ways he could show support for the family.
"One of the ideas I came up with was this fundraiser for brain cancer. We might not be able to help the people we love with this illness now, but we can help raise funds for people in the future," says Jordan.
Throughout Rob's journey with brain cancer until his passing in November 2022, two others in Jordan's life were diagnosed with the same illness — his dad's best friend, Ricky, and someone close to his fiancée's family, named Robin.
Witnessing Rob's decline from a healthy, active individual to a brain cancer patient highlighted the indiscriminate nature of the illness.
"At the start, Rob worked out a lot, played golf, he was a civilian for the Navy. It's still brain cancer, it doesn't matter who you are," Jordan says.
Throughout the experience, however, Jordan observed and admired the family's unwavering positivity and zest for life, even in the face of adversity.
"What I saw with Rob and his family is that they had fun. They travelled. They did everything that they wanted to do, knowing that there was an expiration date. Watching how positive they were each day and each week, leading up all the way to the end changed me and really gave me motivation."
Inspired to make a difference, Jordan rallied his team at Blended Athletics for the Summer Bash Against Brain Cancer, taking place in June 2022. Prior to the main event, there was a kick-off evening called Friday Night Lights. This workout and party helped build excitement for the Summer Bash Against Brain Cancer and raised $1,500 towards the cause.
The main event day was filled with various fun activities like workouts, running, and washer toss, with people competing to win points in teams, fostering a sense of camaraderie and bringing the community together to embrace those facing difficulties.
"Community is so important. It's like one big family. Everyone worked so hard to make this event happen, all to show our support for the families," says Jordan.
The event exceeded expectations, with nine teams participating in an unforgettable day of games, food, and fun. Many others attended and generously donated, demonstrating the power of human kindness and community spirit. Even local businesses pitched in, donating food and prizes to support the cause.
Jordan and the Blended Athletics team worked diligently to ensure the event was a success, and their efforts paid off. The Summer Bash Against Brain Cancer raised $9,692, which will significantly impact brain cancer treatment and research at the QEII.
"I was so happy that so many people filled with joy came out to support this cause, even if they weren't directly affected by brain cancer," Jordan shares. "When things affect our community, that's when people need to come together, and that's exactly what they did."
When we come together as a community, we can create a powerful impact. We are continually inspired by the dedication of community champions like Jordan and his team at Blended Athletics, who selflessly stepped up to organize their own fundraisers in support of QEII patients, families, and care areas. Their remarkable efforts show that we all have the power to positively impact the lives of others.
---
UPDATE: Jordan and his team at Blended Athletics have officially set the date for the Summer Bash Against Brain Cancer Round 2, taking place on August 12, 2023. To get involved by starting a team or to make a donation, click below:
From walks to bake sales, to online auctions and beyond, events and activities organized by QEII Foundation community fundraisers can be customized to support any cause close to home. Learn more about starting your own campaign at my.QE2Foundation.ca.