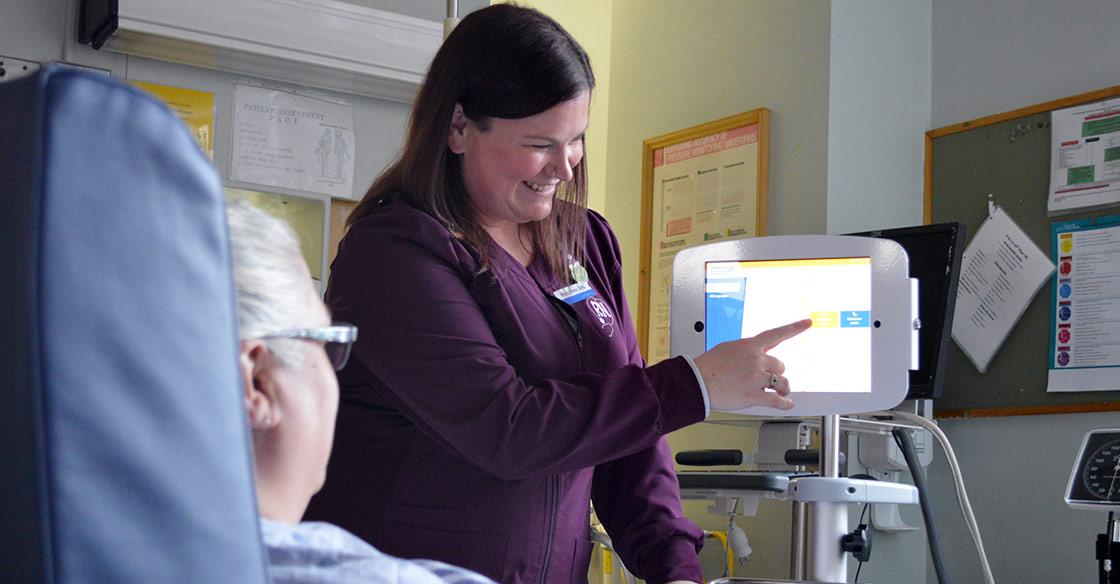 Heather Aikens, a registered nurse with the QEII's perioperative care, guides a patient through the Interpreter on Wheels
Originally published in QEII Times
Imagine you've just woken up from surgery. You're sleepy, confused and probably a little worried about how everything went. A nurse approaches to check on you and your first instinct is to ask for reassurance: "Was my surgery a success? Where is my family? How long do I have to stay?"
Now, imagine the nurse doesn't understand what you're saying and can't offer any information in your own language.
In perioperative care — the journey from pre-admission assessment to surgery to recovery and discharge — at the QEII Health Sciences Centre, those days are over. In the fall of 2019, perioperative care teams at the QEII received Interpreter on Wheels equipment and technology, thanks to funding from the QEII Foundation Comfort & Care grant program.
"It's an iPad locked into a stand with wheels," says health services manager Patricia Jennex. "You turn it on and select the language you want on a touchscreen. Interpreters are on call all over the world, 24 hours a day." Four hundred languages are available through a service called LanguageLine, most with both live video and audio interpretation.
"It's a comfort because if I'm sending patients home and I am unsure if they understand what they need to do for post-operative care, that's not a good feeling," says Heather Aikens, a registered nurse with the QEII's perioperative care. "It's reassuring to know we can provide the safest, most holistic care we can for our patients. Patients are thanking the interpreter and you can see the relief and feel the anxiety coming down when they know they can communicate and get the help they need."