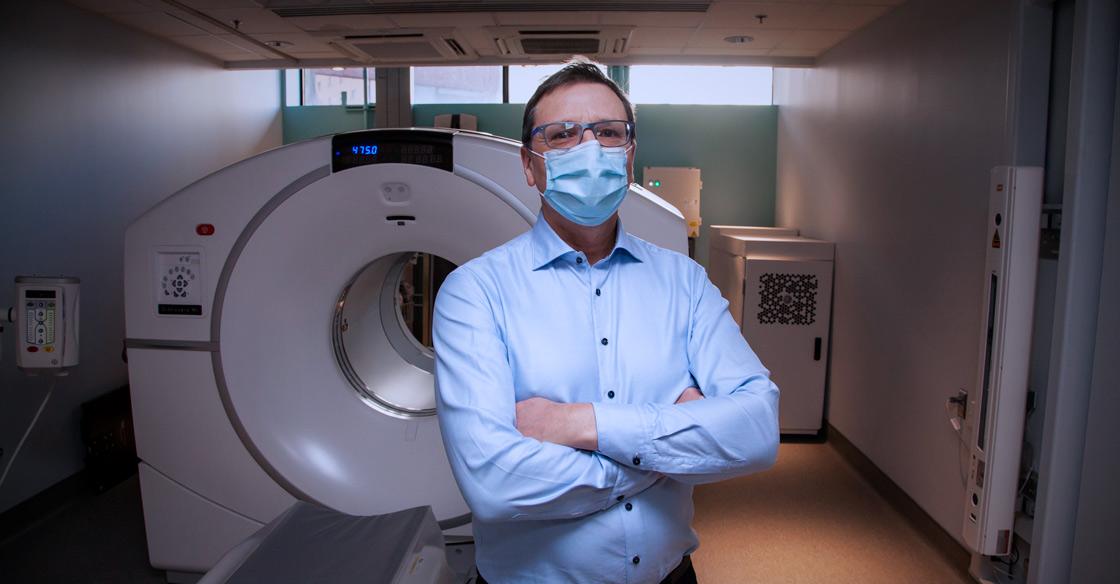 Getting to know the people behind the care at the QEII
The world of medical isotopes – tracers used with diagnostic scans – is unfamiliar for most. For QEII radiologist Dr. Steve Burrell, of the department of Diagnostic Imaging, it's second nature.
His research interests include oncology nuclear medicine. He makes sure cancer patients who require a PET-CT scan get the best care possible.
The most sophisticated imaging of its kind, PET-CT is relevant for many cancers. PET-CT helps assess the stage and spread of cancer, as well as a patient's response to treatment. We wanted to know more.


Q: IF YOU HAD TO DESCRIBE WHAT YOU DO TO A YOUNG PERSON – IN THE SIMPLEST, MOST HUMAN WAY POSSIBLE – WHAT WOULD YOU SAY?
A: Diagnostic imaging, such as x-rays, CT and MRI scans, ultrasound, and nuclear medicine, plays a key role in diagnosing and monitoring disease.
In nuclear medicine, we use radioactive tracers to assess disease. The tracers each have an important physiologic property, such as finding and binding to cancer, while the small amount of radioactivity allows the tracers to be detected by special cameras.
My colleagues and I analyze the images, incorporating the findings from other tests, to arrive at a diagnosis. We assess a wide range of diseases including cancer, heart disease, dementia, and many more.
A smaller but growing part of our work is treating cancer. Radioactive molecules are administered which bind to cancer and emit radiation, though in this case the radiation treats the cancer rather than creating images.
 
Q: WHAT EXCITES YOU ABOUT YOUR WORK?
A: Every test that we do is a diagnostic challenge, a puzzle to be solved.
 
Q: WHAT IS THE MOST REWARDING PART OF YOUR JOB?
A: Helping patients. I strive to provide the most accurate assessment of their disease so their doctors can decide on the most appropriate treatment for their individual situation.
 
Q: WHAT HAS SURPRISED YOU OVER THE LAST YEAR?
A: Needless to say the pandemic was the biggest surprise. I have been very impressed – not surprised – by how the entire medical community has rallied to provide care through this challenging time, and how the QEII Foundation and its donors have continued their strong support for the best patient care.
 
Q: HOW HAVE DONORS MADE A DIFFERENCE IN DIAGNOSTIC IMAGING?
A: Diagnostic imaging plays a key role in modern medicine, diagnosing and monitoring disease. State-of-the-art scanners provide amazing insights into the status of disease, but this advanced technology tends to be relatively expensive. Donors have been instrumental in bringing the most advanced equipment to the QEII, most recently contributing to our cutting-edge PET-CT scanner and Interventional Radiology suites.
 
Q: WHAT IS NEXT FOR YOU AND YOUR TEAM?
A: We're introducing a new PET-CT tracer called gallium-68 DOTATATE to evaluate neuroendocrine tumors. This test is much more accurate than the existing test and the QEII Foundation has committed to work with our community to raise the funds. We anticipate going live in spring 2021. In the slightly longer term we anticipate this leading to use of further important tracers at the QEII, for example for the assessment of prostate cancer.
---
Experts under the diagnostic imaging umbrella, like Dr. Burrell, may not often meet their patients face-to-face. But ever so powerfully, behind the scenes, they are part of a team making assessments that change lives. Their work paves the way for the important decisions a patient will face along their care journey – whether that means undergoing surgery, medical treatment or additional testing.
Learn more about the QEII's donor-funded PET-CT here.