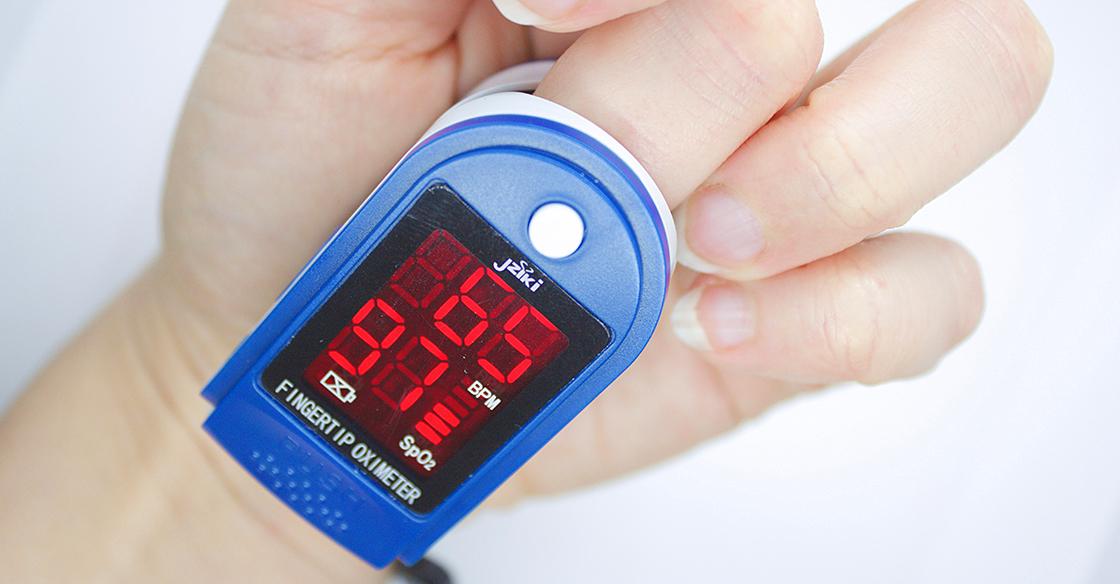 Thanks to QEII Foundation donors, Nova Scotian COVID-19 patients can monitor their blood oxygen levels at home during recovery.
A Halifax resident's experience contracting COVID-19 was made a little easier thanks to a simple, donor-funded device known as a pulse oximeter.
On a Friday evening in May 2021, he began to feel weak, and woke up Saturday morning with a fever. "I knew something was wrong, so I booked a COVID test for as soon as possible," says the patient. A few days later, he received a call that he was COVID-19 positive. He was instructed to isolate and received a number of follow-up care calls.
One call he received offered him a pulse oximeter, a device which monitors blood oxygen levels. If levels drop too low, patients must seek medical treatment. Soon after the call, he received a package outside of his door containing the pulse oximeter and a set of instructions. "I started monitoring my levels and heart rate every day," the patient explains.
"The [pulse oximeter] provided me with a visual guide to my health," says the patient. "I was concerned, but I knew at what time I'd have to call a doctor."
The patient also recalls that the pulse oximeter was a great conversation piece while he was chatting with friends over phone and video calls during his recovery. "My friends were so supportive while I was sick and were always checking on me," he says. "During conversations, I would tell them how my blood oxygen levels were! It was a small point of light and joy during my long days of isolation."
Besides inquiring about his blood oxygen levels, the patient's friends and neighbours went above and beyond to help him feel comfortable during his COVID-19 recovery.
"Lots of my friends dropped off delicious comfort food," he says. "My apartment door buzzer was broken, so my neighbour would pick up packages and bring them to my door. It made me feel better to have people who cared."
"There's been connections built throughout COVID in some ways, in our communities and our personal lives even while physically apart," he says. "When things go back to normal, we'll remember these moments of connection in our everyday lives years after this."
Luckily, the patient's blood oxygen levels stayed safe throughout his recovery. Today, he's feeling healthy, and is incredibly grateful for the support he received from both his friends and from those who provided him with important COVID-19 recovery resources, like his pulse oximeter.
Through the QEII COVID-19 Response Fund, QEII Foundation donors enabled the purchase of 1,000 pulse oximeters for Nova Scotians recovering from the novel virus. "It's incredible," according to the patient, whose story is one of many touched by our donors' generous support in the fight against COVID-19.

"People don't know how severe the virus can be – keeping track of your health is a comforting thing."