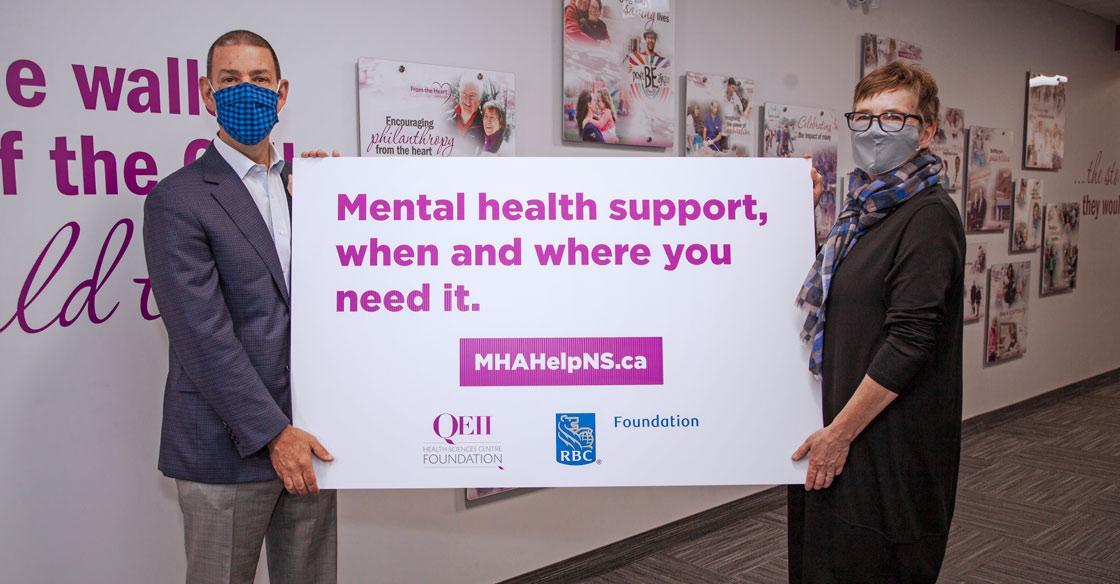 Chris Ronald, RBC's Regional President, Atlantic Canada — pictured here with QEII Foundation president and CEO Susan Mullin — says "the demand for free and accessible mental health services has never been greater."
Originally published as a sponsored article on saltwire.com
Many Nova Scotians have suffered mental health trauma over the last year, between the ongoing COVID-19 pandemic and the tragic mass casualties of last April — drastically increasing the need for free, on-demand health services in the province.
That's why the RBC Foundation has donated $600,000 to the QEII Foundation to help launch critical e-mental health services that can be accessed from anywhere, without the need for a doctor's referral or an in-person appointment.
Nova Scotia's new e-mental health program is the first of its kind, providing immediate help with improving mindfulness, building coping skills, reducing stress and resolving addiction. The province partnered with the Mental Health Commission of Canada to undergo this health system transformation, and the evidence-based program is being modeled after a successful version already up and running in St. John's.
QEII Foundation president and CEO Susan Mullin says the frightening early months of the pandemic set many Nova Scotians on a distressing path, and she's glad there are now virtual options for people to access at their own pace.
"The needs were always there, but through COVID the needs have just been amplified — and mental health is just as important as physical health," says Mullin. "We're proud that RBC Foundation really has led the charge on this so dramatically, and we're very grateful for their support."
EARLY INTERVENTION PROGRAMS
Chris Ronald, RBC's Regional President, Atlantic Canada, agrees the province has been through a lot over the last year, and says "the demand for free and accessible mental health services has never been greater." Supporting the QEII Foundation's e-mental health initiative was an easy decision, he adds, because RBC's commitment is focused on prevention and early intervention programs.
"One of the factors that affects a young person's ability to achieve success is their mental well-being. Because 75 per cent of mental illness is diagnosed between 16-25 years of age, services like these that can be accessed anytime and anywhere are crucial in providing youth with the tools they need to succeed," says Ronald. "We liked the fact that it's an evidence-based model, it fills a real and widening gap in our province, and it's free — making it more accessible to those who need it most."
Through this partnership with QEII Foundation and Nova Scotia Health, Ronald says everyone at RBC is glad to help provide immediate and free mental health supports and services to help address barriers often faced by youth when trying to access the care they need.
"Technology-based programs like this will provide Nova Scotians, particularly youth and those living in rural communities, timely access to knowledge, supports and care when and where they need it," says Ronald. "We are incredibly proud to partner with QEII Foundation on this initiative which positions our province as a leader in virtual mental health service delivery."
'A LEADER IN VIRTUAL MENTAL HEALTH'
The QEII Foundation has just over $60,000 left to raise to complete the project and ensure these e-mental health tools are here to stay. And while the funding will help the QEII Foundation continue to build on e-mental health programming, Mullin says the gesture is just as important because of the message it sends.
"I've worked in mental health before, and I know how important it is for corporations like RBC to step up and align themselves with mental health," says Mullin. "If someone's struggling with a mental health issue, it's empowering to see a big corporation publicly step up and say 'This matters, and we want to help.' It goes a long way towards destigmatizing mental health issues."
While in-person treatments are required for some people, e-mental health programming can be helpful for people experiencing mild to moderate disorders — and can also be used in conjunction with more acute care, or while waiting to receive in-person care.
"We've been having a lot of conversations about how we support mental health, and the reality is that this isn't a service delivered specifically within the four walls of the QEII Health Sciences Centre," says Mullin. "This is about making mental health services free and available to all Nova Scotians, no matter where they are."
To learn more about Nova Scotia's e-mental health program and the QEII Foundation's campaign to fund these services, visit QE2Foundation.ca/e-mentalhealth.