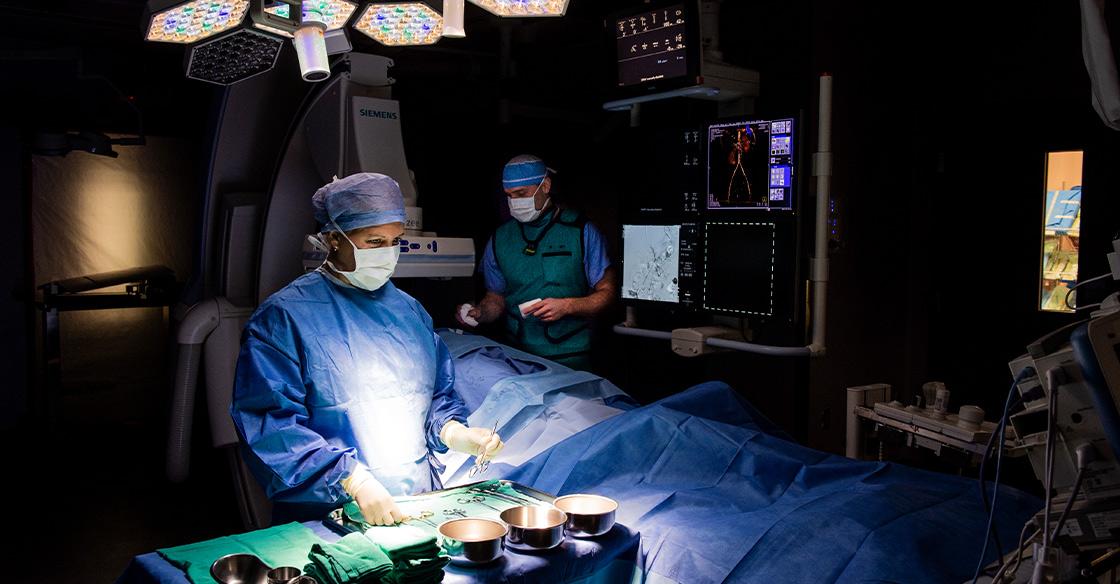 Pictured: Members of the QEII's interventional radiology team.
Every year, Gerry and Denyse Irwin, of Dartmouth, N.S., give gifts of stock.
And these kinds of donations – financial assets, like stock, bonds and mutual funds – are making a difference in the type of care we receive at the QEII Health Sciences Centre.
The Irwin's donation for 2020 supported the QEII's new interventional radiology suites. Here, minimally-invasive procedures take place through wires and needles – treating people with cancer, aneurysms, stroke, and more. Their support brings the QEII Foundation's $1.2-million campaign one step closer to completion – with donors funding the advanced technology within the new suites and a dedicated recovery area.
No stranger to the QEII, Gerry received care on a few occasions, following a heart attack and two aneurysms. But life is good today – at 83 years old, Gerry still works out every day.
 "It's about time I start paying rent over there," he joked over the phone. "I always received excellent care. The people there were good to me," he says.
Generous donations ensure QEII teams have the most cutting-edge medical technology. This matters – much like having the most recent iPhone matters to the consumer. Except in this scenario, the product is the health of our community. It's your health, and the health of those you love.
Self-taught, Gerry took an interest in the stock market in his thirties. Fifty years later, it's a hobby for him. It's a passion that he has carried almost as long as he's known Denyse, whom he calls his "darling wife." The pair met some years earlier – at a time when people met on ski hills, rather than an app.
There are many ways donors support the QEII Foundation. Gerry and Denyse choose gifts of stock. "It has a great impact, and it's also cost-effective," he says. If they were to sell shares and withdraw the funds, they would lose some during tax season.
Capital gains tax aren't always top of mind when making the decision to sell shares. The Canada Revenue Agency states that a capital gain occurs when an individual sells a "capital property" for more than they've paid for it. Securities fall under that category, encompassing stocks, bonds and mutual funds; all of which can be transferred directly to your chosen charity, like the QEII Foundation.
Every year, Gerry reviews their stocks and chooses the ones with the highest capital gains tax to donate to charities that align with their values – a win/win, as they are making an extraordinary difference while making smart personal financial decisions.
Gerry buys back the shares of those sold, usually at a higher price, raising the average cost per share. The higher cost means less tax for their heirs – in this case, Gerry and Denyse's children – down the road.
No matter how QEII Foundation donors support health care – from community fundraisers, to gifts in honour or memory of someone, or straight-up donations because they believe in the cause – they create a collective wave of impact. To learn more about gifts of securities, like those made by Gerry and Denyse, visit: qe2foundation.ca/securities.