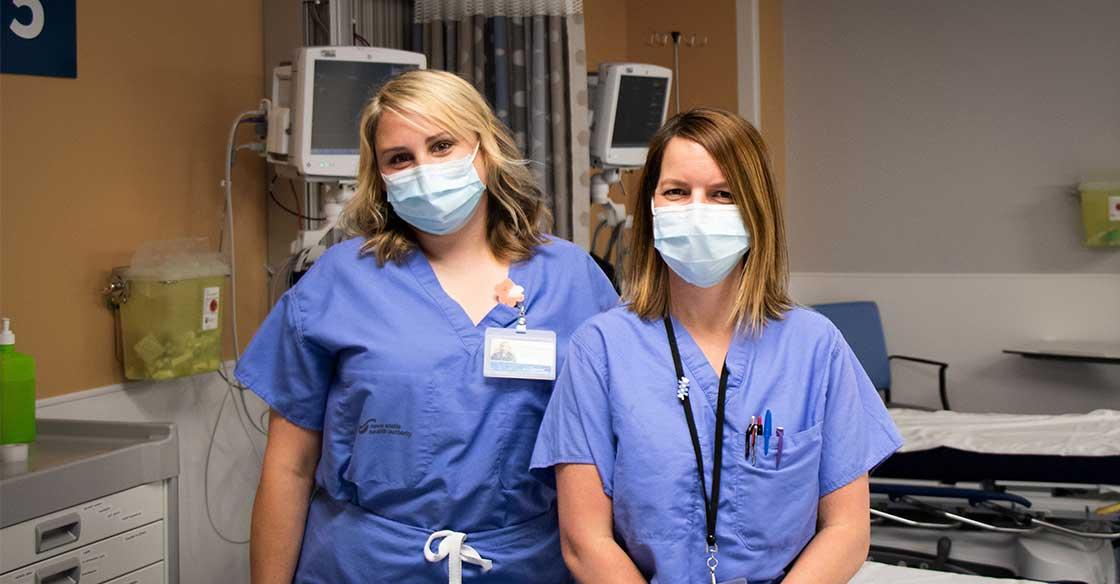 Pictured: Jaime Custance (left) and Gail Henry (right) are part of the QEII's interventional radiology team. Their department is one of 29 healthcare teams who recently received the first QEII Patient Essentials Fund grants; a new, patient gift card program that will grow and evolve with donor support.
Originally published on Saltwire.com.
A simple gesture can have a big impact, especially during COVID-19.
This is something that the interventional radiology (IR) team at the QEII Health Sciences Centre has experienced firsthand with a new QEII Foundation initiative, called the QEII Patient Essentials Fund, which helps patients in need in the form of gift cards.
With many IR patients often travelling to the QEII from all over Atlantic Canada, department manager Vicki Sorhaindo says a gas card can make a big difference and can ease financial stress, which in turn can positively impact patient outcomes.
"Mental health and wellbeing are always important for any patient or person. This is something we can do to help our patients feel more comfortable coming to the hospital," she says.
'LISTENING AND ROOTING FOR YOU'
Whether treating a stroke, blood clot or tumour, the QEII's interventional radiology team treats disease through minimally-invasive procedures that use tubes and wires to deliver and target treatment to a specific organ.
Sorhaindo says that since the QEII treats patients from across Atlantic Canada, patients are often faced with costs that add up fast. So when Sorhaindo and her team learned of the QEII Patient Essentials Fund, which funds gift cards for gas, groceries and personal care, they knew this could greatly benefit IR patients.
"We knew this was something that was needed," says Sorhaindo.
Since receiving the grant, Sorhaindo and her fellow IR team members LPN Gail Henry and imaging attendant Jaime Custance have been helping pinpoint which patients could benefit from these donor-funded gift cards.
As both Custance and Henry are in contact with patients even before their in-person IR appointments, they have a good idea of who could use a helping hand.
"One of our first patients we gave a gas card to was an elderly man. He was nervous coming in, but such a lovely soul — so kind and accommodating. We gave him a gas gift card and it made him so happy," says Custance.
"It's so important that our patients know we're listening and rooting for them. We want to make it easier if we can, and it's an amazing feeling for us as well when we get to."
MORE DONATIONS NEEDED
The IR department is one of 29 teams that have now received grants through the QEII Foundation's QEII Patient Essentials Fund. So far $14,500 in gift cards has been awarded, spanning QEII care areas like cancer care, transplantation, cardiovascular surgery and more. With the continued support of donors, the QEII Foundation hopes to distribute at least $50,000 in gift cards over the next year.
This simple support can really go a long way for patients, as Custance and Henry have seen from the IR patients who've already received these donor-funded gift cards, including a man who had to arrange a caregiver to stay with his wife before driving to Halifax and booking a hotel near the QEII for his appointment.
"It was a big expense for him to come, so we also gave him a gas card. We saw how it was a comforting thing, for him to receive that. We want our patients to know we are listening, and we do care," says Henry.
QEII Foundation President and CEO Susan Mullin says the program was launched to help patients stay focused on their healthcare journeys by reducing financial stresses that many face. The QEII Patient Essentials Fund is 100 per cent donor funded and QEII care providers are able to make the decision on the spot regarding patients who may need some financial support — as soon as their need for help arises.
"These patients coming into the QEII could be any of us, and this is an opportunity to just give them a helping hand. Our frontline healthcare workers are able to see what people need, and what will make a difference," says Mullin.
"Our donors are already having an immediate and tangible impact on the lives of patients and their families. This impact will continue to grow with ongoing support from our community."
Sorhaindo says with many departments around the hospital that could really benefit from the QEII Patient Essentials Fund, it's something donors should consider supporting, no matter how small the donation. A little can absolutely go a long way.
"This is something a lot of donors out there can support — even small amounts will help. Every dollar donated will have a huge impact on patients," she says.
Your donation today will enable the immediate purchase of these gift cards — ensuring they're in the hands of patients who need them most. To learn more about the QEII Patient Essentials Fund or donate today, visit QE2Foundation.ca/essentials.