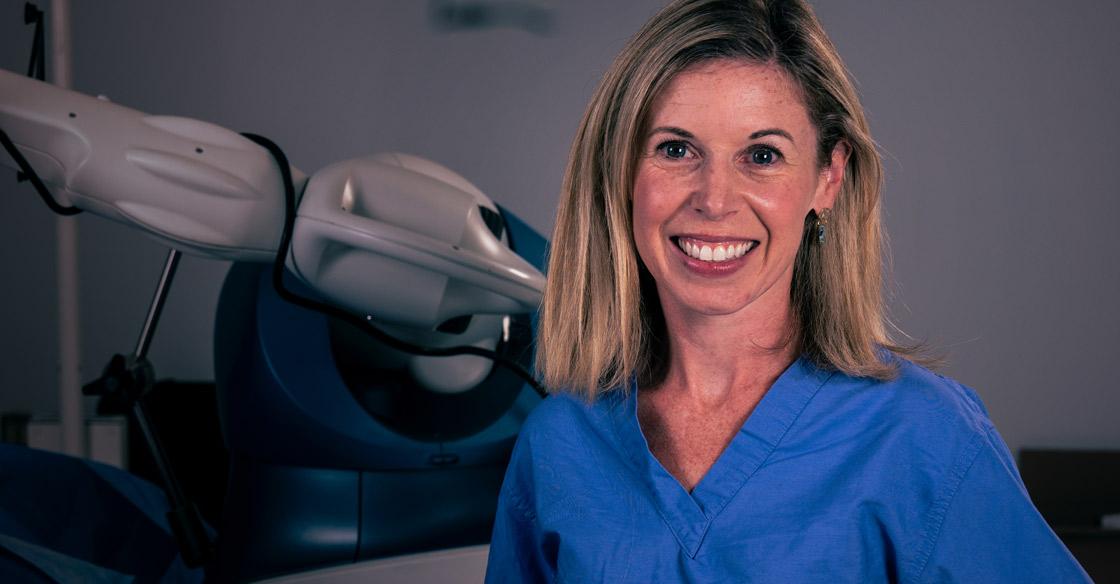 It's been just seven years since the United Nations General Assembly declared February 11 as the International Day of Women and Girls in Science (2015), but women and girls have made an impact in scientific fields for much longer.
In honour of this special day, we reached out to a woman who we find pretty inspiring.
Dr. Janie Wilson is a biomedical engineer by trade, an affiliate scientist with Nova Scotia Health – and she's also a Professor and Director of Dalhousie University's School of Biomedical Engineering.
In her free time? You might find her running the streets of Halifax training for an upcoming road race, or busy getting her two kids to all of their own sports and events.
Dr. Wilson recently returned to the QEII Health Sciences Centre to conduct research on Canada's second orthopaedic surgical robot.
Q: What inspired you to study biomedical engineering?
A: I became an engineer because I like to problem-solve and fix things. The health domain was particularly appealing to me because it offers the ultimate in complex problem-solving – humans are very complex. I was drawn to orthopaedics and biomechanics because mobility and movement are such an important part of quality of life, and a very important part of my life.
 
Q: How does it feel to be a woman in your field? What has frustrated you, if anything? Surprised you?
A: I have always been a part of male-dominated fields, with the disciplines of both engineering and orthopaedics being historically quite underrepresented by females. I therefore have never known different, and I am only starting to be more reflective of my own experiences as I advance in my career.
I now have the lens of trying to mentor and inspire young females into my profession and this has made me more acutely aware of the disparities and challenges that young females face. Being a female leader in my field, I have the opportunity to lead by example, to speak up when I see injustices or inequities, and to do my part in inspiring and providing opportunities for young females, but also young people from other equity deserving groups.
I see this as a great privilege, and a chance to challenge the definition of what a successful scientist should be and look like.
I have always worked with very supportive and encouraging colleagues, both male and female, and this has allowed me to continue to professionally advance despite some of the barriers such as maternity leaves, caring for young children, etc.
However, finding balance and time for everything is not easy and the pandemic has made the disparities wider for not only female scientists, but most scientists with young children. We have, and are poised to lose many great female scientists from the significant strain of the pandemic.
 
Q: What's the background on the surgical orthopaedic robot?
A: This is the second MAKO surgical orthopaedic robot in Canada. And, like everything we do in Canada, we take an evidence-based approach, which means we study things carefully before broadly applying it.
I had the opportunity to work with Canada's first orthopaedic surgical robot for joint replacement surgery at St. Joseph's Hospital in Hamilton, Ontario, so it's been really exciting for me to bring that knowledge back home to continue to build our evidence-based orthopaedic research program here.
 
Q: How are students connected to the robot? What do they think of it?
A: Our biomedical engineering students couldn't wait to get their hands on this robot – and particularly, the data that comes out of it. We have a team of graduate students in biomedical engineering who are already busy planning intricate research protocols with us to really define evidence-based protocols for optimizing the use of the robotic system to improve the surgery and outcomes for all patients. A big theme in biomedical engineering today is personalized medicine, and accounting for diversity in our populations in developing and using new technologies in medicine. The robotic research program we are developing is motivated by exactly this.
Further to this, the robotic system and associated research is important for training our next generation of students. Trainees in engineering, medicine and surgery are all benefiting from having exposure to the latest innovations in orthopaedic surgery and thought leadership in this field, and this helps us to attract and retain the best talent here in Nova Scotia.
 
Q: What did it take to get this technology here in Nova Scotia?
A: Our research team, including biomedical engineers and surgeon-scientists, has a long-standing relationship with MAKO, the manufacturer of the robot.
The groundwork has been laid here in Nova Scotia for us to be a prime candidate to receive the technology, as we've long studied our orthopaedic patient population – before and after surgery, using a wide range of research tools from clinical data mapping and modeling, to more technological approaches including instrumented gait analysis, sophisticated imaging technologies that allow for precise measurement of early implant failure. We've been a leader internationally in combining technologies with clinical data on large patient cohorts, and using advanced data analytics approaches to provide unique insights into diverse clinical populations.
We worked closely with Nova Scotia Health's Research and Innovation team on the business case, as well as the surgery teams at the QEII.
Also, none of this would be possible without the QEII Foundation, who are actively raising funds to pay for the technology and research.
 
Q: What does this mean for Nova Scotians who receive orthopaedic care?
A: In the short-term, it means that if you're a candidate for hip or knee surgery, you may be offered a robotic surgery option – depending on who your surgeon is and if they are part of the team working with the robot.
The surgical team is still in the research phase – meaning they are collecting data at the time of surgery. This fits into the bigger picture for research – and could have international reach so, affecting patients everywhere.
We're hoping that we can prove that the precision involved with the robot leads to better outcomes and happier patients post-surgery.
In the long-term, it could mean a new way of approaching orthopaedic surgery.
---
Learn more or donate to support Canada's second orthopaedic surgical robot.