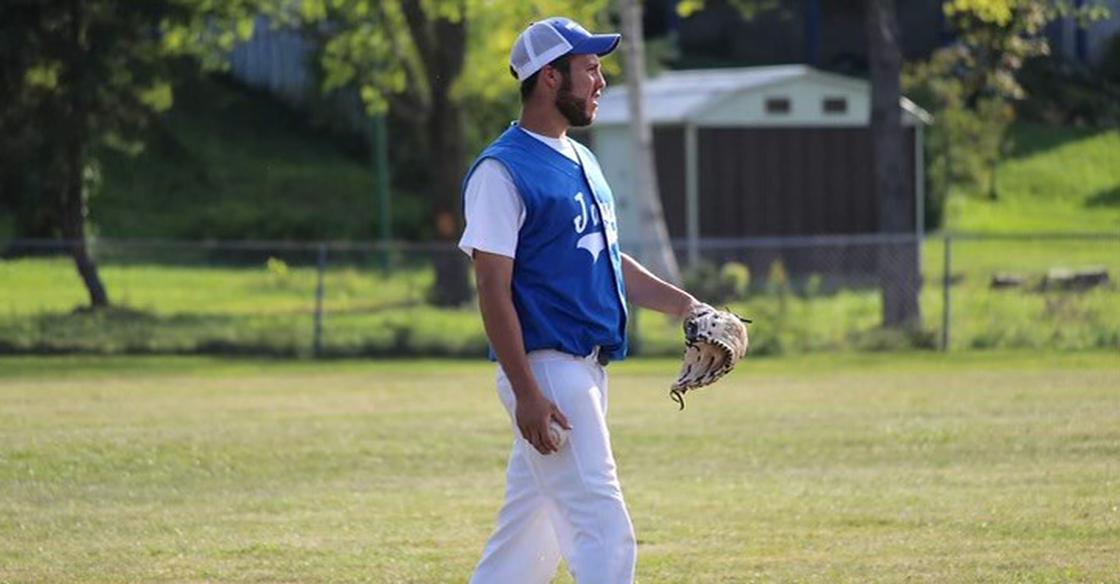 2021 was the fifth Anthony Miller Memorial Lob Ball Tournament, an event created by friends and family of Anthony Miller in support of the QEII Foundation. This year's tournament proceeds will support our newest QEII Patient Essentials Fund, helping QEII patients cover the cost of urgent, essential needs. Pictured: Anthony Miller.
This year marks the fifth anniversary that the community of Kennetcook, Nova Scotia, lost an extraordinarily special young man. Anthony Miller, who passed away in 2016 at age 23 from a rare form of cancer, was well-known by his community and all who loved him for his welcoming, positive personality and beaming smile.
"He was such an outgoing person – everybody knew him," says Angie White, Anthony's mother. "He would always be willing to help you out, no matter who you were. You could call him at three o'clock in the morning, and he'd be there for you."
This year also marks the fifth Anthony Miller Memorial Lob Ball Tournament, an event created to honour Anthony's memory and to raise funds for patients and priorities at the QEII Health Sciences Centre. To date, the tournament has raised an incredible $24,287 to support the QEII Foundation, including more than $3,700 from this year's fall 2021 event.  
Friends and family of Anthony Miller first started the tournament as a way for the community to come together to remember Anthony by celebrating one of his unique passions. Though Anthony was known for his life-long involvement in community baseball, lob ball, similar to baseball, was chosen to include participants of all ages and skill levels. "It's a slower underhand pitch, so everyone can play. Anthony played lob ball, too," Caitlin explains.
Throughout the years, the tournament has grown to become a beloved community event. Since the start of the COVID-19 pandemic, however, there's been a few unexpected challenges. In 2020, the tournament had to be cancelled, and there were less teams in 2021 due to health and safety restrictions.
Despite these obstacles, each year that the tournament has taken place has been a resounding success, both in celebrating Anthony and in raising funds for the QEII Foundation.  
"It's always such a big, fun event," says Emily. "It spans across two days, and we're now up to three fields so we can have even more teams involved."
"We always see so many different people come out to play, which is just what Anthony would love and just how he was," says Angie. "It didn't matter how old you were, what you looked like, who you were. Anthony would talk and carry on with anyone. You could be seven or 70 years old. He just drew you in."
Angie says one of the most special parts of the tournament is in the evenings when teams gather around the fire pit to socialize: "Caitlin's uncle, who worked with Anthony and knew him well, builds the fire pit for us. It's such a special time to talk and reminisce."
When it comes to tournament fundraising, the generous spirit of the community of Kennetcook shines through. Each team pays an entrance fee of $200, and first and second place teams take home a cash prize.
"The cash prizes are always donated back," Emily says. "Same goes with our 50/50 draw. Everyone is always so giving – it's amazing to see."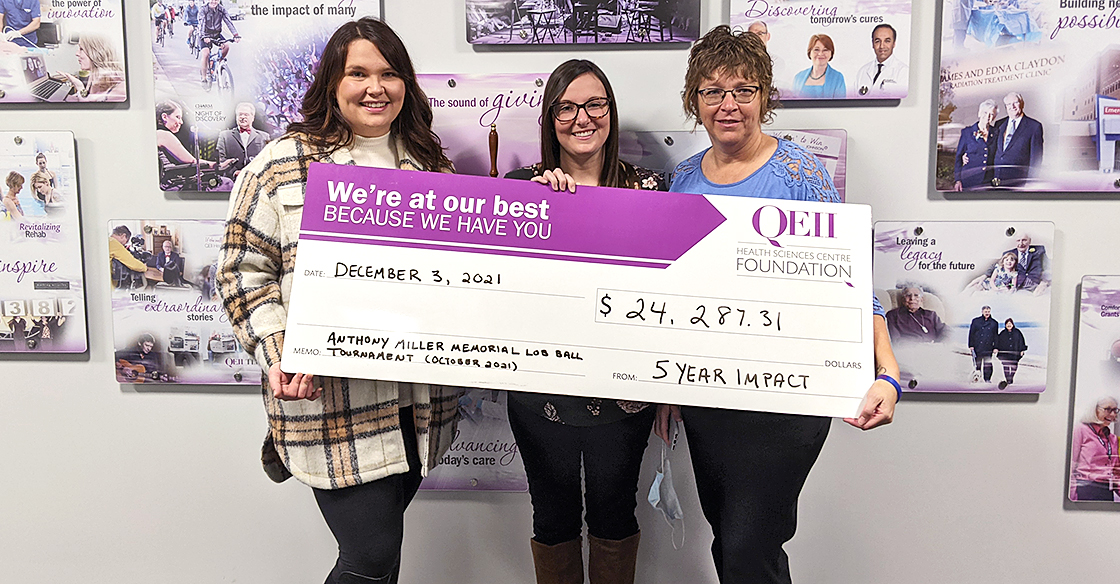 Previously, the tournament donation has gone towards cancer care priorities at the QEII, something that holds dear meaning for Anthony's family and loved ones since he received treatment for his neuroblastoma cancer at the QEII. This year, they chose to donate to our newest QEII Patient Essentials Fund, which helps patients facing a life-changing illness or injury meet immediate, urgent needs through the gift of gas, grocery or personal care gift cards.
"It's great to be able to help people in the now so they can immediately get things they need to help with their treatment," says Caitlin.
Angie's father, who sadly passed away in April 2021, was a beneficiary of the QEII Patient Essentials Fund – he received gas gift cards to help with his long commute from Kennetcook while receiving radiation treatments for cancer care at the QEII.
"It really helped him out with the cost of travelling back and forth multiple times a week to the QEII for his treatment," says Angie. "Being elderly, and especially being in a rural community, the cost of travel can take a toll. Having some of that cost covered is so helpful."
When recently at the QEII Foundation office to present the 2021 tournament donation cheque and to celebrate their five-year fundraising milestone, Angie, Caitlin and Emily expressed how grateful they are to everyone who participates in each Anthony Miller Lob Ball Memorial Tournament, and encouraged even more people to come out and play in the future.
"Nobody cares if you're good or bad at the game," Emily smiles. "I think our team has only ever won one or two games over the five years – plus, it's for a great cause."
And even during sad moments – or bad weather – Anthony's memory shines through to offer encouragement to those who loved him.
"At this year's tournament, it did rain a bit, and a beautiful double rainbow appeared," says Caitlin. "That was really special for all of us."
On behalf of the QEII Foundation and all of the QEII patients who benefit each year from this extraordinary fundraiser, we extend a warm thank you to all of the friends, family and community members who make each Anthony Miller Memorial Lob Ball Tournament a great success.
---
Community champions from all across the province step up in the most creative ways to make a significant difference for Atlantic Canadians year-round. Together, fundraising events and activities hosted by champions in our community are capable of raising over $500,000 in support of the QEII each year. If you are interested in learning more about how you can set up a fundraiser or host a special occasion to raise funds for the QEII Foundation, click here.
To learn more about or to support the QEII Patient Essentials Fund, click here.