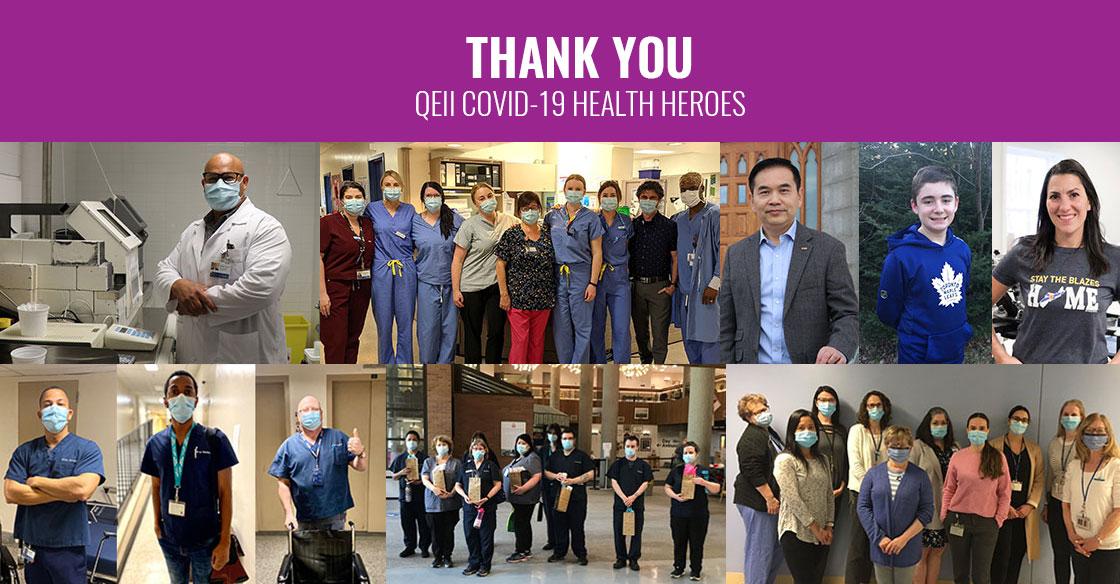 While COVID-19 and in particular, the omicron variant, continues to present its challenges this year, healthcare teams at the QEII and across the province continue to show extreme perseverance and grit. Never backing down or giving up, and pushing through many pandemic-induced pressures.
The faces on these pages represent a small number of the thousands of healthcare professionals who continue to show up, scrub up and step up for Nova Scotians. We are forever grateful.
---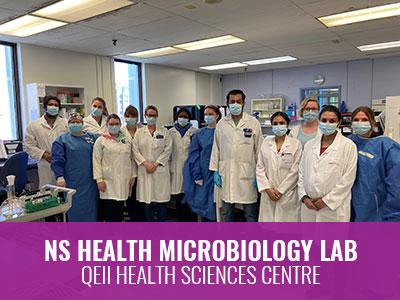 Since the start of the pandemic, the microbiology team at the QEII has faced heavy workloads, long hours and immense pressure to get COVID polymerase chain reaction (PCR) test results out rapidly. Through it all, they have remained professional, upbeat and committed to providing Nova Scotians with their best, day in and day out.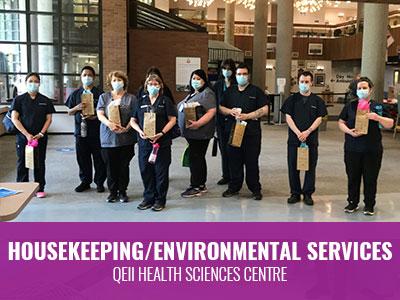 Housekeeping/Environmental Services team members at the front line assigned to COVID units saw an increase in workload demands, heightened involvement and inclusion within a team environment and were recognized for their essential role in educating and reassuring staff, patients, visitors and families that environments were being kept clean, safe and comfortable for everyone.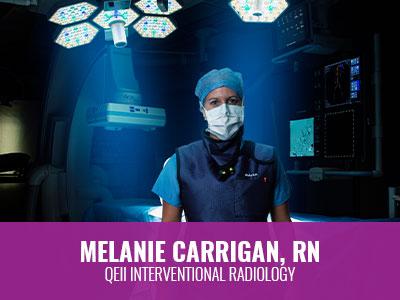 Interventional radiology (IR) nurse Melanie Carrigan is part of the QEII's world-class IR team, who have continued to deliver extraordinary urgent care during COVID-19.
"When the pandemic first hit, we introduced new protocols for almost every aspect of our job. Our IR task force ensured we always had all the information and tools needed to deliver the best care possible to our patients." - Melanie Carrigan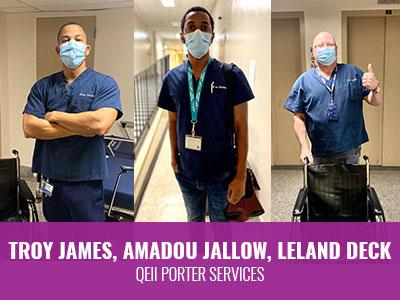 QEII porters like Troy James (left), Amadou Jallow (centre) and Leland Deck (right), keep the blood pumping through the QEII's veins — not even a pandemic could slow them down. QEII porters take blood samples to the lab for testing, deliver organs for transplants and transfer medical specimens. But the most important work they do is helping patients get from one spot to the next, either walking alongside them for stability and guidance, or pushing their bed to the right place for care.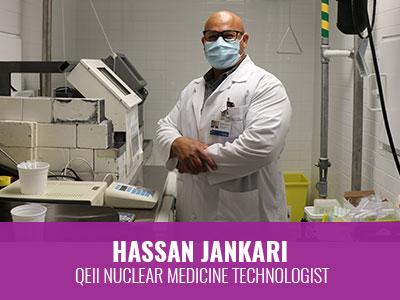 With $1.2 million from the QEII COVID-19 Response Fund, additional technologists, sonographers and appointment booking staff were hired to extend the hours of operation of CT-scan, ultrasound and MRI services to clear the backlog caused by COVID-19.
"The COVID-19 Recovery strategy and supporting funding from the QEII Foundation is helping us deal with a major issue. Timing access to diagnostic imaging is critical for providing the best care to patients. Early diagnoses can save lives."- Hassan Jankari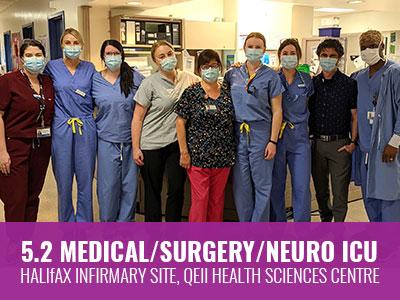 Resilience, passion and empathy. The QEII's 5.2 critical care team exemplifies what it means to be a nurse and a critical care staff member, delivering cutting-edge clinical practice coupled with expert-level clinical knowledge. Together they stand strong and together they can accomplish anything.
While restaurants across our province were asked to close their doors and later re-open for takeout only, there was no pause in service for the Nutrition and Food Services teams at the QEII. They continued to show up each day to serve, nourish and fuel patients and healthcare teams.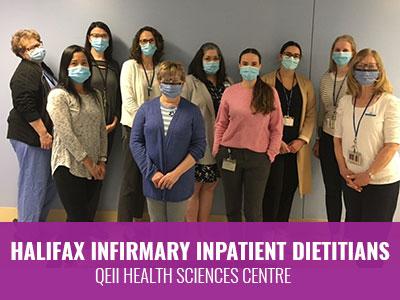 Clinical nutrition teams across the QEII have demonstrated flexibility, adaptability and resiliency throughout the pandemic. Dietitians play an integral role in COVID care by assessing patients' nutrition and hydration needs and implementing individualized nutrition support where required, while taking innovative approaches to complete dysphagia assessments for COVID patients with swallowing difficulties.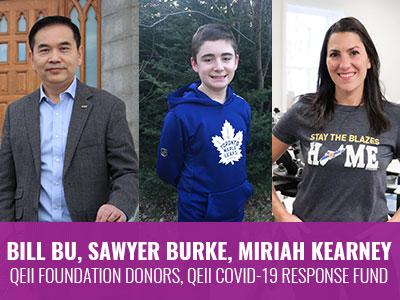 When COVID-19 first struck Nova Scotia in March 2020, QEII Foundation donors, including individuals, organizations and associations — like Bill Bu and the Hong Kong-Canada Business Association; Sawyer Burke; and Miriah Kearney with My HOME Apparel — funded items to ensure in-hospital safety, timely COVID-19 testing, and items to allow patients to recover safely at home.
"Kids can donate too, and I wanted to inspire others to do it. I wanted to start a flow of people to donate so the hospital can buy new things that will save lives." - Sawyer Burke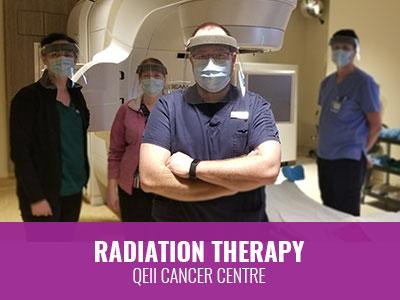 Cancer doesn't stop for a pandemic — and neither does the QEII's radiation therapy team. Patients typically require a few weeks of daily radiation, a crucial treatment that delivers high doses of radiation (energy) to destroy or damage cancer cells. Throughout the COVID-19 pandemic, QEII radiation therapists continued to step up for cancer patients.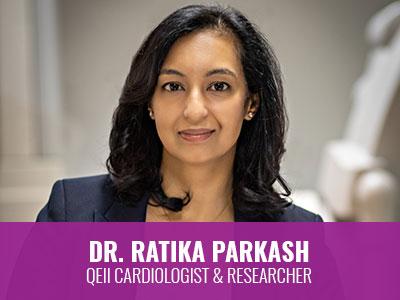 Dr. Ratika Parkash, director of research and heart rhythm in the division of cardiology at the QEII, was one of several researchers in the province to receive funding from the Nova Scotia COVID-19 Health Research Coalition. With $73,750 in funding, Dr. Parkash and her team have been investigating how Nova Scotia's pandemic response has affected morbidity and mortality in patients with known or new onset cardiovascular or neurovascular disease. The data found from this study affected the COVID response for cardiac care in the province.
Previous
Next