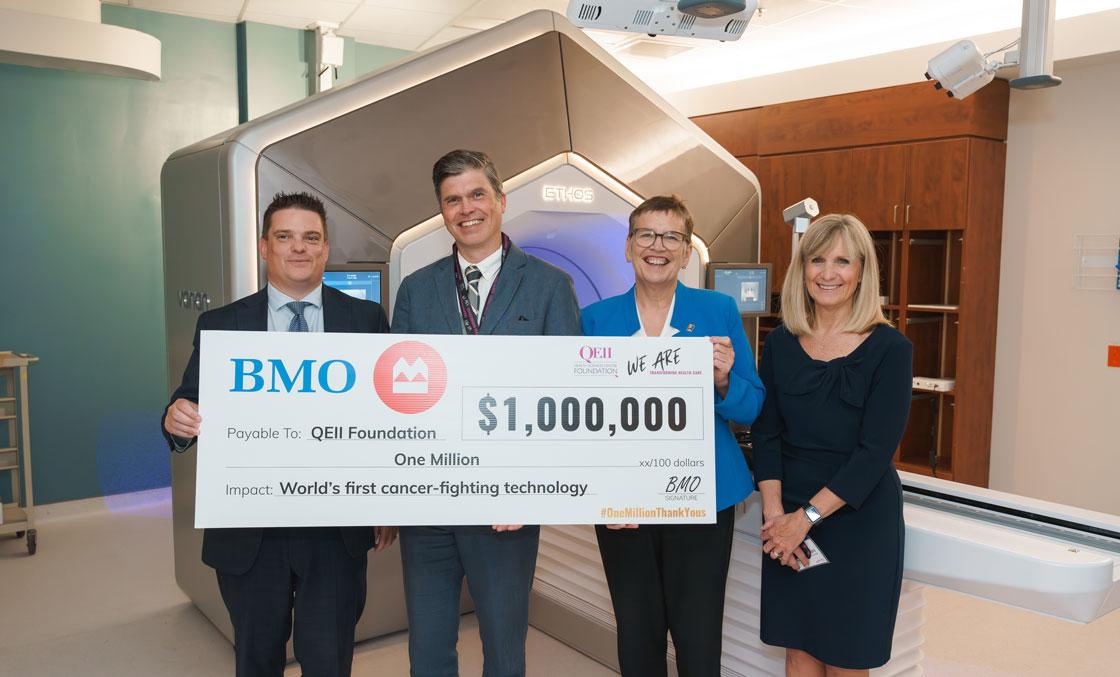 BMO is making a $1-million gift to the QEII Foundation in support of world-leading technology with the potential to revolutionize radiation treatment on a global scale.
The donation will support the EthosTM therapy system with HyperSight™ at the QEII Health Sciences Centre, a world's first innovation in radiation therapy for cancer patients.  
With the initiation of a clinical study, the QEII has become the first hospital in the world to obtain images of human trial participants on an Ethos therapy system equipped with the new HyperSight imaging solution. The Ethos system is designed to enable clinical teams to deliver adaptive radiotherapy, which allows the clinician to adjust the patient's treatment plan to reflect changes in the tumor or surrounding tissue, in real time during a typical treatment appointment.
The next-generation HyperSight imaging technology enables the acquisition of real-time, high-quality images of the patient's tumour, their organs and surrounding tissue within six seconds. The image acquisition process can occur within one single breath hold, about 10 times faster than conventional linear accelerator-based imaging systems – for the first time enabling images acquired during the normal course of treatment to be used for radiation dose distribution calculations. This calculation previously required a patient to make an additional trip to a separate CT scanner used for treatment simulation and planning.
The combination of adaptive radiotherapy and advanced imaging enabled by the Ethos system featuring HyperSight creates an opportunity to unlock new efficiencies, and potentially save time for patients. QEII cancer care experts are working with industry collaborator, Varian, a Siemens Healthineers company, to gather data that can help clinicians better understand the role this technology can play in advancing care and improving the patient experience.
Thanks to BMO's donation of $1 million to this innovative initiative, the QEII now has an important opportunity to explore a potentially more precise, personalized, efficient form of radiotherapy.
The acquisition of this groundbreaking technology and support for the world-class research program that will accompany it is the result of a partnership between the QEII Foundation, Nova Scotia Health's Innovation Hub and Varian. This initiative was made possible through:
$8 million in donations through the QEII Foundation's We Are campaign – including BMO's
$1-million gift; and
$12 million in operational funding from the province of Nova Scotia.
With this $1-million donation to the QEII Foundation, BMO is the first donor to make a meaningful contribution to support the development and application of this world-leading initiative – yet again affirming its commitment to lead and catalyze transformational change in cancer care for all Atlantic Canadians.
Quick facts
As part of BMO's Purpose, it is committed to giving back and playing a critical role in supporting the communities in which its employees and clients live and work.
 
BMO has been a proud partner, sponsor, and supporter of the QEII Foundation's signature event, BMO Ride for Cancer, since its inception in 2015.

With BMO's visionary leadership and generosity as title sponsor, the QEII Foundation has raised more than $7.9 million net through BMO Ride for Cancer over the past eight years, directly impacting local cancer care at the QEII Health Sciences Centre.
 
BMO's $1-million gift to this initiative is part of the QEII Foundation's $100 million We Are campaign to transform health care through the QEII.
 
Fifty per cent of patients who are diagnosed with cancer will require radiation treatment at some point during their cancer journey. The combination of advanced in-room imaging and adaptive radiotherapy, supported by BMO, has the potential to transform how the QEII will treat radiotherapy patients. Delivering a highly targeted dose of radiation, precisely where it's needed, offers a host of benefits to patients and their families. This potential impact includes:

significantly improving the preservation of healthy tissues and reducing side effects, thanks to real-time imaging during treatment planning;
enhancing personalization and efficiency of treatment; and
recruiting and retaining leading physicians and staff, who are attracted to academic health centres with the most advanced technology and strong research programs.
 

To date, two additional medical physicists have been recruited to the QEII to work with this Ethos system featuring HyperSight technology.
Work over the next 12 months will concentrate on two research trials focused on lung, breast, liver, and head and neck cancers to understand the potential and develop the protocols for this new technology. After this, and following Health Canada regulatory approval, patient treatments will commence.
The QEII Foundation's $100 million We Are campaign, which is Atlantic Canada's largest healthcare fundraising campaign, marks a once-in-a-generation opportunity to address some of the biggest issues in health care. Better access to care, first-in the-world technologies, improving wait times and patient outcomes, with research and innovation intersecting every project.

QEII Foundation donors have already raised more than $57 million toward the $100-million campaign goal.
 

Nova Scotia Health's Innovation Hub acts as a catalyst to develop and showcase innovative products and services, like the Ethos system, that have the potential to improve patient comfort and care, and result in better outcomes for patients, the clinicians who serve our population, and the environments in which these services are delivered.
Quotes
"BMO's $1-million donation in support of this world's first cancer-fighting technology aligns with our Purpose to Boldly Grow the Good in business and life. With one-in-two Atlantic Canadians facing a cancer diagnosis in their lifetime, this is a cause that is deeply personal to our employees, clients, and their families. We are dedicated to supporting innovations that have the power to create positive change and to drive progress in communities across Atlantic Canada." – Justin Scully, Regional President, BMO Personal Banking, Atlantic
"BMO is an extraordinary philanthropic leader in our community and its $1-million gift to this project was a catalyst, inspiring others to give. While world-leading innovations and research are exciting, the real impact of that milestone is the lives and treatment journeys changed as a direct result of BMO's generosity. For patients, access to Ethos therapy featuring the new HyperSight imaging technology could mean their radiation treatments have the potential to be more precise than ever, which creates the possibility of fewer side effects and better outcomes – what a gift." – Susan Mullin, President and CEO, QEII Foundation
 
"On behalf of our cancer care teams, we're incredibly grateful to donors like BMO who've generously invested in this technology and the ideation it will stimulate. We are excited for this technology to treat and impact many patients locally – but first we are leading an international consortium in research and development to test and understand the potential and best protocols for this new technology. We are eager for our learnings to be adopted and translated here and well outside of Nova Scotia, in other cancer centres around the globe."  – Dr. James Robar, Chief of Medical Physics, Nova Scotia Health
 
"We believe this remarkable technology will truly transform the lives of Nova Scotians. Nova Scotia Health's Innovation Hub is proud to provide the kind of adaptable, agile, and creative space for researchers, clinical teams, partners, and investors that helps us capitalize on solutions brought forward by the brightest minds. And with the generosity of donors like BMO, I know we'll continue to see even more innovation in health care that will have impact regionally, nationally, and globally." – Dr. Gail Tomblin Murphy, Vice-President, Research, Innovation & Discovery, and Chief Nurse Executive, Nova Scotia Health
"Preventing cancer when possible, finding it early when prevention is not possible, and treating it in a timely and effective manner when it is found, are the goals of cancer care programs around the world. BMO's generosity in helping to fund this new technology creates an opportunity to treat patients who need radiation therapy more quickly and more effectively than ever before – enabling them to live longer and live better with and beyond cancer and enjoy more precious time with family and loved ones. BMO, we cannot thank you enough." – Dr. Helmut Hollenhorst, Senior Medical Director, Nova Scotia Health Cancer Care Program and QEII Radiation Oncologist
---
Media Inquiries
Tanya Maclean
QEII Foundation
902 489 5664 |  Tanya.MacLean@qe2foundation.ca          
Hannah Webster
BMO Media Relations
416 867 3996 |  Hannah.Webster@bmo.com