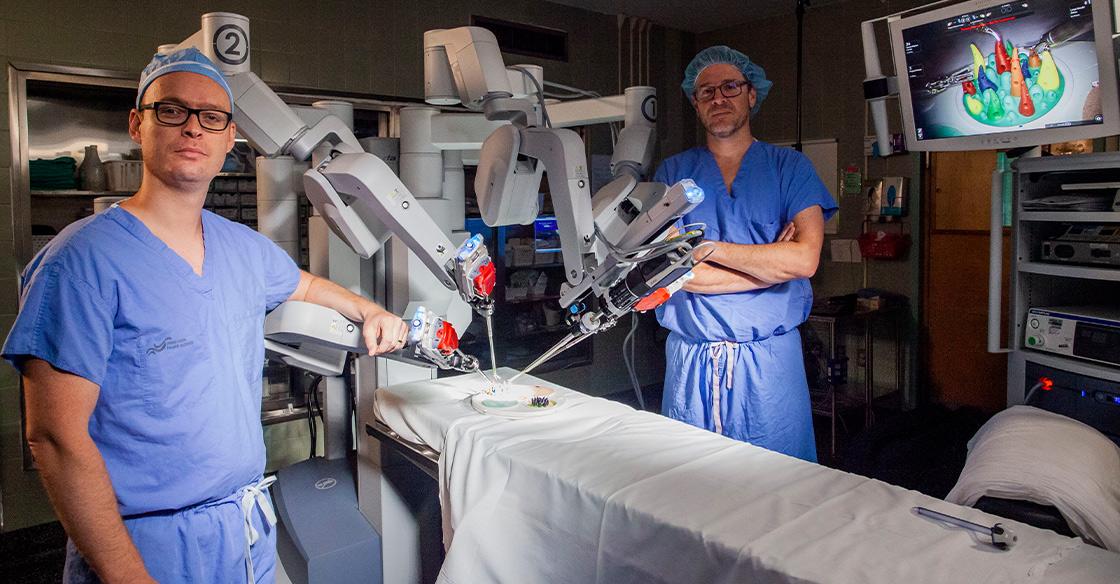 PHOTO CAPTION: The QEII's Dr. Ross Mason (left) and Dr. Ricardo Rendon (right) with Atlantic Canada's first surgical robotics technology, which is fully funded by QEII Foundation donors.
Originally published as a sponsored article on saltwire.com.
It was the QEII Foundation's successful $8.1-million surgical robotics campaign that helped bring Dr. Ross Mason home to Nova Scotia.
The urologic oncologist hails from Nova Scotia and trained with the technology at the Mayo Clinic in Minnesota, where he witnessed firsthand how surgical robotics can navigate complex surgeries and improve patient outcomes.
He says bringing this technology to the QEII Health Sciences Centre means patient outcomes will get even better in both the short and long terms, as the surgical robotics program recruits top talent to the QEII.
"These are the really big benefits to robotics. We've only just started and are seeing this already," says Dr. Mason.
INNOVATIVE TECHNOLOGY
The QEII Foundation has completed its $8.1-million campaign to bring this innovative surgical robotics technology to the QEII, exclusively through donor dollars.
These dollars and this campaign saw the arrival of the da Vinci surgical robot to the QEII in February 2019, where the technology now performs minimally-invasive robotic surgeries through incisions of less than one centimetre in size.
The robot has four robotic arms, including one with a camera, that are controlled by a surgeon from 10 feet away. The surgeon performs the surgery, directing the robotic arms inside the patient while watching a 3D, high-definition video.
This technology enables tiny, precise movements that are beyond human capabilities. This means the technology is used to perform complex cancer surgeries, like the prostate and kidney surgeries performed by Dr. Mason.
"With this visualization, we're seeing things we've never seen before. The 3D view is magnified 10 times and visually brings us within inches of the cancer," he says.
RECRUITING TOP TALENT
The technology has also had a massive impact on patient outcomes, with its minimally-invasive procedures meaning less pain and a quicker return home for patients, reducing typical recoveries from five days down to just a couple.
Dr. Mason says this technology will also attract more healthcare talent to Halifax, in the form of medical students to Dalhousie University and doctors to the QEII. After all, it's also what brought Dr. Mason back home to Nova Scotia from the Mayo Clinic.
"Having this technology here is huge — this is a very big point of recruitment to hire the next generation of surgeons," he says.
QEII surgical robotics development council co-chair and urology department head, Dr. Greg Bailly, says many surgeons who pursue additional surgical training are doing so in robotic surgery. He says with many Canadians looking to return home after their medical training, this technology at the QEII means they can do just that.
"This environment of innovation attracts people here," he says.
AN INSPIRING CAMPAIGN
Dr. Bailly says the QEII's da Vinci is but the beginning of its surgical robotics program, which is set to expand over the next decade.
"We see robotics expanding into many different aspects of surgical care. We are at the very beginning of a very long and exciting journey into robotics," says Dr. Bailly.
QEII Foundation president and CEO Susan Mullin says this journey has both an immediate impact of bettering patient outcomes, as well as a longer-term one as the technology helps to recruit and retain top healthcare talent.
"Recruiting and retaining the best and brightest has a multiplier impact on patient outcomes," she says.
Mullin says this particular campaign has inspired support from an array of donors, including physicians, surgeons, the Sobey family — who donated $3 million — and a 12-year-old boy who saw the campaign on the QEII Foundation's website and wanted to help.
"This has inspired around 2,300 donors to come together and support surgical robotics. We're so thankful for their support," says Mullin.
QUICK FACTS
The QEII Foundation has raised $8.1 million in support of Atlantic Canada's first surgical robotics program. This campaign was entirely donor funded, with 2,300 donors.
The QEII Health Sciences Centre's da Vinci robot has four arms, one with a camera, all controlled by a surgeon as they navigate the procedure via the 3D, high-definition video.
More than 330 robotic surgeries have been performed at the QEII since February 2019 – treating patients living with kidney, prostate, gynecologic and ear, nose and throat (ENT) cancers.
Incisions for these procedures are less than one centimetre in size, meaning surgeries are less invasive and patients recover quicker.
With the support of QEII Foundation donors, future plans include funding another surgical robot – the second only in Canada – dedicated to orthopaedic surgeries at the QEII.