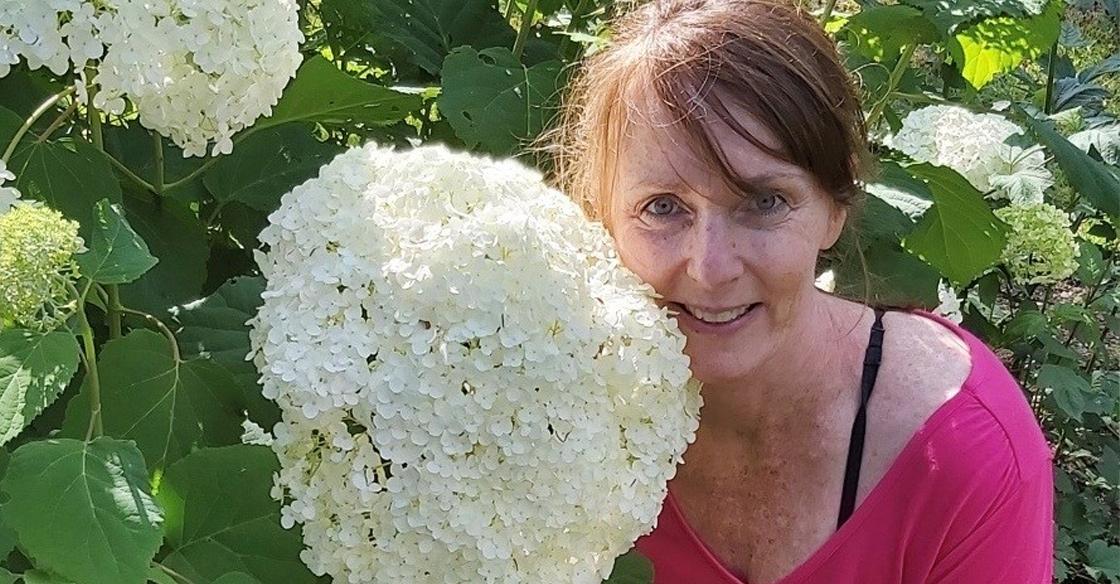 Susan Wood was suffering from treatment-resistant depression and credits Repetitive Transcranial Magnetic Stimulation (rTMS) with saving her life.
Originally published on saltwire.com. 
Susan Wood had once been a sociable, active person, but a major depressive disorder left her with an overwhelming sense of emptiness — struggling just to put two feet on the floor.
"I was absolutely exhausted. The amount of work it took me to get through the day was unfathomable," recalls Wood, who lives in Lunenburg County.
For two very dark years, she found it difficult to organize her thoughts and remember even basic information. Her depression crept into every aspect of her home life, relationships and career, and she was losing hope things would ever get better.
She tried various medication combinations but still wasn't seeing an improvement, and Wood's doctors gave her an updated diagnosis of treatment-resistant depression.
Desperate for a solution, she turned to the internet and researched a treatment called Repetitive Transcranial Magnetic Stimulation (rTMS). The only catch? It wasn't yet available in Atlantic Canada, so Wood would need to travel to a private clinic at her own expense.
She spent three weeks in Toronto late in 2018, undergoing two rTMS treatments a day (five days a week) so she could return home as quickly as possible. Each treatment took less than 10 minutes and Wood felt nothing more than a vibration as she relaxed in a recliner-style chair. Then she'd walk back to her AirBNB, eat breakfast, relax, and head back to the clinic later that day for a second treatment.
Wood says she was fortunate to respond very quickly to rTMS and noticed a difference after just four days (eight treatments).
'I just might get through this'
"It felt like something was starting to lift. I couldn't put my finger on it, but it was like a bit of lightness — like the fog was clearing," says Wood.
She started feeling better and better every day. By the end of 20 treatments (10 days), she started to feel like herself for the first time in years.
"It was a really profound moment because it was when I realized 'I just might get through this,'" says Wood.
She started spending her days more adventurously, wandering around downtown Toronto to admire the Christmas decorations and pop into the shops.
When she returned home to Nova Scotia just before the holidays, Wood says she felt like "a totally different person." After years of either being off work or struggling to complete a part-time schedule, she was even able to return to work full-time.
"I was full of energy and enthusiasm for life again. Everyone noticed a huge difference in me, and I could really start seeing a future for myself," says Wood. "That three-week period was life-changing and life-saving."
'Everybody deserves that'
Ever since Wood completed that first round of rTMS treatments in Toronto two years ago, she's been advocating ever since for it to be made available here in Nova Scotia.
"It was really frustrating not to be able to access a piece of the continuum of care for my treatment-resistant depression, especially when I knew it worked for me," says Wood.
So when a private clinic opened in Halifax, she began travelling there for maintenance rTMS treatments and paying out of pocket. While she's "extremely thankful" she's been able to do that, she acknowledges that isn't affordable for many Nova Scotians — and was overjoyed to hear rTMS will now be publicly available here in the province.
"It's such great news! I'm very thankful for the generous donation from Bell Let's Talk because it's moving 'talk' into 'action,'" says Wood. "This is going to give so many people the opportunity to feel the best they can, and everybody deserves that."
---
Quick facts on rTMS
Repetitive Transcranial Magnetic Stimulation (rTMS) is a non-invasive procedure that was approved by Health Canada in 2002
rTMS involves stimulating or inhibiting nerve cells in the brain that are involved in controlling emotions
rTMS treatment can benefit those living with depression, obsessive-compulsive disorder (OCD), post-traumatic stress disorder (PTSD), bulimia nervosa and substance abuse
17,000 Nova Scotians are living with treatment-resistant depression, and rTMS offers new hope for them.
rTMS will be available at two hospital locations to start: Nova Scotia Hospital in Dartmouth and the Valley Regional Hospital in Kentville.
Patients across the province will be able to access rTMS via a referral from their psychiatrist.
There will be no cost to patients. Nova Scotia's first rTMS program is possible thanks to the QEII Foundation's $759,000 fundraising campaign. This includes a $420,000 donation from Bell Let's Talk.
You might also be interested in...