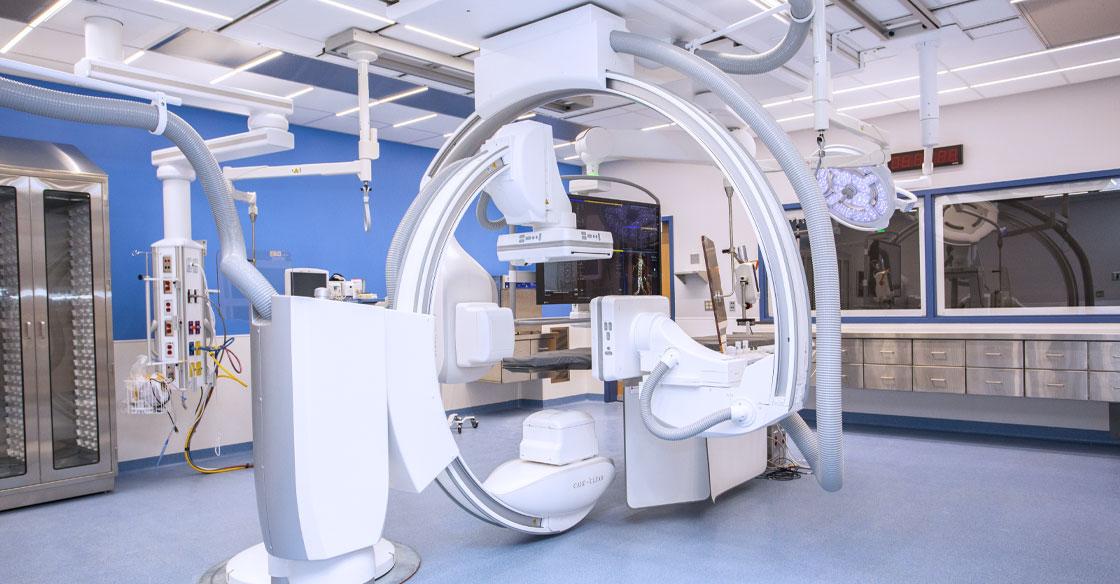 Photo: Nova Scotia Health
A stroke, blood clot, or tumour could land you in one of the QEII's brand new interventional radiology (IR) suites.
This team treats disease in the most minimally-invasive ways possible – using tubes and wires to deliver treatment to a target organ.
The QEII Foundation joined the province to support this project early last year. The suites, which began treating patients in November 2020, were able to expand from two to four – treating more patients and reducing overall wait times for care.
In fact, according to the IR team, they're on track to perform 1,000 more procedures in 2021 compared to previous years.
This good news story at the QEII is a direct result of donor dollars at work, ensuring teams have top notch technology to deliver treatment. Donor support also introduced a brand new recovery space, suited for eleven patients.
As many IR procedures are outpatient – patients often return home the same day, and thanks to community support, now have a seamless experience.
With new technology comes innovation. In December, Ceilidh Mailman was the first person in Atlantic Canada to receive an AngioVac – a procedure that involves treating a blood infection through tubes inserted into the neck and leg.
Ceilidh says the procedure – conducted in the new IR suites – gave her a "new start on life."
The QEII's IR team says they treat upwards of 200 unique procedures – they really mean it when they say head-to-toe care.
Young, healthy and pregnant with her first child, Jillian Muise never imagined she'd wake up in one of the (former) IR suites.
Jill received care in the suites at the peak of the pandemic's first wave in Nova Scotia, just hours after she learned she had rectal cancer.
In the suites, a team worked to drain a dangerous abscess that had grown after the tumour perforated her rectal wall.
Recently, Jill celebrated the first birthday of her baby, Brynn – who is a healthy, sassy and bubbly one-year-old. Jill is grateful for the incredible care she received – and everyone who supported her along her journey.
"The general public as well as most hospital staff really have no idea what we do in IR. I try to educate about who and what we are as often as I can," says Lisa Hughes, a registered nurse on the team.
"What I want donors to know is that if they or a loved one are ever in need of our services, our new department is now be able to provide their care from the moment we contact them with their appointment to the time we say goodbye as patients return home," she says.
To learn more about the IR suites and the campaign to fund this space, including generous support from the QEII's department of radiology, visit: QE2IRSuites.ca.