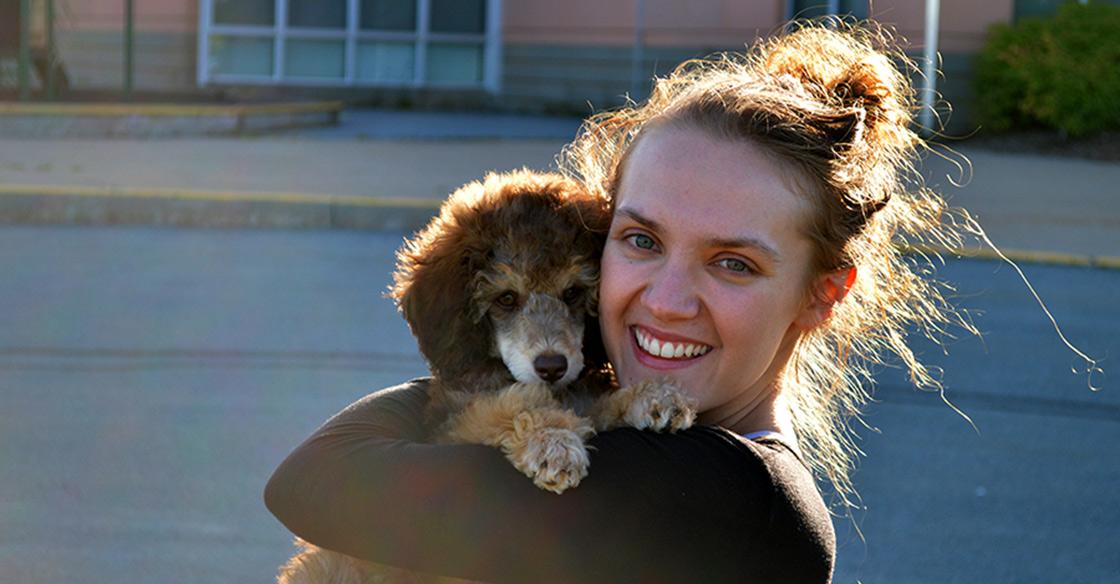 Jocelyn Paul became interested in the health of First Nations youth and adults at an early age. As a young Mi'kmaq girl growing up on Indigenous territory in British Columbia, Jocelyn witnessed high levels of intergenerational distress, substance use and various forms of aggression. As early as grade three, Jocelyn started to develop a conscious curiosity about the origin of these outcomes and the links between symptoms of poor health, societal inequities and racial biases. Even as a child, Jocelyn experienced racism.
"Often in school, non-Indigenous students would overtly judge Indigenous students and refuse to be partners with their First Nations peers during class activities, such as showing looks of disgust when having to hold hands or be partners with Indigenous students," Jocelyn recounts.
At 13 years old, Jocelyn moved to Mi'kma'ki, spending time in both K'jipuktuk (Halifax) and U'nama'kik (Cape Breton). Despite the large number of First Nations peoples in Mi'kma'ki and in particular, U'nama'kik, it was evident to Jocelyn that high levels of racism existed here as well, though often more covert.
Despite related stressors, she was proud to see Mi'kmaq peoples her age and older achieving and striving to achieve various academic and vocational goals. However, by the time she reached high school, Jocelyn discovered there was a very significant lack of Mi'kmaq women in pursuit of doctorates within clinical psychology. She also noticed a lack of psychological therapies that combined Western methods and Mi'kmaq and other Indigenous traditional healing practices. At this point, her future goals were set.
"While initially surprised, these discoveries further encouraged me to make it a professional, personal and academic goal of mine to one day graduate from the PhD in Clinical Psychology program at Dalhousie University and assist in the development and research of Western-Indigenous psychological therapeutic methodologies," Jocelyn says.
Through hard work and perseverance, Jocelyn is the one of the first Mi'kmaq woman hailing from Membertou First Nation of the new decade to be accepted into the PhD in Clinical Psychology program at Dalhousie University.
The Diversity in Health Care Bursary, funded by the QEII Foundation, has provided some financial relief for Jocelyn along the way. This bursary program helps remove barriers for students – who are African Nova Scotian, Indigenous, new immigrants, 2SLGBTQ and/or students with disabilities – pursuing a career in health care and, in turn, aligns healthcare professionals with the community's cultural profile. Jocelyn received this bursary in 2019 and 2020.
"I'm absolutely honoured – and very excited – to receive the Diversity in Health Care Bursary," she says.
For Jocelyn, diversity means that we not only come together to admire and acknowledge each other's differences but we grow closer to our own communities, such as First Nations communities, to develop a stronger sense of cultural identity and a stronger sense of who we are.
"It's not only connecting at a broader level of culture and diversity - but it's also coming together as one to see how we can all make Nova Scotia a better place to live," she says.
Jocelyn is well on her way to making this happen. Her PhD research will examine the systemic impacts of First Nations Peoples living in Nova Scotia and how these systemic impacts relate to very specific health outcomes – and how we can moderate, buffer and protect against the effects of particular negative social experiences on health outcomes.
"My research will focus more on the psychological aspect but also looking at a holistic aspect, as First Nations culture is holistic in nature," she explains. "I want to apply our Mi'kmaq cultural aspects to cognitive behavioural therapy."
Jocelyn already has her sights on the future. Her ultimate goal is to move back to Membertou First Nation and be the first practicing clinical psychologist there.
"I want to nurture the psychological health of U'nama'kik (Cape Breton); to reduce the high rates of depression and anxiety, which if left untreated, can lead to issues with substance use, suicidal ideation, and higher levels of chronic health problems," Jocelyn says. "I'm hoping to move back there and take care of my people and to foster feelings of belonging and cultural pride."

Click here to learn more about the Diversity in Health Care Bursary program.