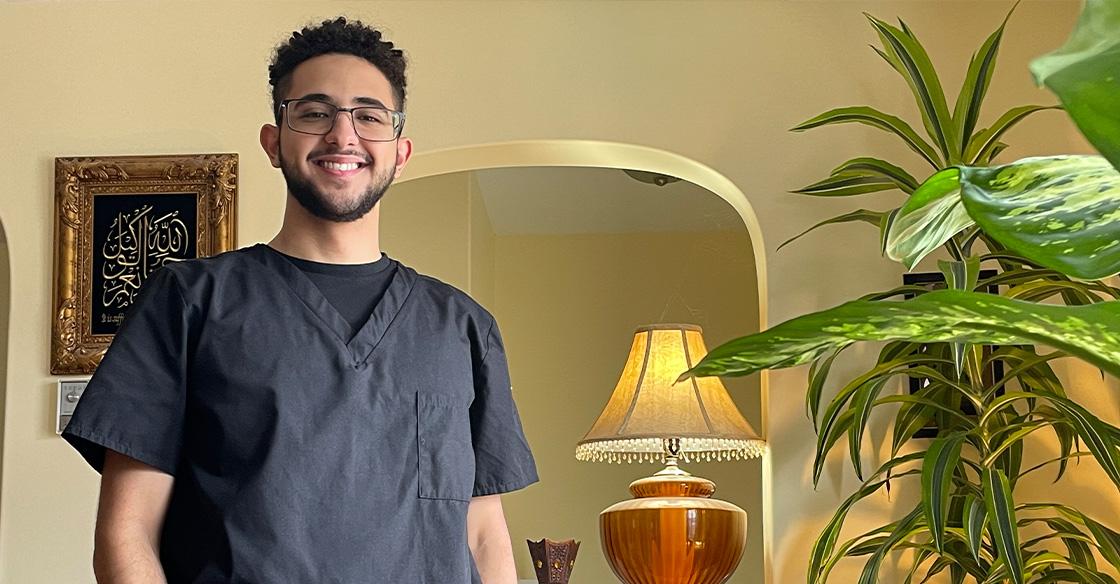 Adept at math and physics, Ahmed Esmat thought he'd become an engineer like his father and siblings. But he wanted to work one-on-one with people and to give back.
"I want to help people, especially those who are in hospital in their most vulnerable state, and that led me into nursing," says Ahmed.
In his second year of a three-year nursing program at Dalhousie University, Ahmed would like to focus his future career in critical care, heart health or neurology. His long-term goals include becoming a nurse practitioner, after gaining a few years of valuable work experience.
Ahmed's interest in a nursing career also comes from a personal experience. When a family member was admitted to hospital a few years ago, what stood out to Ahmed was the care and support nurses gave his family during this difficult time. Now that Ahmed has some hands-on experience through his clinical rotations as part of his training, he has seen how he's able to help other families.
"I'm even more motivated to expand my education and provide the best support I can," says Ahmed.
Ahmed also believes he can bring a unique and different perspective to health care in Nova Scotia. Born in Abu Dhabi, UAE to Egyptian parents, Ahmed moved to Canada when he was six years old. Today, Ahmed strives to be a good role model to inspire others like him to enter careers in health care.
"Seeing your ethnicity represented in the healthcare teams that are providing your care is essential for patients, especially in a diverse city like Halifax," says Ahmed, a recipient of the 2020 QEII Foundation Diversity in Health Care Bursary program.
A champion for diversity in health care, Ahmed has already experienced the impact he can have on patients.
During a clinical rotation in geriatrics, Ahmed saw an Arabic-speaking patient struggle to speak English and communicate with their healthcare team. Ahmed was able to communicate with the patient in Arabic, their shared first language, helping the patient understand the care process and be more comfortable with their situation.
"You could see how happy it made the patient to have someone who speaks the same language care for them," recalls Ahmed.
Aside from language barriers, Ahmed recognizes that a healthcare system with people from different perspectives and different points of view, brings an important aspect to care. Working together, diverse healthcare teams can collaborate and provide the best support for patients, depending on their individual situations.
Now only a year from becoming a registered nurse, Ahmed looks forward to his future career and caring for Nova Scotians.
Learn more about QEII Foundation Diversity in Health Care Bursaries here.