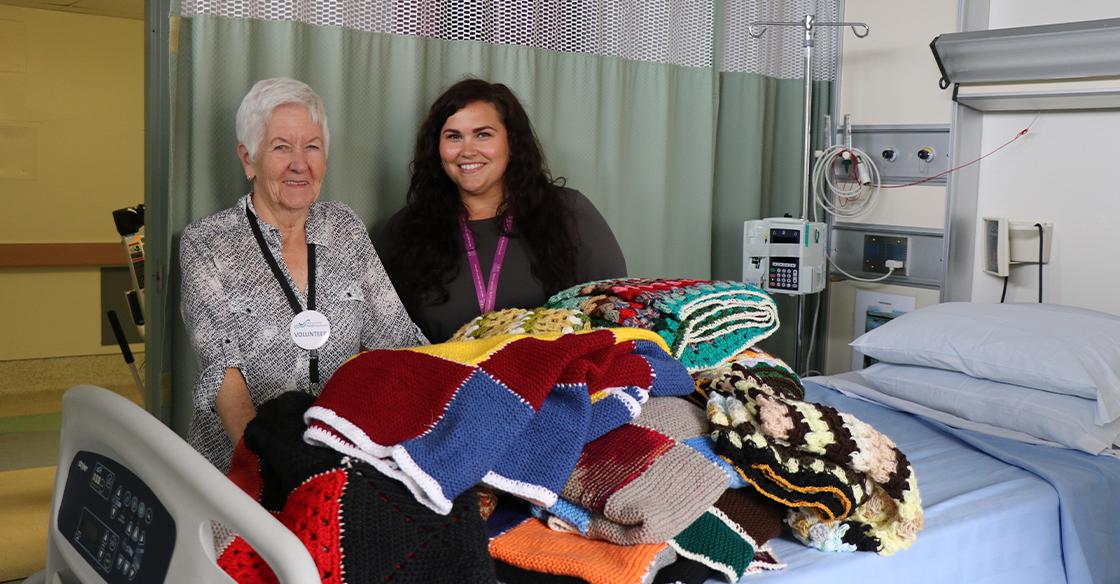 Photo caption: Jillian Roy, Volunteer Coordinator, Cancer Care, QEII Health Sciences Centre and Mae Saunders, Palliative Care Unit Volunteer stand near a bed in the Palliative Care Unit with blankets donated from community members. 
In October 2018, a simple Facebook post sparked inspiration in the community. The result has been a more welcoming experience for patients in the QEII Health Sciences Centre's palliative care unit. The post from Nova Scotia Health Authority asked for community support to gather handmade blankets to offer patients in the QEII's palliative care unit. The Facebook post generated donations of 60 blankets right away, and support for this program has been growing ever since.
Today, every patient in the palliative care unit receives a blanket, handmade by community champions whether it be knit, quilted or crocheted – it's all about comfort, colour and creating meaningful experiences for patients during the most difficult time in their life. The blankets are new and unique for each patient.
In order to fulfill the unit's goal to provide a blanket for each patient, they need approximately 300 blankets per year. In an interview with Jillian Roy, Volunteer Coordinator, Cancer Care, QEII Health Sciences Centre, it was stated that the unit is now looking for support from crafters, quilters and creators in the community to ensure that each person who has a palliative care experience at the QEII, receives the same level of comfort and care.
Community member, Irene Chan had a recent experience in the QEII's palliative care unit visiting a friend receiving care.
"The team in the palliative care unit makes sure our loved ones are as comfortable as possible. The colourful blankets make patients feel special and makes their surroundings feel less like a hospital and more like home," said Irene when referencing the unit's blanket program.
After Irene's experience visiting her friend, she was inspired to purchase materials for community groups to make more blankets for patients like her friend. It is community champions like Irene that fuel this program and make a positive impact on patient experience at the QEII.
Along with handmade blankets, patients also receive welcome kits in a colourful bag, filled with a notebook and pen as well as resources that help educate patients on the palliative care unit and what to expect during their stay. Patients even have access to a "Comfort Cart" where they can access extra comforts, like colouring materials, puzzles, nice toiletries and borrow items like DVDs, iPods and books to help keep their minds at ease.
The impact that the community is having in the palliative care unit at the QEII is significant. QEII Foundation donors have also been long-time supporters of this unit, funding initiatives like staff education and special family dinners for holidays – all contributing to the same objective of elevating the palliative care experience for patients and their families.   
While the words "palliative care" are often coupled with feelings of grief and sadness, it's really about making the most of the good days we have left. In the palliative care unit – life is celebrated every day, every moment treasured. Whether cuddling up with a good book, practicing mindfulness with a counsellor or enjoying a visit with a loved one, the moments here are incredibly special. These moments are made possible by the dedication of QEII healthcare teams, community champions like Irene and QEII Foundation donors who support palliative care – these are the people who help make these difficult moments more meaningful.
If you are interested in contributing to the comfort and support of patients receiving care in the QEII's palliative care unit, blankets can be dropped off to the unit, located in 7A Centennial building, Victoria General Site. If you have any questions regarding this program, please contact Jillian Roy, Volunteer Coordinator, Cancer Care, QEII Health Sciences Centre at (902) 473-3811 or via email at Jillian.Roy@nshealth.ca.