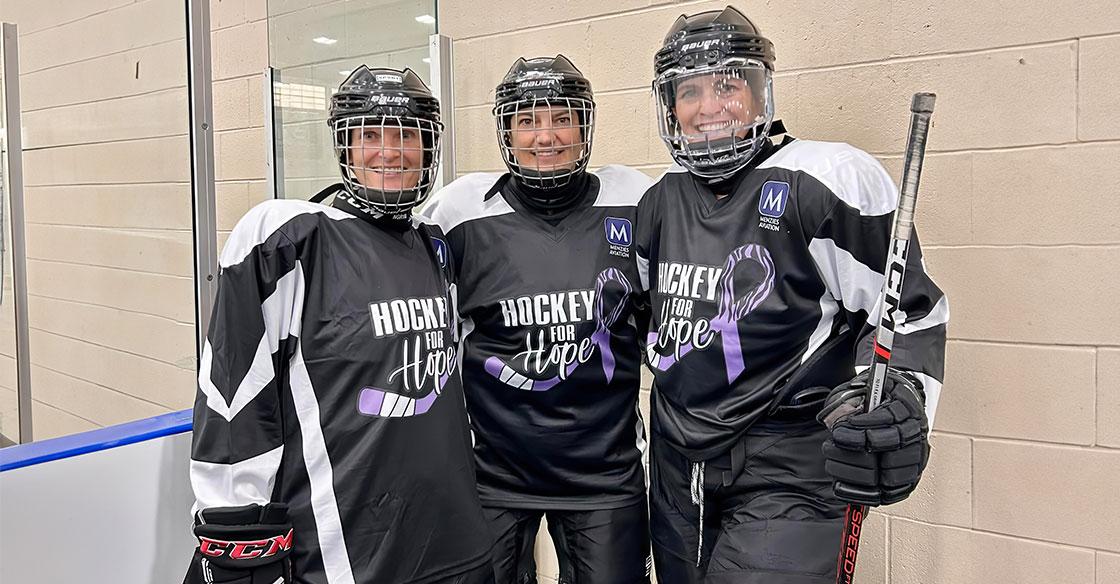 On a weekend in early September, 10 dedicated teams took the ice in the first-ever Hockey for Hope. The three-day tournament raised over $30,000 net for local cancer patients requiring mental health support – far exceeding the original $10,000 fundraising goal set by organizers.
It was a historic weekend in many ways for Hockey for Hope founder and cancer survivor, Sharon "Shay" Needham. The event marked the eight-year cancer anniversary of her diagnosis; an occasion Shay chooses to recognize each year with a personal challenge for herself and celebration. In 2023, it was organizing her first hockey tournament, raising critical funds for a cause close to her heart.
"We hear a lot about the physical effects of cancer treatments, but the social and emotional impacts can be just as daunting," says Shay. "When your sole focus is fighting this disease and getting better, you're often ignoring the mental trauma of your cancer experience – which is why prioritizing your mental health is so important."
That's why Hockey for Hope proceeds are fueling a newly-created fund, through the QEII Foundation, that will provide financial assistance to QEII cancer patients who need mental health support – whether it's helping to cover the costs of private counselling, therapy or the treatments they require. The new dedicated fund will be part of the QEII Foundation's QEII Patient Assistance Fund that helps relieve some financial burdens faced by patients receiving care at the QEII Health Sciences Centre.
MENTAL HEALTH AND CANCER CARE
Shay recalls how challenging it was to share her 2015 diagnosis with loved ones and friends and the toll it can take on the patient.

"Because I had lung neuroendocrine cancer and it's a rare cancer, automatically people thought I was dying," says Shay.
In some cases, patients are navigating the overwhelming responses and reactions of others, all while processing this life-altering news.
"As a result, some patients may not want others to know their diagnosis, what they're facing or how they're struggling," says Shay. "This only adds to the isolation they may be feeling."
According to Shay, patients may navigate a multitude of stresses during their cancer experience, from their initial diagnosis and treatment journey through to survivorship.

"A lot of the time, you're in fight mode dealing with the physical impact of cancer – but once that's dealt with, you get spit back out into the world and your whole world has changed," says Shay.
She explains that some patients may feel alone, experience survivor's guilt or require support to adjust to their new normal after cancer.
"That's when I found therapy was really important for me – and why the goal of this annual tournament is to help increase access to mental health support for cancer patients and survivors," says Shay. "This is only the beginning."
Shay credits fellow event organizers and friends, Jen Buffett and Kim Ramsay, for their incredible work and dedication – making the inaugural Hockey for Hope an overwhelming success. The weekend event included online and silent auctions, an in-person social with support from The Village Taphouse and SAJ House, and, of course, lots of hockey and time on the ice.
"This event wouldn't be possible without our amazing volunteers, teams, supporters and donors," says Shay. "I want to sincerely thank everyone who played, stepped up or helped Hockey for Hope in any way and for all the love and support they've shown for this cause."
This includes a $10,000 donation by The Arthur L. Irving Family Foundation, who have always supported Sharon in her ongoing efforts to give back to other cancer patients and believe in her vision. Menzies Aviation also got onboard with this worthy cause, where Sharon works as regional manager of fuel operations at Halifax Stanfield International Airport (YHZ). The leading service partner to the world's airports and airlines donated to the QEII Foundation, as part of its John Maxwell Menzies (JMM) Community Fund.
As Hockey for Hope celebrates an incredibly successful first year and goal-smashing fundraising, Shay is hopeful their efforts are also raising critical awareness of mental health and cancer care.

"It's important for patients to know that they're not alone in what they're feeling," says Shay. "By sharing my story, I hope it helps other patients, survivors and those who are supporting a loved one or friend through a cancer experience – it's okay to need help navigating this journey."
For Alison MacKenzie, community inspiration officer with the QEII Foundation, Hockey for Hope is a prime example of the incredible impact community fundraisers make possible.
"We're so proud to work with champions like Shay, Jen and Kim who are raising funds that help transform health care at the QEII and beyond," says Alison. "The hockey community and the community at large truly rallied behind this event in a big way and, as a result, many patients will directly benefit."
According to Alison, money should never be a barrier to a cancer patient's ability to access the mental health care and support they need – but thanks to Hockey for Hope and its army of supporters, the future is a lot brighter.
"It's so much more than a hockey tournament," reflects Shay. "It's a chance to play a game we love, celebrate all we have to be grateful for, and positively impact the mental health and treatment journeys of cancer patients and survivors – what could be better than that?"