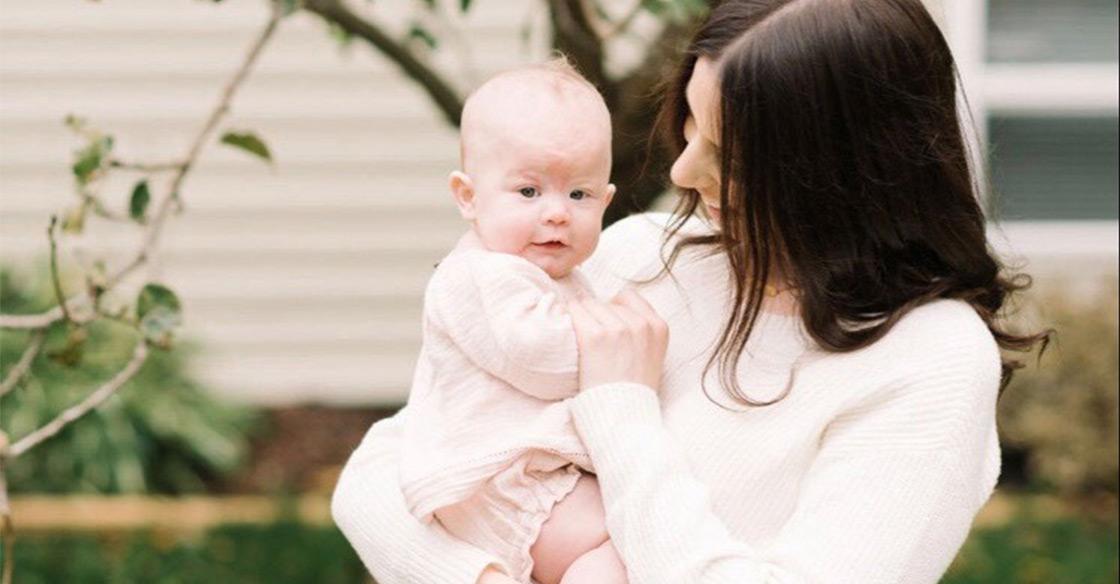 The holidays will hit differently this year for most people – while some quarantine to be near loved ones and others ring in the season in ways they never expected. Things look different, but above all, there is a hint of gratitude in the air – for friends and family, for our healthcare workers, and for each other, as we wrap up a year no one will soon forget.
This is especially true for Jillian Muise, of Halifax, N.S., who will celebrate with family by her side, the newest member being her seven-month-old daughter, Brynn.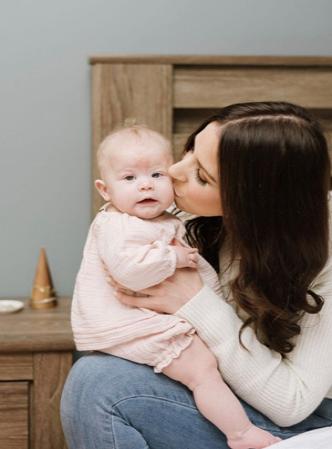 Brynn's arrival on the planet was anything but conventional, and Jill has faced more in 2020 than many of us will in a lifetime. But she's still smiling – and felt it was important to share her story, an ode to coming out the other side.
At the peak of the COVID-19 pandemic in March, Jill woke up from emergency surgery at the QEII Health Sciences Centre.
What she remembers of the hours leading up to that moment is blinding pain and thoughts of her baby – at 30 weeks pregnant, she was scared.
31 years old and in her prime, Jill was diagnosed with rectal cancer just hours before a QEII team performed the emergency surgery. Along with the tumour in her rectum, doctors discovered a large abscess in her pelvis – which, perforated by the tumour, was dangerously collecting bodily waste.
Just a few minutes before the initial procedure began, Jill met Dr. Michael Rivers-Bowerman – "Dr. Mike" as she remembers him introducing himself. Dr. Rivers-Bowerman is an interventional radiologist and was part of the team that saved her life, and the life of her then unborn baby, Brynn.
"She had a lot of information to process in a very short period of time, a difficult time during COVID – it was hard to have family members in the hospital," he says. "She was brave, stoic and resilient, and had a great deal of poise, as well. She was far more concerned with Brynn's health than her own."
"I didn't want to call anybody and tell them," Jill says. "That's all I could think of at the time. I didn't want other people to worry, because it was COVID and nobody could come. I didn't want to put that kind of stress on anybody else. So I sat with the diagnosis by myself for the afternoon," she says.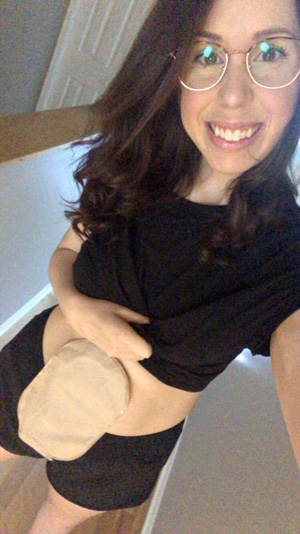 After her first procedure in interventional radiology she subsequently underwent a colostomy, which involved creating an opening in her stomach to direct waste into an ostomy bag.
When she woke up and saw part of her intestine outside her body, she cried. The next two months would be tough, as she received extensive IV antibiotics to help her get better.
Jill's story shows how complex – and integrated – health care really is. She could have died if not for the interdisciplinary team of experts who helped her get better – including oncologists, surgeons, interventional radiologists, obstetricians and infectious disease specialists.
In the beginning, Jill had assumed her symptoms were normal side effects of her pregnancy. But after developing a fever in March, followed by abdominal pain that wouldn't subside – she went to the IWK Health Centre.
Eventually, a resident doctor identified something abnormal in Jillian's rectum and ordered an MRI at the QEII – where Jill arrived by ambulance.
The sequence of events leading up to her first surgery is understandably blurry for Jill.
"I don't remember her name, but the doctor I had said 'take her down to give her an ultrasound and show her that the baby is okay before you do the surgery,' There was no need for an ultrasound, but she did it to give me peace of mind, which was really sweet."
Those moments – the kindness of strangers she met during her time spent in hospital – is what inspired Jill to share her story. Her care team made sure she never felt alone.
Jill recalls one particular nurse, Theresa, who helped her into a bath to try to make her more comfortable. "She sat on the floor for hours, pouring hot cups of water on my pregnant belly to help ease the pain. Individuals like that along the way, they make you see so much beauty in people."
As soon as it was safe to do so, Jill underwent a C-section and welcomed her baby girl, Brynn, into the world.
Just six weeks after Brynn's birth, Jill began chemotherapy and radiation. When the baby was four months, she underwent another surgery to remove what was left of her tumour.
In addition to her care team, Jill is grateful for her loving and supportive family – who have continued to support her along the way.
"I definitely have had my moments. I'd be lying if I said I didn't. But at the same time, I think if it wasn't for Brynn, it would probably be a really dark time." Jill says. "I just feel so blessed that given all those circumstances, she got here healthy and fine. It kind of outweighs all the other crazy stuff that happened. And it all feels worth it because here she is."
Jill's health care experience isn't over yet – both she and baby are doing well, but health care is a journey.
"We wish her a happy holiday, and hope her treatment continues to go well," says Dr. Rivers-Bowerman, of the QEII's interventional radiology team.
Over the last 10 months, healthcare workers weren't only caring for those diagnosed with COVID. Care continues – even during a global pandemic. Jill is one of many patients whose life was saved during COVID.
With donors coming forward, the QEII's brand new IR suites will expand from two to four, equipped with the latest technology. Patients like Jill will receive the very best care – whether they are living with cancer, an abscess, or they've had life-threatening internal bleeding or a stroke, to name a few examples of the medical conditions in the IR suites.
"Once the new suites are up and running – it's really going to increase the number of patients that we will be able to see on a daily basis, further reducing wait times for urgent care," says Dr. Rivers-Bowerman.
---
QEII radiologists, like Dr. Rivers-Bowerman, are matching all donations to the QEII Foundation campaign through to December 31, to a total of $200,000. To learn more about IR or to support the campaign, visit here.