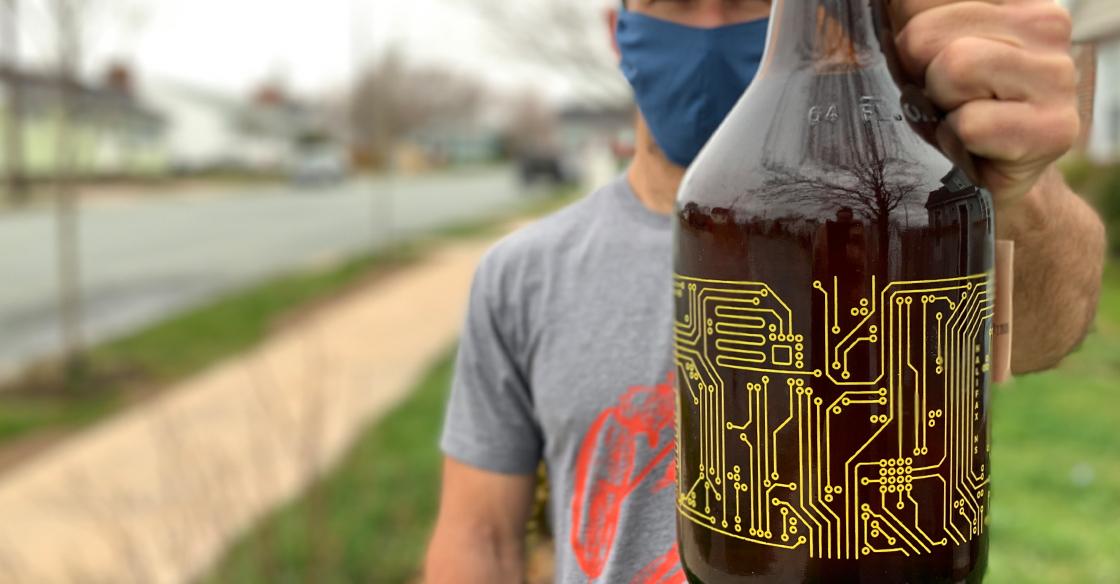 In the early days of COVID-19, Good Robot Brewing Company was one of many local businesses asking themselves "how do we survive this?"
That quickly shifted to a focus in online retail, Santa-Claus-like delivery service, and most recently, the release of a pretty special beer. "Once we had a few days to figure it out – the next necessary step was 'how can we help our community?'" says Brent Braaten, creative director at Good Robot.
It's called the FrontLiner – a nod to those working on the front lines every day in health care. A dry-hopped Belgian ale, the FrontLiner is citrusy, sweet and spicy – with 50 per cent of proceeds supporting the QEII Foundation's COVID-19 Response Fund.
"The hospital staff, what they're doing right now is heroic, really – and, I just can't think of a way to thank them enough," says Brent. "I don't know if there's a word for it."
"If I could say anything to them? I can't wait until this is all over, so I can buy you a beer."
Funds raised are supporting critical equipment to help respond to COVID-19. Weeks after launching the fund, 1,000 pulse oximeters arrived at the QEII – a device used to detect low oxygen levels before physical symptoms worsen, so patients can be safely monitored at home.
The community behind this will also support specialized ultrasounds for the lungs, mental health resources, and iPads to keep families connected.
Jessica Campbell, the Foundation's community inspiration officer, is used to drawing lines between people, causes, and opportunities. "COVID-19 completely flipped that on its head," she says. "I've been completely overwhelmed – by the support and the ability people have to get creative and fundraise on their own terms," she says. "It's so intuitive to give when your heart is in it."
Alongside friends at Good Robot, local businesses My HOME Apparel, East Coast Lifestyle and Fundy Treasures are among those stepping up in unique ways to help COVID-19 response at the QEII. Until you can spot a "Stay the blazes home" t-shirt in a taproom, you're more likely to be reminded of the good nature of Nova Scotians on Instagram or Twitter.
A registered nurse at the QEII's Veterans' Memorial Building, Sam says times are tough. "The QEII isn't just a hospital – for many of our veterans, it's also their home," she says. "It's hard to explain to a veteran why their families can no longer visit."
When she learned of The FrontLiner beer, Sam Sapelak was excited. "It's so nice to know nurses and other frontline workers are being recognized at this time," she says.
While days can be heavy, Sam takes comfort in her work. "If families know that I'm going to part their loved one's hair the right way, or give them a shave, or pull their collar over their sweater – so that they still look like their husband or father – I'm so happy to do it, because I love them," she says.
People like Sam are the reason we stay at home – so our most vulnerable populations stay safe, and our lives can resume as normal when this is over.
Brands like Good Robot and My HOME Apparel are going beyond usual measures to give back to their communities during a challenging time. For example, Goodwillbot is a weekly promotion at the Robot, highlighting charities in the community every Monday and donating a portion of sales to a good cause.
"Good Robot exists to create a sense of comradery and friendship while creating a quirky beer experience for our communities – the QEII is a good fit – the QEII is doing so much good work. We are really thankful for all the frontline workers putting their lives on the line, just to go to work every single day. That can't be easy," Brent says.
The brewery has had about 200 customers support the initiative so far and the FrontLiner is currently their top seller. Keep an eye on Good Robot's social media channels over the coming weeks as they shine a spotlight on local frontline workers and get to know the faces under the mask.
To learn more about the COVID-19 Response Fund, or to learn how you can help, visit QE2COVID19Response.ca.