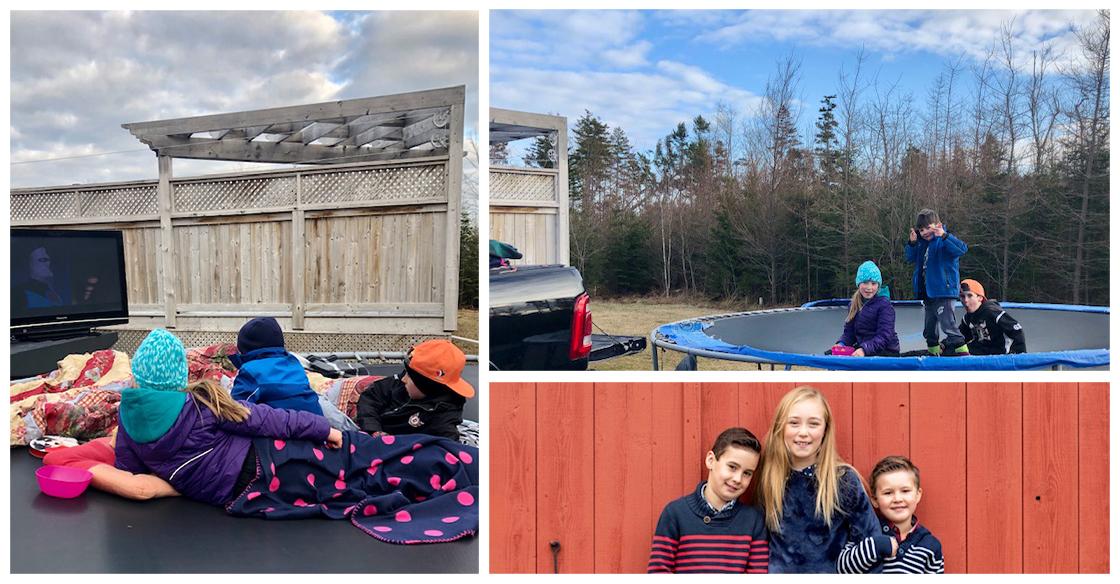 Inspiring others to give back to their community can happen anywhere, anytime, and at any age. Sometimes, it happens when you are five, eight, and 10 years old embarking on a stay-at-home challenge, sitting on your trampoline for seven hours.
Social distancing and staying at home isn't easy for anyone, but it can be especially difficult for children. Abby, Noah, and Sullivan Horne decided to make the best of this challenging situation and find a creative way to have fun while also following Dr. Strang's guidance.
"My kids decided to mimic a "last to leave" challenge, which they had seen on YouTube. My daughter said that it was the perfect time to do this since we had nowhere to go for once!" says Trish Sanford, mom to Abby, Noah and Sullivan.
The kids packed their bags with supplies and set out to the backyard for an adventure. Trish sent a photo of the new trampoline setup to her neighbours and joked that they would last all of 10 minutes. But the Sanford-Horne's neighbours were so impressed with the children's dedication and creativity, they wanted to make a donation in their name to a COVID-19 related charity.
The trampoline challenge has since inspired over $1,300 in donations from friends and family to the QEII COVID-19 Response Fund. Their generosity – along with hundreds of other families, individuals and businesses stepping up to support the response fund – is fueling frontline healthcare needs during the pandemic. Funds raised are purchasing vital equipment and technology for the QEII's COVID-19 wards and to support self-care at home for recovering COVID-19 patients.
"Knowing that someone was making a donation in their name really inspired the kids to try even harder and added a new element of fun and competition. They felt proud that their efforts were recognized. They took turns jumping on the trampoline, playing games, taking "naps" and throwing balls around," says Trish.
"We ended the seven-hour marathon as a family watching a movie on the trampoline. We finally had to drag them inside to go to bed around 8 p.m.! We were really proud of their commitment and their ability to make the best of such a challenging time."
Trish said that the QEII COVID-19 Response Fund was a natural choice as she had just visited the hospital to be tested for the virus herself.
"I developed asthma-related pneumonia and was advised to be tested out of precaution," she says. "The experience was very humbling. I was extremely nervous about entering the clinic and was in awe of the brave staff who were working there. I cannot imagine how they must feel going to work in these scary times and I gained an immense appreciation and admiration for their bravery."
The Sanford-Horne family says they will forever be grateful for all of the brave healthcare workers in these unprecedented times. They are also grateful for friends and family who have been so generous with their donations.
"Our children are no different from all of the other children around the world who are making the best out of these very difficult circumstances, however, we are thrilled that their creativity is bringing attention to such a worthy cause."
Abby, Noah, and Sullivan are extremely proud of the donations that have been made in their name.
According to the energetic trio, "it was 100% worth it!"
To learn more about the QEII Foundation's COVID-19 Response Fund, visit QE2COVID19Response.ca.