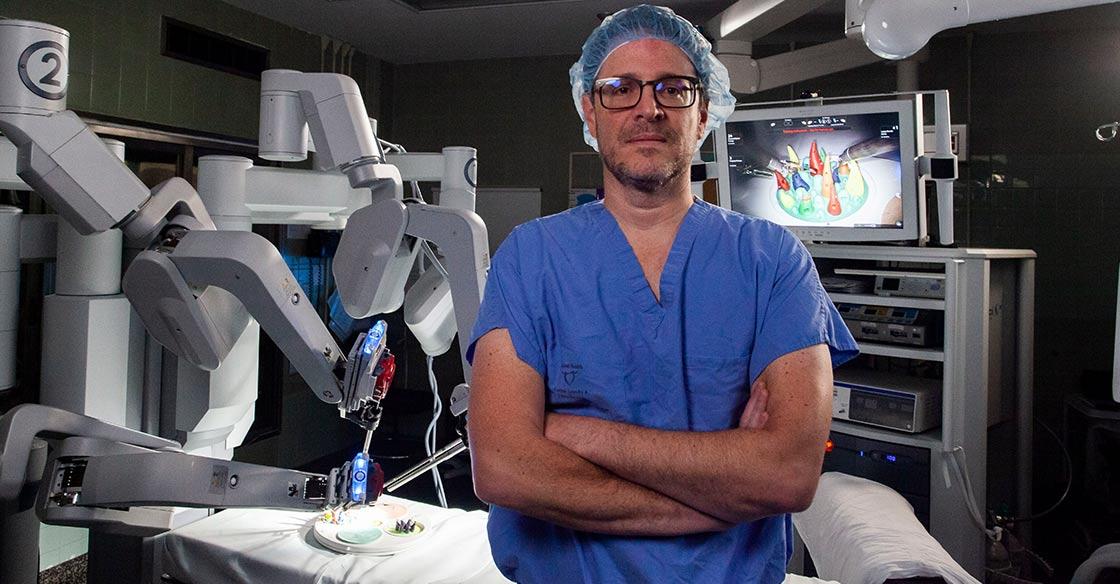 Pictured: Inspired by the work he does each day, Dr. Ricardo Rendon, a QEII urologist and robotic surgeon, supported the QEII Foundation through a gift of securities.
Originally published on QE2Times.ca
Making a difference by supporting an organization can happen in many ways. There are a variety of ways donors can lend their support to the QEII Health Sciences Centre through the QEII Foundation, as well as other organizations and non-profits.
One way to support a charity is through a donation of securities or shares of a company. When people decide to transfer their publicly listed stocks and/or mutual funds directly to the QEII Foundation, these transferred shares are like a cash gift that supports advancing health care for Atlantic Canadians at the QEII.
This form of charitable giving is a tax-smart way of supporting the QEII and is one that Geoff Graham, the senior director of gift planning and charitable giving advisor at the QEII Foundation, says is of benefit for both the donor and the QEII.
"Once you see the tax advantages of giving securities, it becomes very clear for a lot of people that this is a great way for them to be donating," he says. "Many people have owned securities for years that have increased in value with a taxable capital gain owing on the sale of those shares. These shares can be given as a charitable gift and no capital gains taxes are owing."
Gifts of securities are a simple and efficient way of contributing to charity.
"People find it really interesting when they understand the power of making a gift in kind like this — many don't realize how easy it is to give their shares. When they find out the tax benefits, usually a light bulb goes on. They see the benefit of giving securities they can transfer to charity," says Geoff.
He says the big difference between this method of support and giving traditionally lies with the tax savings received after donating. While donors giving money in traditional ways receive charitable tax credits for up to 55 per cent on gifts in excess of $200, gifts of securities can be of even greater tax benefit, as transferring shares as a donation to charity eliminates capital gains tax.
"Let's say you bought stock for $5,000 some time ago and this investment is now worth $10,000. If sold, you would be looking at a capital gain of $5,000 and 50 per cent of that would be taxed as a capital gain," says Geoff. "Giving the shares directly to the QEII Foundation will eliminate the $1,000 or so in the tax bill."
"But when you give those shares to charity, you eliminate that capital gain altogether and receive both a charitable tax receipt and charitable tax credit for the full $10,000. You're avoiding capital gains, while also getting a tax credit that could be very valuable for your situation."
Knowing your investment is helping to save and change lives is a feeling that's made even better when that decision is one that can help you as well, which is why Geoff says this is a form of donation that works well for many.
"You can look at it two ways: you can pay tax on your investment or you can give a wonderful gift to charity and get a charitable tax credit," says Geoff. "It's an efficient way to donate that not only helps a person's financial situation, but helps the charity, too."
Dr. Ricardo Rendon, a QEII urologist and robotic surgeon, chose to support the QEII through a gift of securities, after working with a financial advisor who recommended this form of donating.
Dr. Rendon says his continued support is inspired by the work he does each day as a physician, knowing the dollars are directly supporting the advancing of care delivered at the QEII.
"This increases the quality of health care we can provide," he says. "And as a user of the benefits from those donations, it means I can offer my patients better access to state-of-the-art tools, surgeries and treatments. It makes their outcomes better."
Geoff says working with a financial advisor is a great way to know your gift of securities will be transferred properly to the QEII Foundation, ensuring it goes directly to helping advance care at the QEII.
"We always recommend that donors check with financial advisors as they explore the option of gifting securities. Their financial advisor will help ensure everything is set up to make the transfer and can also determine which shares are the best to transfer to charity," says Geoff.
Geoff says the impact from gifts of securities is felt system-wide, with recent projects like the QEII's new interventional radiology suites and gallium-68 scanning having benefited from these donations. He says these donations play a vital role in continued healthcare advancement at the QEII.
"Being able to help build access to better health care for patients makes a big difference," says Dr. Rendon.
For more information about giving a gift of securities to advance health care at the QEII, visit https://qe2foundation.ca/ways-give/give-gift-securities.