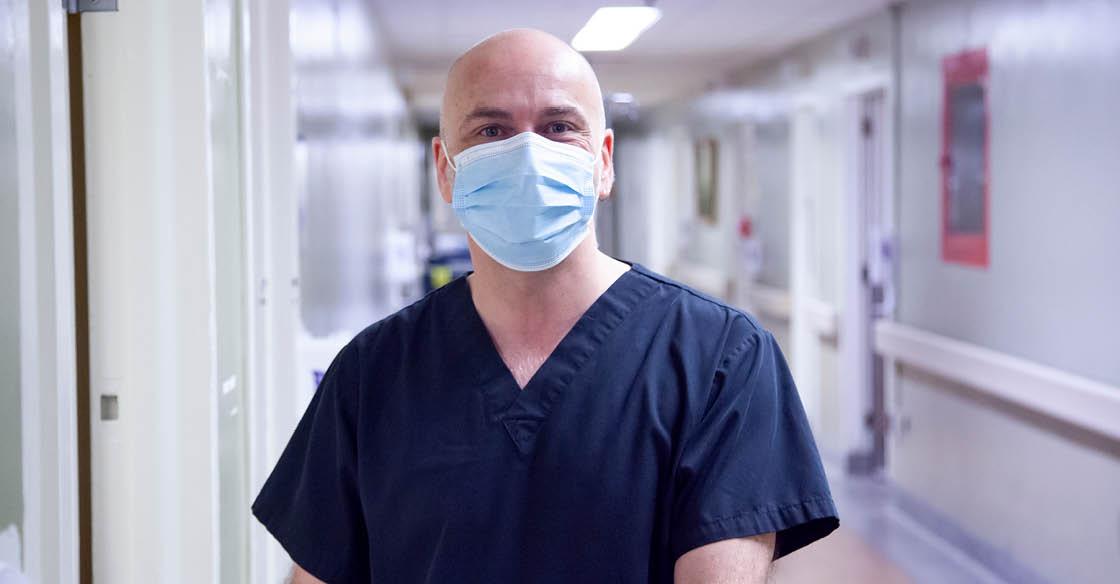 Caption: Darren Sharpe, nurse, in the QEII's Medical Day Unit.
Originally published in the Chronicle Herald.
While health care may be "free" for Nova Scotians, it doesn't include the everyday costs of being sick — like nutritional supplements, over-the-counter medications, healthy groceries, incontinence products, gas to drive to appointments, compression garments, and skin creams to prevent radiation burns.

That's why the QEII Foundation is introducing the QEII Patient Essentials Fund — a first-of-its-kind pilot program to support QEII patients with urgent, essential needs during their care journey. The QEII Foundation is actively raising funds for the new initiative, which has big goals for its first year. With the support of donors, they hope to distribute $50,000 in gift cards for gas, groceries and personal care over the next year, with the first gift cards in patients' hands this summer.

Clinical social worker Alyson Currie works on the QEII's psychosocial oncology team, helping patients and their families manage the psychological, practical and financial impacts of their disease. She says it's heartbreaking to sit down with someone who's struggling to decide between vital healthcare expenses and their everyday needs.

"Becoming ill or injured can affect every aspect of your life, including your finances. We always say 'If we have our health, we have everything,' but at the end of the day, financial security is what allows people to access health care and complete their treatments," says Currie. "If you're already tight on cash, the extra costs related to an illness can be debilitating — and many patients are more focused on that financial stress than they are on their own healing."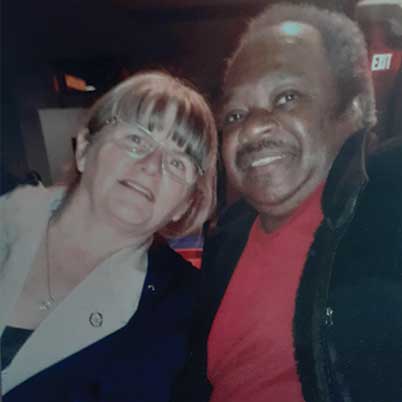 It's a sentiment echoed by Beth and Stephen Sparks.
For nearly four years, the Sparks have travelled 1.5 hours a day, three days a week, for Stephen's dialysis treatments at the QEII. The couple has a blended family of nine children and 21 grandchildren, and describe their fuel costs as "astronomical" as they make countless trips between their Mount Uniacke home and the QEII's dialysis unit in Halifax.

"Only some of Stephen's medications are covered by seniors' pharmacare and his special renal diet is costly," adds Beth. "You add on the price of gas for multiple treatment appointments each week, it can easily break you. So when families are struggling, every little bit counts."

When someone's unable to work and the bills are piling up, plus they're facing new medical expenses, Currie says their financial well-being can change overnight.

"With COVID, many people are already in the red because of lay-offs and closures. Others are going from making a decent living to bringing in no income at all. It can happen to anyone."

While handing out gift cards has been possible in the past, it's been limited to the donations provided to specific areas of the hospital. A breast cancer survivor, for example, may have donated a handful of coffee gift cards to be distributed among patients coming in for breast cancer treatment.
"It's such a joyous feeling to hand someone a gift card and know it's going to provide them with a bit of instant relief while we work on assessing and addressing their
larger financial issues," says Currie. "I always say 'I wish it was more, and I wish it could fix the root of the problem,' but it still feels good to know you're providing something tangible to help them out."

While those gifts are appreciated, they're only accessible to those specific patients.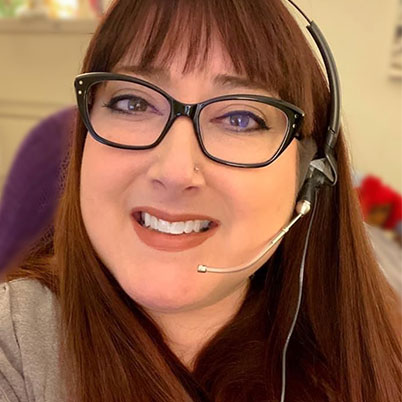 Currie says "it's been a dream for a long time" to be able to distribute gift cards to even more patients and alleviate some of their financial stress, and now the QEII Patient Essentials Fund will be able to help QEII patients – from across all care areas – who need a little extra assistance.

"If your total monthly income is $900, a gift card for gas, groceries or personal care items can make a huge difference," says Currie. "But we recognize that you might still be struggling even if your salary is much higher. You can't cancel your mortgage just because you're sick, and this program is here to help everyone who needs it — regardless of income."

QEII Foundation President and CEO Susan Mullin says they launched the program because frontline healthcare workers reported that many patients couldn't afford the foods, supplements and over-the-counter medications they needed.

"These are very real needs that are all a part of getting better, and you can't get better if you don't have those items," says Mullin. "These patients coming into the QEII could be any of us, and this is an opportunity to just give them a little helping hand."

Mullin says the QEII Patient Essentials Fund will be 100 per cent donor-funded, with our generous community making these gift cards a reality.
"At the end of the day, it's our frontline healthcare workers who really are able to see what people need and give them the tools that will make a difference," says Mullin. "Our staff will give them the best possible care, but now they can give them a little something extra to help relieve some of that financial pressure."
While donations are always appreciated for the QEII Foundation's various fundraising campaigns, Currie says this is a special one because instead of contributing to a multi-million dollar piece of medical equipment, you're purchasing an entire, tangible item yourself.

"You're putting the gas in someone's tank to get them to their dialysis treatment. You're purchasing the nausea medication someone needs to feel well enough to spend precious time with their family. You're putting a meal on a family's table when the fridge would otherwise go empty. It's direct and immediate help — and without it, there are people who won't recover as well."

And while a gift card might seem like a drop in the bucket compared to a patient's full financial burden, she says it's always very appreciated — especially because of the meaning behind it.

"It's more than just a gift card. It reminds them that someone they don't even know cares about them and wants to make their illness or injury a little easier," says Currie. "It may feel like a small gesture, but it has a big impact by providing them with immediate financial assistance, and the priceless gift of kindness, hope and light during a difficult time."

Your donation today to the new QEII Patient Essentials Fund will enable the immediate purchase of these gift cards — ensuring they're in the hands of patients who need them most. To learn more about the QEII Patient Essentials Fund or donate today, visit QE2Foundation.ca/essentials.