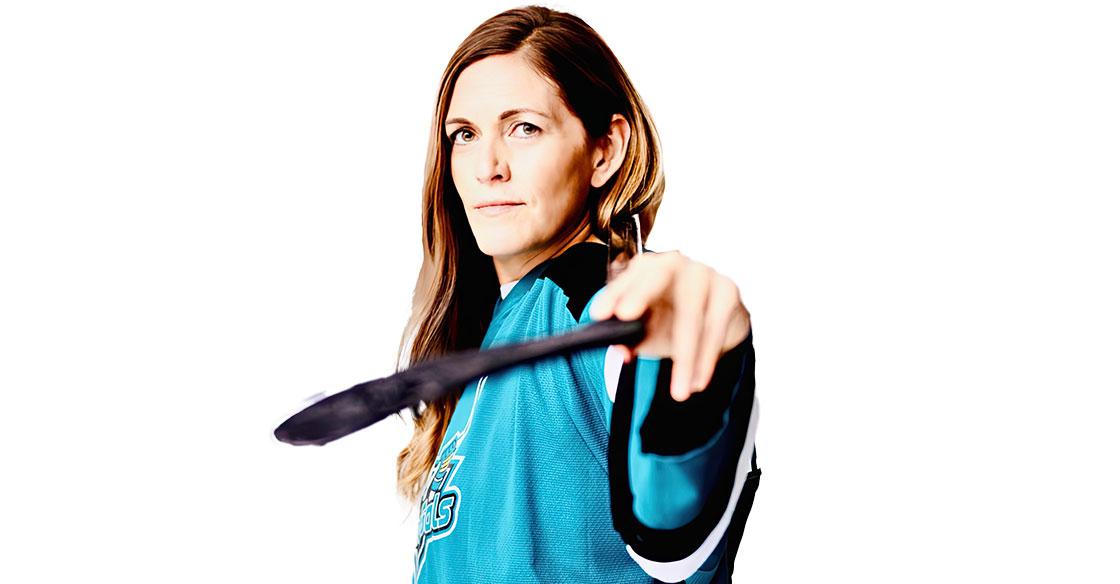 A fundraiser aptly named Hockey for Hope is on a mission to support local cancer patients requiring mental health support.
The three-day hockey tournament is organized by cancer survivor and thriver, Sharon (Shay) Needham, who is a fierce advocate for fellow cancer patients.
Shay's passion for the cause stems from her own cancer diagnosis and experience. In 2015, she was diagnosed with neuroendocrine cancer, which included a golf-ball-sized tumour in her left lung. At just 42 years old, her life changed in an instant.
The aftermath included major lung surgery, recovery, and years of follow-up tests and scans to ensure she remains cancer-free.
"We hear a lot about the physical effects of cancer treatments, but the social and emotional impacts can be just as daunting," says Shay.
According to Shay, cancer patients may navigate a "multitude of stresses" during their initial diagnosis and treatments, which can be both devastating and overwhelming.
"Beyond that, once the physical part of cancer is dealt with, patients may often feel alone, experience survivor's guilt or require support to adjust to their 'new normal' after cancer."
While Shay describes parts of her cancer journey as some of the lowest and most challenging experiences of her life, it also ignited a deep desire to give back due to her gratitude for her health.

Hockey for Hope is the latest fundraising initiative spearheaded by Shay to improve care for future cancer patients and survivors; this time, with a laser-focus on mental health.
"I experienced firsthand that access to mental health resources for cancer patients can be limited," says Shay.
It's why Hockey for Hope will fuel a newly-created fund, through the QEII Foundation, that will provide financial assistance to QEII cancer patients who need mental health support – whether it's helping to cover the costs of private counselling, therapy or the treatments they require. Shay's new fund will be part of the QEII Foundation's QEII Patient Assistance Fund that helps relieve some financial burdens faced by patients receiving care at the QEII Health Sciences Centre.
"Money should never be a barrier to a cancer patient's ability to access the social and emotional support they need," says Shay. "With Hockey for Hope, our hope is to help address an urgent need and directly impact the mental health journeys and experiences of cancer patients and survivors."
Mental health and cancer care
Shay recalls that shortly after she was diagnosed with neuroendocrine cancer, a survivor shared that her life would never be the same.
"I initially brushed it off with the mindset that once I was done treatment and physically healthy again, I'd be back to my regular self and life," says Shay.
She explains that when a patient's sole focus is fighting and getting better, they're often ignoring the mental and emotional trauma of their cancer experience.
"At some point in their journey, some patients may face the reality that they may not survive this – that's incredibly hard to process and reconcile for anyone," she says. "The second you hear that 'C' word, it forever changes your outlook on life, your relationship with yourself and others, and how you cope with the little and big things in your day-to-day."
According to Shay, it can be an isolating experience – no matter how strong your support network is.
"That's why prioritizing your mental health is so important," she says.
Shay credits therapy as part of her overall recovery and wellbeing. With funds being raised through Hockey for Hope, she's optimistic that even more cancer patients will be able to access the care and support they need.
About Hockey for Hope
Hockey for Hope is an inclusive, co-ed charity tournament, hosted on September 8-10 at the HRM 4-Pad in Bedford. It's a fun weekend of recreational hockey in support of a meaningful cause.
The tournament is open to players 25 years old and over, and teams can register now for $1,000 per team.
With Nova Scotia facing some of the country's highest cancer rates, we all know someone directly impacted by cancer and, likely, the QEII Cancer Centre.

Hockey for Hope is the perfect tournament for those with a fun, competitive spirit who also want to give back to their community and QEII cancer patients in need.
"Hockey became a big part of my cancer survivor journey – there's such a great community behind it," says Shay. "It's why this is so much more than a tournament: it's a chance to play a game we love, celebrate all we have to be grateful for, and positively impact cancer patients who are struggling."
Don't miss your chance to support the inaugural Hockey for Hope charity fundraiser! Click here to register your team, or make an online donation via the QEII Foundation to fuel mental health support for cancer patients.
---
Shay Needham is proudly leading the charge for Hockey for Hope alongside friends and fellow event organizers, Jen Buffett and Kim Ramsay. The trio is part of the group they call 'Shay's Angels'; an unstoppable network of friends, family and colleagues who have rallied behind Shay during every step of her cancer journey and the many initiatives she's undertaken to transform care for others.