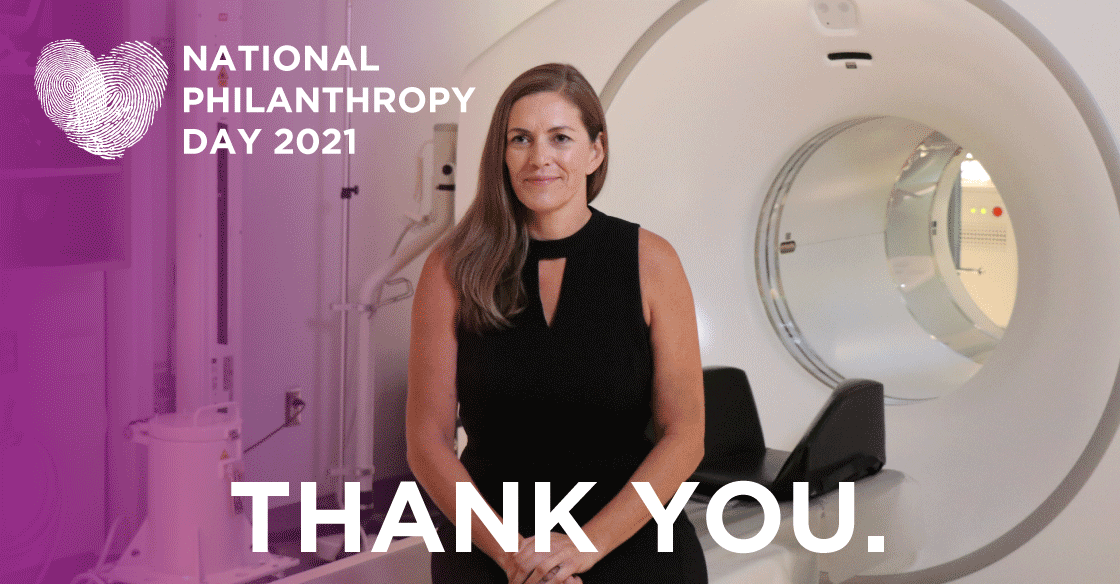 Taking place on November 15, National Philanthropy Day is an annual celebration of the impact that generous supporters, like you, are making in our community.
In 2020-2021, our generous donor community raised $9–million net to advance care at the QEII.
Sharon Needham and Tom O'Handley share their stories of how small acts of kindness and support make up a large movement that can truly change lives.
---
Sharon's Story 
This September, on the six-year anniversary of her cancer diagnosis, Sharon Needham anxiously awaited as a tumor-seeking tracer made its way through her veins.
The radioactive tracer, known as gallium-68 DOTATATE, is the world's best method for detecting neuroendocrine cancer. When injected into a patient and combined with the advanced imaging capabilities of a PET-CT scan, even the smallest traces of cancer – that otherwise wouldn't be detected – light up on screen.
This milestone was only made possible by 1,321 QEII Foundation donors, who, together, contributed $200,200 – fully funding the technology.
Alongside this incredible fundraising milestone, Sharon's scan confirmed that she's cancer-free. 
"I'm so grateful to the donors who supported this project…it will truly change so many lives."
---

Philanthropy – the love of people, the love of community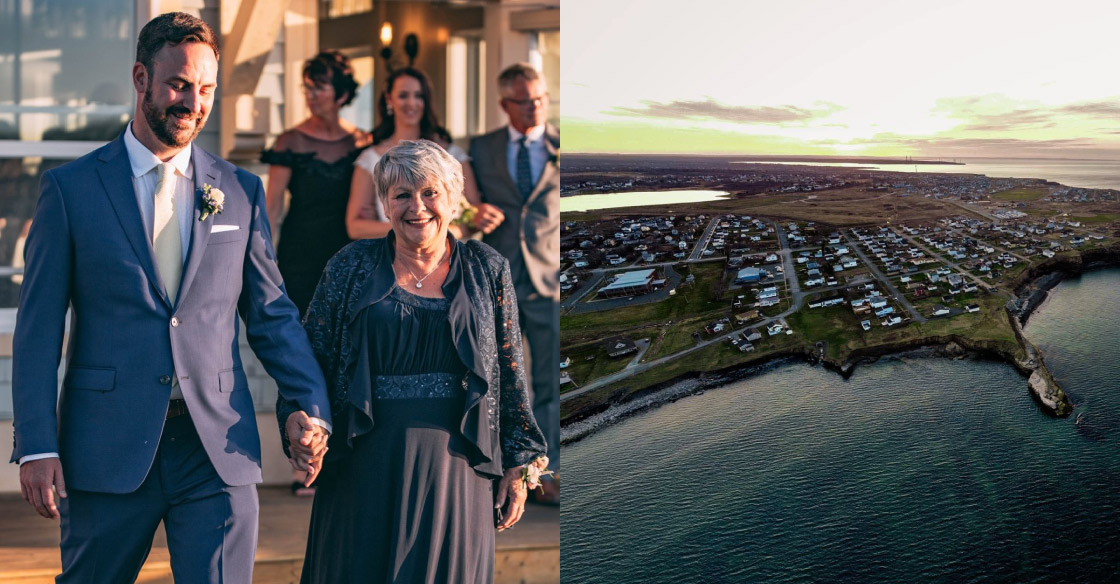 A message from Tom O'Handley
National Philanthropy Day has been celebrated annually since November 15, 1980. This day provides us with an opportunity to celebrate the generosity and benevolence of people, businesses, and communities while coming to understand the true spirit and meaning of philanthropy.
To some, the word philanthropist may bring to mind names such as Oprah Winfrey and Bill Gates, suggesting that perhaps only those of significant wealth can tend to the needs of others in a substantial way. However, what is lesser known is the definition of the word philanthropy, which has Greek origins translated to mean; "the love of people," "the love of humankind," and "the love of community."
The "love of community" lives in the community of Tablehead, the neighborhood where I grew up in Glace Bay, Cape Breton. It is a community where people support each other effortlessly and every home welcomes you with an invitation of warmth and a hot cup of tea. It's a community that truly embodies and captures the spirit of the Maritimes.
My mother, Lillian, was born and raised in Tablehead. She had a specialness and kindheartedness about her, as well as a heart big enough to warm the earth. She radiated love and compassion.
Everyone that knew her, loved her. Everyone that knew her, wanted to be near her.
She moved to Ontario briefly after marrying my father. But the love for her community brought her back to the shores of Tablehead. Unfortunately, my father passed away in 2002 and the home my parents had resided in at the time was in dire need of repair and replacement. Amazingly and out of pure goodwill, the people of the Tablehead community came together and built my Mom a new home. This home became a centerpiece of Tablehead, a place for family and friends to gather, to love and to share.
This is community. This is philanthropy. This is the love of people.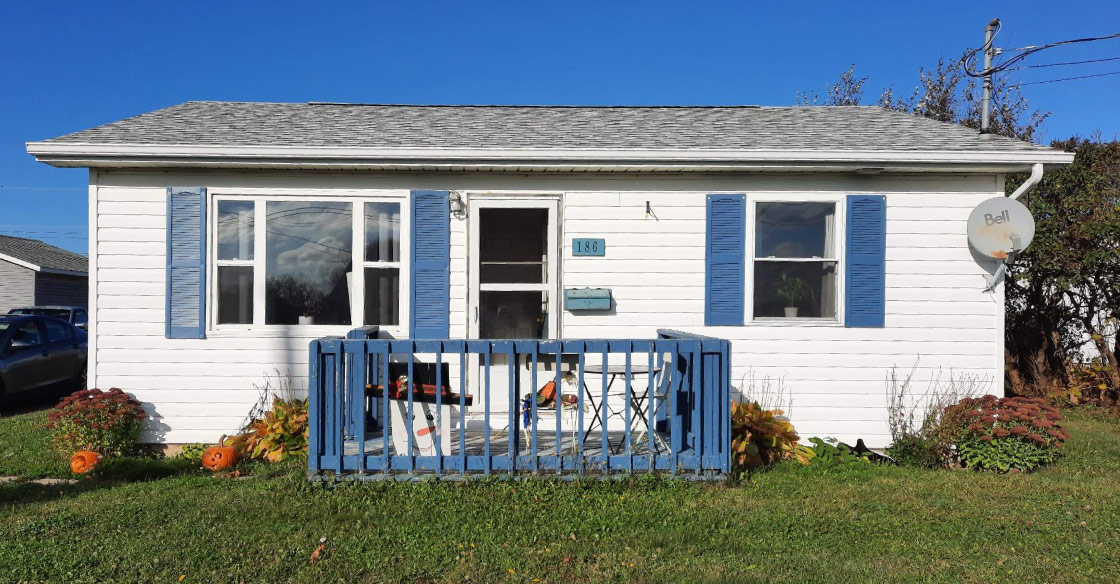 It was this act of kindness from my community which inspired me to change my career and move into the charitable sector. At the QEII Foundation, I have the honor of working with volunteers, colleagues, and thousands of QEII supporters, all of whom embody the art of philanthropy and the love of people. We all share a deep and united passion for improving and advancing health care of patients, families and communities.
Sharon Needham is a wonderful example of a philanthropist. Sharon stepped up to be the patient voice, and face, of a campaign close to her heart, bringing a critical diagnostic tool home to the QEII. Sharon's passion and perseverance as well as her support of community helped advance oncology treatment services for Atlantic Canadians. 
This is community. This is philanthropy. This is the love of people.
My Mom passed away suddenly on June 28th, 2021. It was a devastating loss for family and community. And unfortunately, due to pandemic restrictions, the gathering at the funeral home was limited to family members only. When we returned home after the service, I was moved to tears to see both sides of the street lined with people from the community. There they were, standing side by side, in the cold pouring rain, with tears in their eyes, hands on their heart, standing in front of my mother's house, the same house they had each help build. They were there to support us, they were there to support each other.
This is community. This is philanthropy. This is the love of people.
Author Nelson Henderson was certainly writing about philanthropy when he wrote, "the true meaning of life is to plant trees under whose shade we do not intend to sit." He was encouraging us to live a life that aims to help others even after our time has passed.
This is community. This is philanthropy. This is the love of people.

Tom O'Handley
Charitable Giving Officer,
QEII Foundation