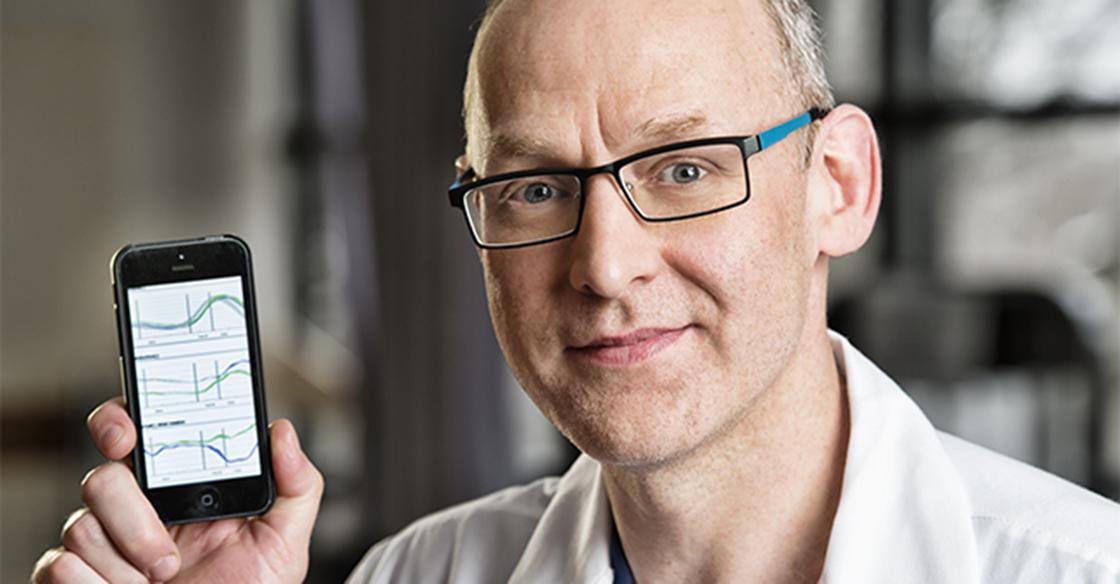 Dr. Michael Dunbar, orthopedic surgeon at the QEII, gives us an insight into the innovation of surgical robotics right here in Atlantic Canada. Contributed. 
While robotics has been a staple in countless science fiction stories, many people don't see the real revolution of robotics that's taking place every day. This fall, a speaker series led by QEII Foundation champion Warren Connors called 'A Pint of Robotics' will offer informal talks on the innovative work taking place in our own backyard – like medical robotics at the QEII. 
We had an insightful Q&A about the future of surgical robotics in Atlantic Canada with one of our 'A Pint of Robotics' presenters, Dr. Michael Dunbar, an orthopedic surgeon at the QEII and pioneer for the adoption of robotics in surgical training and practice. 
Q&A: The future and benefits of surgical robotics
Q: What makes the QEII a great place for surgical robotics technology?
A: Nova Scotia and the QEII is the ideal place for adopting surgical robotics technology because we're both a medical institution and a teaching institution. We have the researchers and medical teams to plan for and implement robotics into surgical practice. 
Q: Why is it important to support innovation in surgical robotics?
A: In addition to improved patient outcomes, it positions Nova Scotia – and the QEII – as a centre of medical excellence in not just Canada, but internationally. This attracts top healthcare professionals from all over the world, improving our resources and level of care.
Q: What are some patient benefits of surgical robotics? 
A: There's many – increased safety, less blood loss, and faster recovery times. A major benefit of certain types of surgical robotics is that they help us celebrate each patient's unique anatomy, thanks to advanced technology that allows surgeons to customize procedures to an entirely new level of precision. 
Q: Can you tell us what the QEII's newest surgical robot will be? 
A: I can tell you that it will be the second surgical robot of its kind in all of Canada. With the support of our donors, we'll be able to bring this particular field of surgical care to a new standard of excellence. We're excited to share more with our supporters later this fall. 
About 'A Pint of Robotics'
OCTOBER 5 | 12 | 19  
'A Pint of Robotics' is a series of three talks happening October 2021 hosted by Warren Connors, double surgical robotics patient and underwater robotics scientist.
From finding historical shipwrecks to saving lives, 'A Pint of Robotics' aims to start discussions about the innovative work surrounding robotics taking place in our community, and to raise awareness and support for medical robotics at the QEII. 
An impressive lineup of speakers will each give 20-minute talks (2-3 speakers per night) over three nights, giving the live and livestreamed audience a chance to hear and ask about robotic technologies. Hear from engineers, doctors and scientists about some of the amazing applications of robotics!
View recordings of past events or book your spot:
About the host, Warren Connors
Forty-four-year-old defense scientist, Warren Connors, has spent most of his career dedicated to robotics. He leads a research team who develop and test unmanned robotic systems that detect underwater mines with incredible accuracy.
In November 2020, he found himself in the QEII's emergency department with what he thought were kidney stones. Hours after arrival, he was shocked to learn he had two, large cancerous tumours – one on each kidney.
Within weeks, his surgeon, Dr. Ricardo Rendon, was able to coordinate the first of two robotic surgeries, something Warren wasn't aware was available at the QEII. Warren recovered, and then underwent the second surgery. 
Due to the incredible precision of surgical robotics and talent of his surgical team, they were able to save 40 per cent of Warren's kidneys rather than removing them completely. He credits his surgeon and the QEII team for not only saving his kidneys, but his life.
The fact that this surgery was available to him because of the generosity of the surrounding community is incredibly humbling to him. Warren and his wife, Amy, are forever grateful. He hopes that events like 'A Pint of Robotics' will spread awareness about the incredible technologies in our own community, and inspire others to give back.