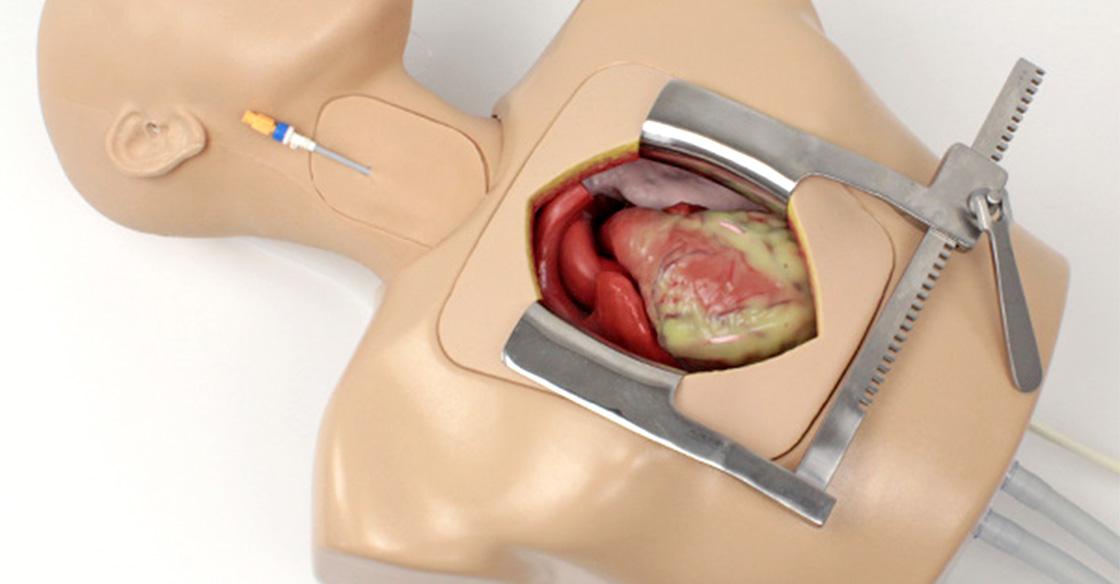 Pictured: Example of a high-fidelity manikin similar to what the QEII will receive thanks to donor-funded research project 'Crisis Management in Advanced Cardiac Care'. The new manikin will be custom-made with a pre-closed chest to facilitate realistic emergency cardiac simulations.
When emergencies happen during cardiac surgery, every second counts. A donor-funded grant will help cardiac teams at the QEII Health Sciences Centre prepare for even the most unexpected and complex emergencies that arise during surgery – saving time and patient lives.
The research project 'Crisis Management in Advanced Cardiac Care' received a $38,782 grant through the Maritime Heart Centre Innovation Fund, which awards donor-provided funds to QEII physicians and researchers for innovative, life-changing initiatives. 
Dr. Victor Neira, a cardiac anesthesiologist at the QEII and research lead for 'Crisis Management in Advanced Cardiac Care' explains that the project aims to better prepare healthcare teams to respond to rare, emergency situations that arise during cardiac procedures through a newly developed training process.
"The main purpose is to obtain a highly sophisticated manikin where the entire cardiac team can practice emergency situations that we don't often experience in every day practice," Dr. Neira explains.
"The manikin has a simulated beating heart, vessels, skin, a chest wall, and can circulate artificial blood. This means we can recreate very complex situations – more than just cardiac arrest and CPR that are usually standard in these types of simulations."
Dr. Neira explains that the type of manikin the team requires for training will be custom-made and quite costly, so the grant provided by QEII Foundation donors was essential to move the project forward.
"I believe we are one of the first institutions in Canada that will be obtaining this level of technology," Dr. Neira explains. "It's very exciting."
When the manikin arrives at the QEII in early 2022, cardiac teams will practice a series of different simulated emergencies which will be recorded. Then, debriefing sessions will help the team develop a series of checklists to follow when emergency situations arise with real patients. Checklists help the team to coordinate management, to prioritize tasks, and to decrease omissions and errors.
"Studies have shown that failure to rescue patients during emergency situations is usually a result of poor communication and problems with teamwork," says Dr. Neira.
"If we improve communication and have things running smoothly and efficiently, this saves valuable time so that we can correct a critical situation more quickly to improve patient survival."
Dr. Neira and the entire project team are so grateful for the key piece that is bringing the initiative to life: the incredible generosity of donors.
"On behalf of our whole team, we're very grateful for the donors who are helping us obtain this level of advanced technology," Dr. Neira expresses. "Everyone has just put in so much effort, and ultimately, it's going to lead to better care for our patients."
"We're looking forward to receiving the manikin – our QEII teams will be pioneers for this type of advanced simulation in cardiac care in all of Canada."