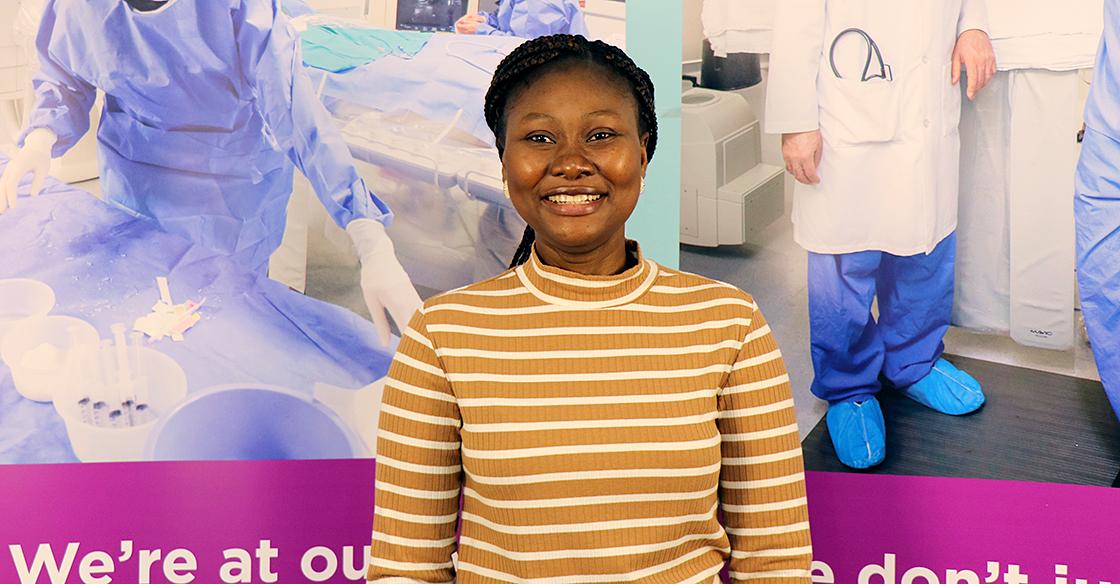 Diversity and representation matter everywhere. With people from all walks of life accessing healthcare services, supporting a system that includes diverse healthcare staff is crucial to meet the cultural needs of everyone it serves. This is precisely why the QEII Foundation offers the Diversity in Health Care Bursary.
Available to students who identify as African Nova Scotian/Black; Indigenous; Racialized; Immigrant; 2SLGBTQIA+; living with a physical, mental health or learning challenge; or have intersectionality of these identities, the bursary — (increased to $1,250 in 2022 to help with rising education costs) assists in their pursuit of post-secondary education in a health-related profession, with a goal of a more diverse and inclusive workforce that better reflects local communities. In 2021, the QEII Foundation awarded 51 bursaries.
Yemisi Olatunji, who worked for 13 years as a registered nurse in Nigeria before moving to Canada, is one student who exemplifies the bursary.
While growing up as a teenager, Yemisi lived with her paternal grandmother, who was in her 80s with declining health. The family could not afford to keep her grandmother in the hospital, so many of the treatments were done at home. When a private nurse would visit to provide care, Yemisi was the only assistant to the nurse and was very involved in taking care of her grandmother before she passed away.
"That experience of caring for someone when they were in need gave me an interest in the medical world," says Yemisi.
"The elegance and diligence of the nurse that took care of my grandma was indelible in my memories, therefore I decided to pursue a career in nursing."
In 2018, Yemisi moved to Canada with her family to provide a more stable environment for her kids and to continue in her chosen field of taking care of people.
However, Yemisi's prior experience didn't mean she was ready to work as a registered nurse in the local healthcare system just yet. While working as a licensed practical nurse (LPN), Yemisi enrolled in a unique program called the RN Bridging/Re-Entry Program — her next step in becoming a qualified RN in Nova Scotia.
Offered to registered nurses wishing to begin nursing in Canada after working in another country, the RN Bridging/Re-Entry Program helps students meet educational and practical standards by focusing on knowledge, skills and abilities expected in Canada. Additionally, the program is open to Canadian-educated nurses seeking to re-enter the field after years out of practice.
"Initially, the program was designed specifically for internationally educated nurses. Nova Scotia has long had a need to increase our number of nurses and it was untapped potential," says Melissa Salah, administrator of the RN Bridging/Re-Entry Program. "Individuals who were nurses would come from other countries but couldn't work here because they weren't licensed."
"Unfortunately, immigration pathways don't often facilitate an individual to continue in their career path of choice," says Melissa. "The fact that this pathway exists is fantastic because we need more people to come to our country and to work in our healthcare system."
Helping aspiring Canadian nurses obtain their licences, the RN Bridging/Re-Entry Program is delivered through study modules facilitated via online learning, as well as face-to-face lab and simulation practise.
Students are offered courses such as professional nursing, professional communication, pharmacology and more. With students originally from India, South Africa, the Philippines and beyond, the program ensures graduates meet standards set forth by the Nova Scotia College of Nursing.
"In a lot of countries, nurses don't practise the same scope that we do in Canada," says Jeff Hawley, RN Bridging/Re-Entry Program lead instructor. "It's often a steep learning curve for them to realize that they have more autonomy, responsibility and the scope is much broader than it would have been when they were practising at home."
Yemisi is committed to accomplishing her dream of being a registered nurse in Canada. She is excelling in her courses, assignments and exams, all while working full time and taking care of her family. Set to graduate in March 2022, Yemisi says she has benefitted immensely from the program.
"Even though it has been stressful combining the program with work and family life, the program has given me more confidence in my current practice with the detailed knowledge I'm learning about the Canadian nursing system," she says.
One of about 45 students in the program, Yemisi is among a group of driven individuals ready to make a difference in the local healthcare system.
"The students constantly amaze me with their dedication, their passion and their unstoppable work ethic," says Melissa.
"It's rewarding to work in a program that clearly is benefiting not just the learners in the program, but the healthcare system as a whole."
"Seeing how hard these nurses work to get here; they want this so badly," says Jeff. "They're so grateful for the opportunity, the education. It's a lot of work, but they don't complain. As an educator, it's amazing to see them succeed." 
Of course, when studying and raising a family in a new country, any available help is gladly accepted, like the QEII Foundation Diversity in Health Care Bursary.
"This financial assistance is coming at a crucial time in my Canadian journey and will help me follow my passion to help my community in the future," says Yemisi. "It helps me recognize that organizations like the QEII Foundation see me and are supporting me, wanting me to succeed."
And it's not only Yemisi who benefits from such an initiative.
"By having people from diverse cultural backgrounds in the healthcare system, it will help the system have a better understanding of patients' cultures and beliefs, thereby helping the system provide care plans appropriately," says Yemisi.
---
To learn more about the Diversity in Health Care Bursary, click here.