In 2021, a record-breaking 8,000 procedures were performed in the QEII's new state-of-the-art interventional radiology (IR) suites — 1,800 more procedures than each of the previous two years. It's one of several care areas that's already feeling the impact of the QEII Foundation's $100-million We Are fundraising campaign to transform health care at the QEII Health Sciences Centre.
Nearly 2,000 QEII Foundation donors contributed $1.25 million to the project to help expand and revolutionize the former IR suites. It's an incredible showcase of donor dollars at work, which have equipped the new IR suites with the latest technology to perform the most advanced, innovative procedures possible, and funded a new, attached 11-bed recovery space. Most patients visiting the QEII's IR suites live in Nova Scotia and Prince Edward Island, with a few coming as far as New Brunswick and Newfoundland and Labrador.
Thanks to the generosity of donors, the two original IR suites moved from the Halifax Infirmary's fifth floor and expanded to four roomier suites on the third floor, plus the dedicated recovery space, which previously had been located elsewhere in the hospital.
"The new suites have improved workflow, turnaround times and certain wait times — the biggest benefit, however, is for patients," says Dr. Christopher Lightfoot, the QEII's IR section head.
"Now, their whole experience is with the same team, in the same place, from pre-procedural evaluation to recovery," he says. "They've told us that they feel much better about the process as a result. With more patients being treated in our outpatient setting, there are huge cost savings."

The fourth and final IR procedure room opened to its first patients on March 9. This modern, cutting-edge space is home to a new, donor-funded CT fluoroscopy machine, which will be used for cancer biopsies and treatments, procedures to drain infected fluid collections, as well as musculoskeletal pain management and joint interventions to name a few.
With the ability to treat more IR patients than ever before, it's a prime example of how the QEII Foundation's We Are campaign is truly improving health care, tackling wait times and transforming the patient experience.
Efficiency better for all
In the QEII's IR suites, physicians perform at least 80 different image-guided procedures using ultrasounds, CT scans and X-rays, caring for patients from head to toe, diagnosing and treating conditions such as cancer, stroke and dangerous bleeding with the most minimally-invasive technology possible. On hand for each procedure are a registered nurse and an imaging technologist.
Melanie Carrigan, one of 14 registered nurses working in the QEII's IR suites, says she and the other nurses appreciate the cohesiveness of the new rooms, in particular the attached recovery room. "It's much more efficient for us to see how patients are doing after their procedure, and it's better for them, too," she says.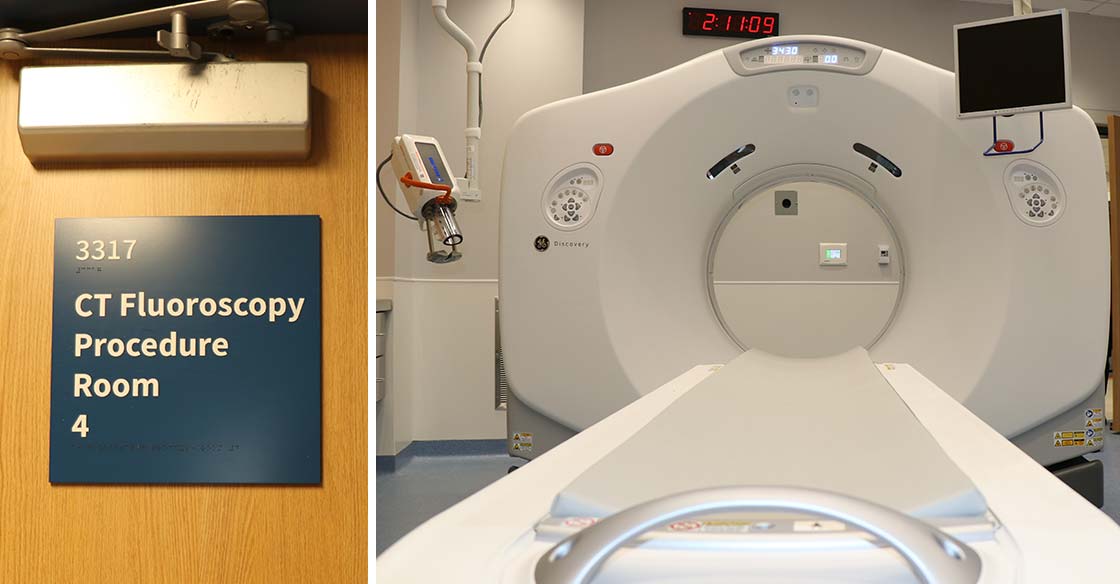 Throughout the pandemic, while the number of OR procedures decreased, the IR suites stayed busy, all while the staff faced the challenges that came with a then-unknown virus.
"There were massive stress levels in the beginning, about the complexities of our work, of course, but we were also worried about getting infected and infecting our loved ones," says Dr. Lightfoot. "That experience helped build a stronger team that feels like a family as we looked out for each other, and people stepped up to volunteer whenever there was a need."
Melanie says they have been extra cautious with safety protocols during the pandemic, from wearing appropriate personal protective equipment (PPE) to sanitizing suites. Procedures can take from two to three times longer than normal due to robust cleaning protocols. "It's easier now, two years later, but we're still doing procedures on COVID-positive patients, which takes much longer," she says.
Better, faster patient care
Although she has been nursing in the IR suites for four years, Melanie remains amazed by the skill and expertise of the technologists and interventional radiologists she works alongside. "I'm still in awe of what we do," she says. "I watch the big screens during the procedures, where an interventional radiologist is floating a wire in a patient's body, and I think, 'wow.' It's exciting to be part of it, and patients are so thankful."
Dr. Lightfoot would like donors to know just how much of an impact they're having with their contributions.
"The new IR suites mean better and faster care for patients. To patients, and to us, that's priceless," he says.
Melanie not only thinks about the patients they're currently treating but future ones as well. "If we could help one of your family members at some point in their lifetime, these suites are where you want them to be," she says. "If my dad needed an angioplasty, I'd want him to be treated here."
Take a virtual tour of the QEII's newest IR procedure room: