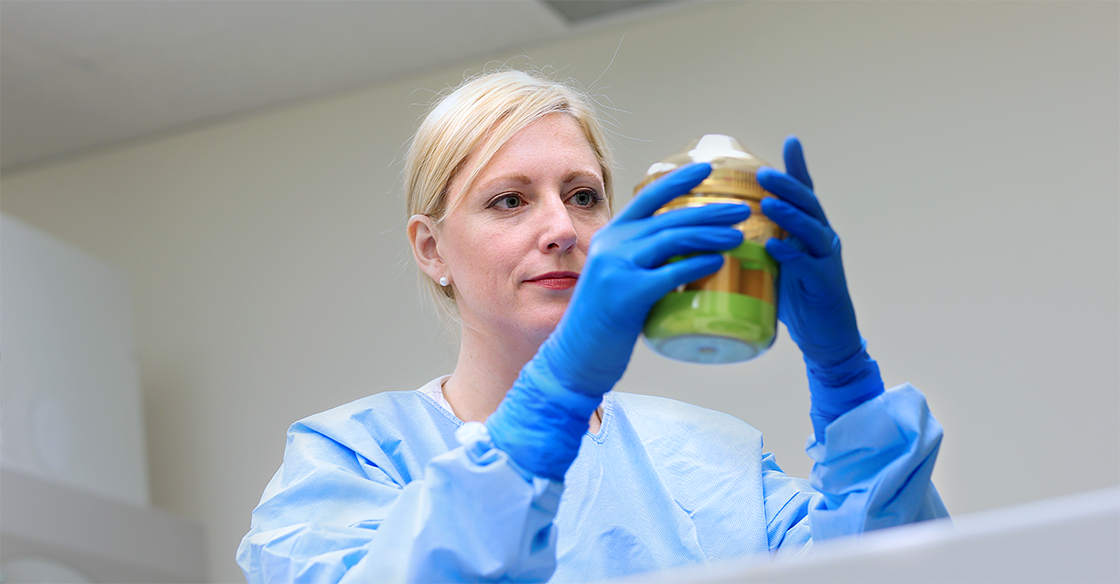 Dr. Lisa Barrett, clinician scientist in infectious diseases, gives us her latest answers on moving forward with COVID-19 in Nova Scotia
Dr. Lisa Barrett, a medical school professor, infectious diseases researcher at the QEII, and the director of research for infectious diseases with Nova Scotia Health has shown true leadership in our province throughout the pandemic. She received a research grant from the Nova Scotia COVID-19 Health Research Coalition of which the QEII Foundation is a funding partner, and was at the forefront of many provincial and national COVID-19 media inquiries.
We asked this infectious disease and human immunology expert what the future holds for Nova Scotians regarding COVID-19 research, testing, vaccines, and more.
Vaccines
Q: If you're fully vaccinated, are you vulnerable to new COVID strains?
A: The Delta variant is the biggest new variant circulating the world right now. The vaccines that are licensed in Canada offer excellent protection two weeks after you get your second dose, even against the newest versions of COVID-19. However, they don't completely prevent transmission.
Q: When will we know if we need an annual COVID-19 shot?
A: Currently, the virus is changing too fast for us to know how it's going to interact with this current set of vaccines. We need a few months to see how much the virus mutates and then we will know if we're going to need different vaccines over time or seasonally.
So even though it's going to be a while before we know if we will need a booster shot, it will be more likely that we need one if we ignore the virus, so we have to keep up on testing and current vaccinations to keep it under control.
Q: Will we soon be vaccinating children under 12 in Nova Scotia?
A: As soon as there's Health Canada approval, that will become an option. Until then, children under 12 are susceptible to COVID-19.
We thought at one point that kids didn't get the infection – that's not quite true, and we certainly don't know what the case is with the Delta variant. Kids are humans. They have slightly different cells and respiratory tracts, but they do get infected with this virus.
So, when we have approval, we do need kids and their parents to consider getting vaccinated. However, it's not going to be in the next few months, which is another great reason to understand we're not fully protected until everyone has an opportunity to get the vaccine.
COVID-19 testing
Q: What's the future of at-home COVID-19 testing?
A: Vaccines are amazing, but vaccines are the star player that needs help on a team of prevention. To keep COVID under control, we need research and home tests. There's a new test coming – a 'not-so-deep' nose swab that stays near the front of the nose. You can do it yourself at home and read the results yourself. It's just like how you maintain health and prevent disease by brushing your teeth. Hopefully, we'll see this roll out soon.
Q: Are there future opportunities for COVID rapid testing at gatherings like weddings and concerts?
A: I would love to see that happen, but let's be clear – vaccines are the superstars. But if we combine vaccines with testing, which is your proof for the day as you walk through the door to an event that you're COVID negative, your chances of spreading COVID to someone who may be vulnerable is close to zero.
Q: How sensitive are rapid COVID-19 tests relative to the standard PCR lab tests?
A: Rapid tests are slightly less sensitive; 7 to 8 out of every 10 infections will be detected in a rapid test versus 9.5 out of 10 in a PCR test. The way that we get around this slightly decreased sensitivity is to test every week. With the new home tests coming, this will be easy to do. By testing weekly, your rate of missing infections becomes much lower. Using them repeatedly over time, once a week, with no symptoms is a great way of making these tests just as useful and effective as the lab-based tests.
Our community
Q: In your opinion, is Nova Scotia being a little too cautious with our current re-opening plan?
A: I have no idea about policy, but I am happy to talk about science.
I would say that we've eased some restrictions in the past number of weeks fairly quickly, actually, trusting that one dose of the vaccine is a good thing. We're opening up while balancing with lots of testing, and we've been keeping an eye on the variants. However, if we go too far, too fast, and stack up unknowns, we run the risk of going backwards.
Just like in wave three, it will take us a long time and a lot of effort to control another outbreak. From a science perspective, I don't think our reopening plan is overly cautious.
Q: What will our 'new normal' look like over the next year?
A: I think we're going to have to keep a really close eye on things. We'll see a lot of opening up but also more mindfulness surrounding public health measures – like staying home when you're sick, getting vaccinated and keeping up testing. But we're getting there. We're moving ahead.
Q: Are masks here to stay or will they become optional?
A: I think we've got masks for a little while longer, particularly indoors and as we open up to lots of people. We need to get our vaccine rates up and keep the virus under control. We'll get to a mask free point eventually, but not quite yet.
Research
Q: Could you tell us a bit about the research that was funded through the Nova Scotia COVID-19 Health Coalition? How did this advance us in our COVID-19 response?
A: Back in the first wave, there were no vaccines. We weren't sure what COVID-19 was, or how it was going to play out. We did see very quickly that it was causing an incredibly negative impact in our long-term care facilities. Part of the work I do is to understand immune systems and how they work as we age.
Some of the work that's been funded is the study of residents from long-term care facilities with and without COVID-19 and seeing how their immune systems responded. We learned that people's immune systems vary – some people who were 100 didn't even know they had COVID, and their immune systems looked 50 years old under a microscope. Then you have younger people who we didn't expect to get sick, and their immune systems looked much older.
That continuing research and our findings, funded in part by QEII Foundation donors, will help us contribute to care in real time, and allow us to help people from an immune perspective as they age.
Q: What science or data are we still missing right now in the fight against COVID-19?
A: We have learned an incredible amount since the beginning of this, but we still don't know how fast this virus is going to move and change. We need to see if there will be different subgroups of the population that we will need to protect differently. This respiratory virus is going to be something we really think about when we are looking at our health systems and care, something the QEII Foundation has been really focused on throughout the pandemic.
Also, as we go forward, we not only have to learn more about COVID and prevention itself, but what to do after people get COVID as well. Nova Scotia Health and the government have helped us put together a therapeutics trial that was just run through wave three.
So – we have a lot more to learn about how to prevent COVID, what treatments to provide after people contract it, and the long-term impact the virus will have on our health systems.