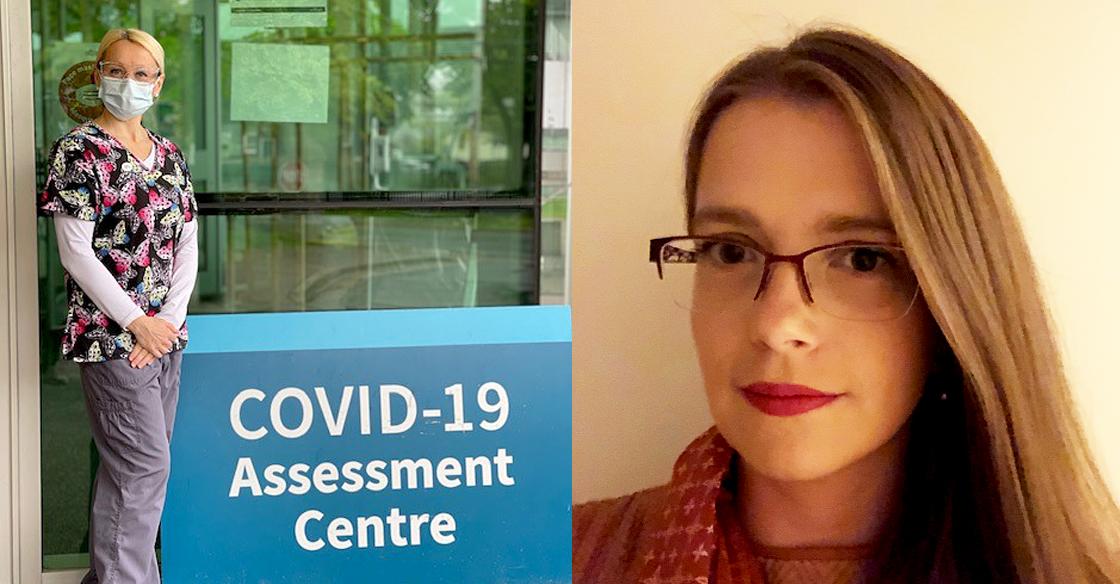 Pictured: Angie MacNeil, charge nurse at St. Mary's Primary Assessment Centre, and Shannon Hussain, LPN at the QEII's Halifax Infirmary. Contributed.
The COVID-19 pandemic has been an incredibly arduous journey for our province. Even though it's been over a year since the first COVID cases appeared in Nova Scotia, we've recently grappled with a third wave and are just starting to see restrictions ease across the province.
As we navigated through these difficulties, thousands of healthcare workers and support staff across the QEII Health Sciences Centre and beyond continued to hold strong to help us weather the storm.
Since April 2020, Angie MacNeil starts most days at 5:45 a.m. in order to commute from her home in Tantallon to St. Mary's Primary Assessment Centre in Halifax, where she currently works as a charge nurse.
Angie's the first person on-site at the centre, and shows up ready to prepare her team for 12-hour shifts of symptomatic and asymptomatic COVID-19 testing. Staff must also keep up to date on exposure sites, new isolation requirements, and any other health and safety information.
Nova Scotia's third wave has been an extremely busy time for Angie and her colleagues. "Dr. Strang is great at encouraging Nova Scotians to do the right thing and get tested," Angie says. "We've had thousands of people coming into primary assessment centres for COVID-19 tests. It's been very, very busy at times!"
Many other medical facilities have been bustling over the course of the pandemic and during our province's most recent third wave. Teams also must work diligently to handle the extra workload created by following essential health and safety restrictions.
Shannon Hussain, a licensed practical nurse at the QEII's Halifax Infirmary, has been caring for many patients who have been unable to visit with their families during Nova Scotia's most recent lockdown. "Some of our patients have dementia, and don't understand why their loved ones can't come in," Shannon says. "We reassure them that their families are ok. We've been doing a lot of extra comforting and visiting."
During lockdowns, Shannon and her coworkers also coordinate the curbside pickup of care packages that are delivered by patients' families.
Despite difficulties, there's been hope and inspiration amongst healthcare teams and our surrounding communities.
Angie, who's been a part of her team since the beginning of the pandemic, has witnessed incredible transformations amongst staff: "We have such an amazing, diverse team of nurses, housekeeping staff, unit aids, physiotherapists, dieticians, and more. It's fascinating to have seen the different stages everyone has been through – from the unknown and a bit of fear, to the hope and excitement now of vaccinations."
"At the beginning, we were strangers, and everything was brand new. We've developed as a family. We've really become a well-oiled machine," she says.
Both Angie and Shannon say that one of the most inspiring parts of working throughout the pandemic has been the incredibly positive attitudes of local patients and families. 
"So many people come through the door smiling, even with their mask on," Angie says. "You know they're smiling by their eyes! That's so encouraging. So many Nova Scotians have just been so sweet throughout this."
"Families have taken the hospital visitor restrictions very well," Shannon says. "So many times, family members call us to thank us for taking care of their loved ones. It's quite reassuring for our team."
Angie says that recently, she's seen Nova Scotians of all ages getting COVID-19 tests. "One day, a family and their five children came in for asymptomatic testing. The kids were amazing – their parents had explained that [the test] was the proper thing to do," she says.
"We have young, local teenagers coming through to get tested, just being so mature and inspiring," Angie says. "Lots of elderly folk come for tests, too. We love to chat with them and hear their stories."
As restrictions begin to lift and vaccinations roll out, Angie encourages everyone to stay vigilant and undergo asymptomatic COVID-19 testing to ensure that we safely return to normal as quickly as possible.
"We're going to get through this," Angie says "We're all looking towards the end of the pandemic as well. Healthcare staff are here to help and contribute to Nova Scotia, too."
Even though it's been a tough journey fraught with challenges, we're so thankful for the bravery, hard work, and dedication demonstrated by healthcare staff like Angie, Shannon, their colleagues, and countless others across our province. 
We thank them, and we thank our community, for standing strong in this fight against COVID-19.