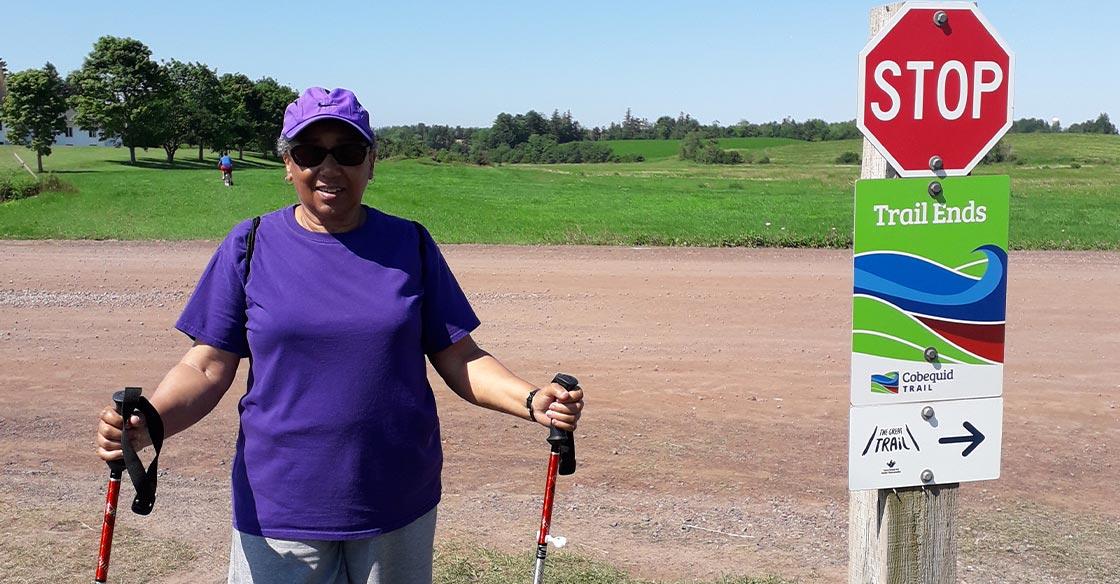 Margaret Aucoin has been leaning into retirement wholeheartedly after years working as a dedicated social worker and educator at NSCC. She loves to be out gardening in the summer and create Christmas crafts during the holiday season. She and her husband have also been ticking items off of their bucket-list, like taking music lessons – piano, ukulele and trumpet.
Margaret is active and independent, so when she was out skating with her daughter and started to get an ache in her lower back, she knew something was off. After having some spotting that evening, Margaret made an appointment to see her doctor and was referred to a gynecologist where she received a biopsy.
At this point, Margaret started to become nervous.  "Growing up as an African Nova Scotian, cancer and women's health were not talked about in my household or in my culture. I knew that cancer could be treated – knew that it wasn't a death sentence, but was worried and in shock because it was never talked about in my family", said Margaret.
A few weeks later, Margaret received her diagnosis - endometrial (uterine) cancer. As a practical and action-oriented woman, Margaret became laser-focused on how to beat this thing – asking "okay, what now?" That's when she met Dr. Stephanie Scott.
Dr. Scott is a gynecologic oncologist and cancer surgeon at the QEII Health Sciences Centre. Dr. Scott is part of a surgical team at the QEII that specializes in robot-assisted surgery – a new program that is possible because of QEII Foundation donors.
When Dr. Scott first suggested a robot-assisted surgery to treat Margaret's cancer, she thought, "This sounds like a movie!" Margaret had her two daughters by cesarean delivery so thought this procedure to treat her cancer would be similar. She remembered how sore she was, the lack of mobility – she was mentally preparing for that.
Once Dr. Scott explained the benefits of robot-assisted surgery, Margaret quickly came around to the idea.
"Patients who have robot-assisted surgery have a decreased risk of infection, bleeding, and have significantly less post operative pain." Says Dr. Scott. "The vast majority are able to go home the morning after surgery and get back to all of their regular activities within a couple of weeks. They experience much less pain than with a laparotomy (larger abdominal incision). The robot itself also provides an exceptional view, allowing a three-dimensional and magnified view of the surgical field."
When Margaret learned that this new procedure could get her home and back to her beloved retirement routine, she was in.
Still hesitant about the seemingly futuristic procedure, Margaret brought her pajamas and an overnight bag to the QEII that day. She was prepared for an extended stay but to her delight, was able to go home the day after her procedure.
Margaret had a hysterectomy, bilateral salpingooopherectomy and bilateral pelvic lymph node dissection. Thanks to robot-assisted surgery, this was all done in a minimally-invasive way that left Margaret with only five small incisions. Margaret describes her experience in saying, "the physical impact of surgery was minimized with the robot".
When Margaet got home, she was able to take care of her wounds on her own and give herself an injection of blood thinner. Since her incisions were small, she had decreased risk of infection. Her healthcare team also made arrangements with VON to provide care at-home if ever needed, and a nurse came to her home for the first three days to supervise the injection. Once Margaret was comfortable, her healthcare team gave her a schedule and instructions on how to recover independently at home and she followed them to a tee.
After six chemotherapy treatments that followed surgery, Margaret is doing great and has started to advocate for women's health and cancer among her friends and family.
"It's nothing to be ashamed of and we need to listen to our bodies. Women, and mothers especially, tend to put everyone ahead of themselves, and so I tell everyone now - you need to be vigilant and proactive in your own health", says Margaret. "I am working to change the culture of my own family so that we can be open and talk about these things now."
As Margaret approaches her 74th birthday, she continues to live a healthy lifestyle – setting goals for herself like walking certain distances and has even gone skating with the daughter again. "I have gone back to my piano lessons and am pushing myself to learn new music and improve my abilities – I might have "chemo brain" sometimes but I want to enjoy what I have always loved doing."
Margaret's recent creative Christmas project involved gingerbread people with masks on as a playful nod to our current environment. Margaret is a proud cancer survivor and advocate, grateful for the care she received and the opportunity to have a robot-assisted surgery that got her back home to normal life more quickly than she could have ever imagined.
---
With the support of many generous donors, the QEII Foundation has been able to bring surgical robotics to the QEII on trial for prostate, gynecological, and kidney cancer treatment.

With this robotics technology, cancer care teams are providing minimally-invasive, life-changing care – even in a pandemic. Healing is faster. Hospital stays are shorter. Normal life resumes sooner.

But we need your help. In order to keep this technology at the QEII, we have just over $275,000 left to raise of our $8.1 million fundraising goal. With your investment, we will cross the finish line. Learn more at QE2Robotics.ca.