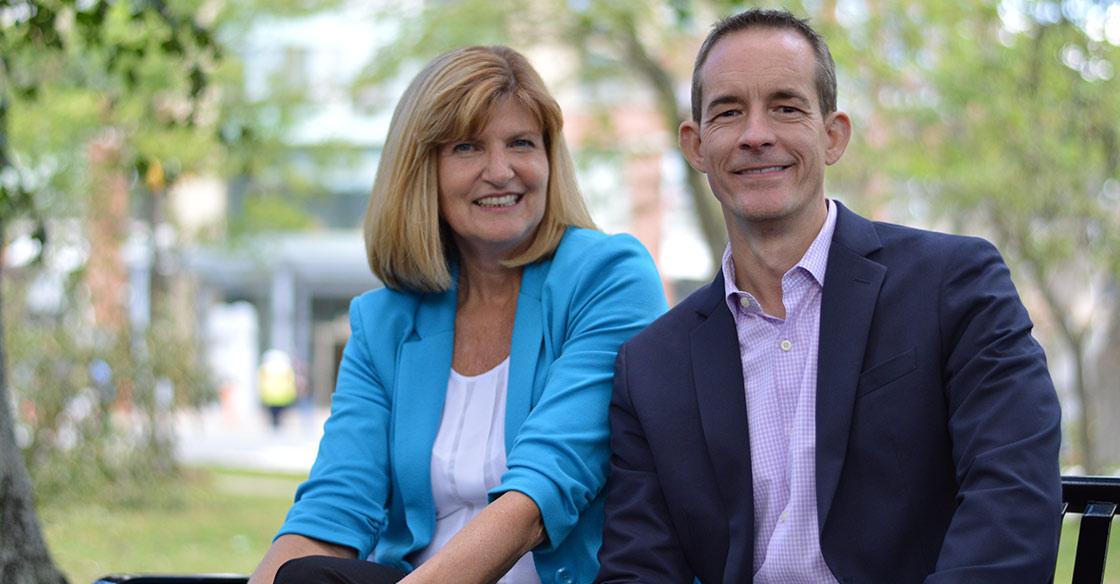 The QEII Foundation's gift planning team Lori Scott and Geoff Graham.
If you watched Her Majesty Queen Elizabeth II's 2019 Christmas address, she referred to the year as being quite 'bumpy'. She said that small steps, rather than giant leaps, can make a world of difference. While the Queen was referring to global and personal issues of concern, Nova Scotians may say that her statement is relatable to health care in our province.
Our province has had its share of bumps in health care, but healthcare teams continue to provide world-class, compassionate care. It's a new year, a new decade, and the QEII Foundation is ready to 'hit the ground running' and embrace the positive changes on the horizon. Both the small steps – and the giant leaps - forward to help advance health care now and for future generations.
Health care in Nova Scotia is indeed changing. Our province has made a commitment to build a new QEII Health Sciences Centre. And this project is the QEII Foundation's catalyst and opportunity to be part of something big. Our focus will be on next generation technology, life-saving research projects, attracting and retaining the best physicians and staff, and enhancing care for each and every patient.
We want you to be part of this journey with us. We will be reaching out to many of you to better understand your wishes, what motivates and inspires your charitable giving, and your vision for the future. For those with an email address, you will be receiving a short online survey. It will take only a few minutes to complete. Those without email may hear from us in other ways. We value your input and look forward to communicating with you.
We will also be conducting focus groups in March. Through these open discussions, we hope to gain a better sense of the feelings, ideas and perceptions in our community regarding the work of the QEII Foundation. These discussions will help guide us as we prepare for this new generation of health care.
With the magnitude of this endeavor, we want to ensure every small step we take is the right step. To this end, we look forward to keeping you informed of every development as it unfolds.
If you have any questions or would like more information on the work of the QEII Foundation and how you can join us, please contact Lori Scott, Charitable Giving Advisor, Gift Planning at 902 442 7199 or LoriJ.Scott@qe2foundation.ca, or Geoff Graham, Senior Director of Gift Planning, at 902 442 7196 or Geoff.Graham@qe2foundation.ca.
Download PDF version